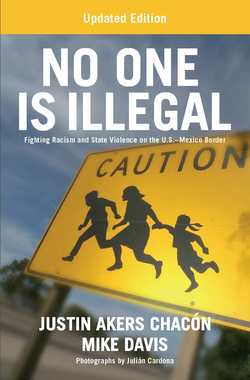 NO ONE IS ILLEGAL
Fighting Racism and State Violence on the U.S.-Mexico Border
Second Edition with new Introduction
By Mike Davis and Justin Akers Chacón
Photographs by Julián Cardona
Haymarket Books (April 2018, world English rights)
Paper • ISBN-13: 9781608468492 • US $19.95 • 420 pgs.
ABOUT THE BOOK:
In No One Is Illegal, Justin Akers Chacón and Mike Davis expose the racism of anti-immigration vigilantes and put a human face on the immigrants who daily risk their lives to cross the border to work in the United States. Countering the mounting chorus of anti-immigrant voices, No One Is Illegal debunks the leading ideas behind the often violent right-wing backlash against immigrants, revealing their deep roots in U.S. history and documents the new civil rights movement that has mounted protests around the country to demand justice and dignity for immigrants.
No One Is Illegal features moving, evocative photos from award-winning photographer Julián Cardona. This timely second edition has a new introduction and additional chapters highlighting the ongoing struggle for immigrant rights and the roots of the backlash in the current political moment.
PRAISE:
"Is immigration really a 'national crisis'? Justin Akers Chacón and Mike Davis attack the question by revealing the disturbing, centuries-old context for the cross-border working-class, and the resurgence of reactionary anti-immigrant policies and racist vigilante violence. No One Is Illegal powerfully argues that the borders themselves are barriers to imagining real social justice. An urgent, important, must-read."
Jeff Chang, author, Can't Stop, Won't Stop: A History of the Hip-Hop Generation
"[The phrase] 'No human being is illegal' was coined by Bert Corona in the 1960s. Forty years later, Mike Davis and Justin Akers Chacón tell us the real story about the immigrant worker heroes.
Nativo V. Lopez, president, Mexican American Political Association
ABOUT THE AUTHORS:
Writer, historian, and activist Mike Davis is the author of more than 20 books and more than 100 book chapters and essays, including In Praise of Barbarians (Haymarket Books). A former meat cutter and long-distance truck driver, Davis has been a fellow at the Getty Institute, was awarded a MacArthur Fellowship in 1998, received the Lannan Literary Award for Nonfiction in 2007, and is the recipient of the 2020 Lannan Cultural Freedom Prize. Davis is Professor (Emeritus) in the Department of Creative Writing at UC Riverside.
Justin Akers Chacón is professor of U.S. History and Chicano Studies in San Diego, California. He has contributed to the International Socialist Review and the book Immigration: Opposing Viewpoints (Greenhaven Press).
Julián Cardona was born in 1960 in Zacatecas, Mexico, and migrated to the border city of Juárez with his family as a small child. He worked as a technician in the maquiladora industry before becoming a photojournalist in 1993. In 2004, Cardona received a Cultural Freedom Fellowship from Lannan Foundation.
OTHER TITLES BY MIKE DAVIS:
Be Realistic: Demand the Impossible
In Praise of Barbarians: Essays Against Empire
OTHER TITLES BY JUSTIN AKERS CHACON:
Radicals in the Barrio: Magonistas, Socialists, Wobblies, and Communists in the Mexican-American Working Class
RIGHTS INFORMATION:
Languages & Territories Where Rights Have Been Sold:
| Language/Territory | Publisher |
| --- | --- |
| Spanish in Canada and the United States | Haymarket Books |
| Spanish worldwide, excluding U.S and Canada | Grano de Sal |
Please contact subagents for the following languages and territories:
For all other languages/territories, please contact Roam Agency.