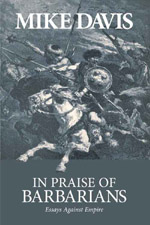 IN PRAISE OF BARBARIANS
Essays Against Empire
By Mike Davis
Haymarket Books (August 2007, world English rights)
Paper • ISBN-13: 9781931859424 • US $15 • 5.5 in x 7.5 in • 240 pgs.
ABOUT THE BOOK:
The author of City of Quartz and Planet of Slums attacks the current fashion for empires and white men's burdens in this blistering collection of radical essays. He skewers such contemporary idols as Niall Ferguson and Howard Dean; debates with Tom Frank about 'what's wrong with America'; unlocks some secret doors in the Pentagon and the California prison system; visits Star Wars in the Arctic and vigilantes on the Border; predicts ethnic cleansing in New Orleans more than a year before Katrina; recalls the anarchist avengers of the 1890s and 1960s; remembers 'Private Ivan' who defeated fascism; recalls the 'teeny bopper riots' on Sunset Strip; and looks at the future of global capitalism from the top of Hubbert's Peak.
PRAISE:
"A rare combination of an author, [Mike Davis is] Rachel Carson and Upton Sinclair all in one."
Susan Faludi
"[Davis' writing is] perceptive and rigorous."
David Montgomery, The Nation
"[Davis' work is] brilliant, provocative, and exhaustively researched."
Scott Malcomson, The Village Voice
"[Davis' work is] eloquent and passionate."
Tariq Ali
OTHER TITLES BY THIS AUTHOR:
Be Realistic: Demand the Impossible
No One Is Illegal: Fighting Racism and State Violence on the U.S.-Mexico Border
ABOUT THE AUTHOR:
Writer, historian, and activist Mike Davis is the author of more than 20 books and more than 100 book chapters and essays. A former meat cutter and long-distance truck driver, Davis has been a fellow at the Getty Institute, was awarded a MacArthur Fellowship in 1998, received the Lannan Literary Award for Nonfiction in 2007, and is the recipient of the 2020 Lannan Cultural Freedom Prize. Davis is Professor (Emeritus) in the Department of Creative Writing at UC Riverside.
RIGHTS INFORMATION:
Languages & Territories Where Rights Have Been Sold:
| Language/Territory | Publisher |
| --- | --- |
| Korean/worldwide | E-Who |
| Portuguese in Brazil | Boitempo |
Please contact subagents for the following languages and territories:
For all other languages/territories, please contact Roam Agency.