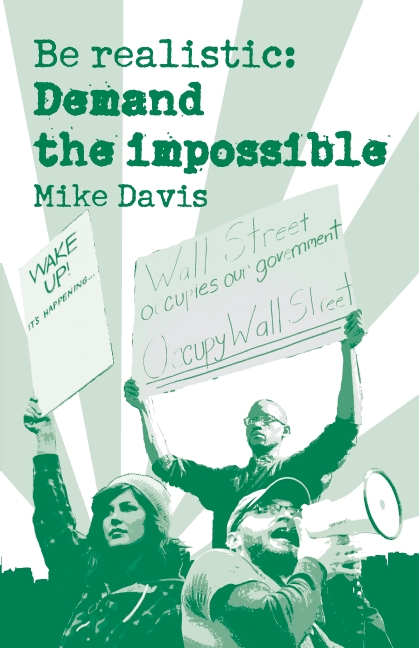 BE REALISTIC
Demand the Impossible
By Mike Davis
Haymarket Books (October 2012, world English rights)
Saddle-stiched • ISBN-13: 9781608462179 • US $4.95 • 5.5 x 8.5 • 48 pgs.
ABOUT THE BOOK:
With wit, humor and a remarkable grasp of the political marginalization of the poor and working class by the 1%, Mike Davis crafts a striking defense of the Occupy Wall Street movement. This inspired pamphlet brilliantly undertakes the most pressing question facing the struggle – what is to be done next?
PRAISE:
"Davis' work is the cruel and perpetual folly of the ruling elites."
The New York Times
"A rare combination of an author, Rachel Carson and Upton Sinclair all in one."
Susan Faludi
Praise for City of Quartz:
"A brilliant exegesis on how cities cannot prosper by wealth alone."
Los Angeles Times
Praise for Late Victorian Holocausts
"Davis has given us a book of substantial contemporary relevance as well as great historical interest … this highly informative book foes well beyond its immediate focus."
Amartya Sen, New York Times
"Davis, a brilliant maverick scholar, sets the triumph of late-nineteenth-century Western imperialism in the context of the catastrophic El Niño weather patterns at that time. This is groundbreaking, mind-stretching stuff."
The Independent
"The global climate meets a globalizing political economy, the fundamentals of one clashing with the fundamentalisms of the other. Mike Davis tells the story with zest, anger, and insight."
Stephen J. Pyne, author of World Fire
"Davis' range is stunning … He combines political economy, meteorology, and ecology with vivid narratives to create a book that is both a gripping read and a major conceptual achievement. Losts of us talk about writing 'world history' and 'inter-disciplinary history': here is the genuine article."
Kenneth Pomeranz, author of The Great Divergence
"Eloquent and passionate, this is a veritable Black Book of liberal capitalism."
Tariq Ali
Praise for Magical Urbanism:
"Fans of Mike Davis' slash-and-burn prose and take-no-prisoners credo will not be disappointed."
Andrew Ross, Bookforum
"Magical Urbanism is a lively, trenchant inquiry into a demographic phenomenon of great importance."
Times Literary Supplement
"In this short book … Davis brings his characteristic analytical energy, eye for detail and exhaustive research to bear on an important phenomenon that remains mostly unexplored."
In These Times
Praise for No One is Illegal
"Brilliant, provocative, and exhaustively researched."
Scott Malcomson, Village Voice Literary Supplement
"Perceptive and rigorous."
David Montgomery, The Nation
ABOUT THE AUTHOR:
RIGHTS INFORMATION:
Languages & Territories Where Rights Have Been Sold:
Please contact subagents for the following languages and territories:
For all other languages/territories, please contact Roam Agency.