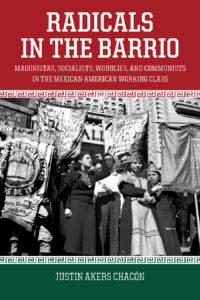 RADICALS IN THE BARRIO
Magonistas, Socialists, Wobblies, and Communists in the Mexican-American Working Class
Justin Akers Chacón
Haymarket Books (Fall 2017, world English rights)
Trade Paper • ISBN-13: 9781608467754 •  US $20 • 6 in x 9 in • 500 pgs
ABOUT THE BOOK:
Radicals in the Barrio uncovers a rich history of political radicalism within the Mexican and Chicano working class in the United States. Chacón clearly and sympathetically documents the ways that migratory workers carried with them radical political ideologies, new organizational models, and shared class experience, as they crossed the border into southwestern barrios during the early 20th century.
PRAISE:
Praise for No One Is Illegal:
"The 'immigration debate' suffers from ideologically-induced amnesia. No One Is Illegal is brimming with the historical context—and brave analysis —that we need to address the political and above all human crisis of migration. This book arrives not a moment too soon… literally, there are lives on the line."
Rubén Martinez, author, The New Americans: Seven Families Journey to Another Country
"Is immigration really a "national crisis"? Chacón and Davis attack the question by revealing the disturbing, centuries-old context for the cross-border working-class, and the resurgence of reactionary anti-immigrant politics and racist vigilante violence. No One Is Illegal powerfully argues that the borders themselves are barriers to imagining real social justice. A urgent, important must-read."
Jeff Chang, author, Can't Stop Won't Stop: A History of the Hip-Hop Generation
ABOUT THE AUTHOR:

Justin Akers Chacón is an activist, writer, and educator in the San Diego-Tijuana border region. He is Professor of Chicana and Chicano Studies at San Diego City College. His previous work includes No One is Illegal: Fighting Racism and State Violence on the U.S.-Mexico Border (with Mike Davis).
OTHER TITLES BY THIS AUTHOR:
No One Is Illegal: Fighting Racism and State Violence on the U.S.-Mexico Border
RIGHTS INFORMATION:
Please contact subagents for the following languages and territories:
| Language/Territory | Subagent |
| --- | --- |
| China, Taiwan, Indonesia, Malaysia, and Vietnam | Big Apple Agency |
| English outside North America | David Grossman Literary Agency |
| German | Paul & Peter Fritz AG Literatur Agentur |
| Greek | Read n' Right Agency |
| Hebrew | The Deborah Harris Agency |
| Italian | The Nabu International Literary Agency |
| Japanese | The English Agency (Japan) Ltd |
| Korean | BC Agency, or Korea Copyright Center |
| Portuguese | RIFF Agency |
| Russia/Baltics/Eastern Europe | Prava I Prevodi |
| Scandinavia: Sweden, Norway, Finland, Denmark, Iceland | Brandt New Agency |
| Spanish in Latin America | International Editors' Co., S.A. |
| Spanish in Spain | International Editors' Co., S.A. |
| Turkish | Anatolialit Agency |
For all other languages/territories, please contact Roam Agency.