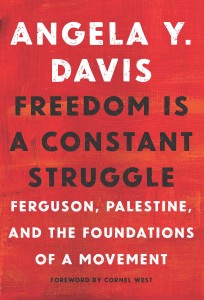 FREEDOM IS A CONSTANT STRUGGLE
Ferguson, Palestine, and the Foundations of a Movement
Angela Y. Davis
Foreword by Cornel West
Edited by Frank Barat
NOMINEE, 2017 NAACP Image Award for Outstanding Literary Work (Nonfiction)
Haymarket Books (January 2016, world English rights)
Trade Paper • ISBN-13: 9781608465644 • US $15.95 • 4 3/4 in x 7 1/2 in • 180 pgs.
ABOUT THE BOOK:
In these newly collected essays, interviews, and speeches, world-renowned activist and scholar Angela Y. Davis illuminates the connections between struggles against state violence and oppression throughout history and around the world.
Reflecting on the importance of Black feminism, intersectionality, and prison abolitionism for today's struggles, Davis discusses the legacies of previous liberation struggles—from the Black freedom movement to the South African antiapartheid movement. She highlights connections and analyzes today's struggles against state terror, from Ferguson to Palestine.
Facing a world of outrageous injustice, Davis challenges us to imagine and build the movement for human liberation. And in doing so, she reminds us that "freedom is a constant struggle."
PRAISE:
"In this latest text of her magisterial corpus, Angela Davis puts forward her brilliant analyses and resilient witness here and abroad. In a clear and concise manner, she embodies and enacts 'intersectionality' — a structural intellectual and political response to the dynamics of violence, White Supremacy, patriarchy, state power, capitalist markets, and imperial policies."
Dr. Cornel West, from the Foreword
"Here is someone worthy of the Ancestors who delivered her. Angela Davis has stood her ground on every issue important to the health of our people and the planet. It is impossible to read her words or hear her voice and not be moved to comprehension and gratitude for our incredible luck in having her with us."
Alice Walker
"Whether you've grown up with the courage and conscience of Angela Davis, or are discovering her for the first time, Freedom Is a Constant Struggle is a small book that will be a huge help in daily life and action, from exposing the 'prison industrial complex' that she named long ago to understanding that leaders are only leaders if they empower others. She herself exposes facts and makes connections, but also leads in the most important way — by example."
Gloria Steinem
"Angela Davis' new book made me think of what Dear Nelson Mandela kept reminding us, that we must be willing to embrace that long walk to freedom. Understanding what it takes to really be free, to have no fear, is the first and most important step one has to make before undertaking this journey. Angela is the living proof that this arduous challenge can also be an exhilarating and beautiful one."
Archbishop Desmond Tutu
"She has eyes in the back of our head. With her we can survive and resist."
John Berger
"This is vintage Angela: insightful, curious, observant, and brilliant, asking and answering questions about events in this new century that look surprisingly similar to the last century."
Mumia Abu-Jamal
"Angela Davis once again offers us an incisive, urgent, and comprehensive understanding of systematic racism, the grounds for intersectional analysis and solidarity, and the importance of working together as equals to unmask and depose systems of injustice. This wide-ranging and brilliant set of essays includes a trenchant analysis of police violence against people of color, of the systematic incarceration of black people in America, the grounds of Palestinian solidarity for the Left, the affirmation of transgender inclusion, and the necessity of opposing the G4S corporation and its high-profit empire dedicated to the institutionalization of racism in the name of security. These essays take us back in history the founders of revolutionary and anti-racist struggle, but they also take us toward the possibility of ongoing intersectional solidarity and struggle. Angela Davis gathers in her lucid words our luminous history and the most promising future of freedom."
Judith Butler
"Davis teaches us to imagine a kind of liberation we do not yet know and cannot yet name."
Truthout
"Freedom is a Constant Struggle…leaves us with the exhilarating feeling that we are indeed part of something historical…We are lucky to have people such as Davis to show us the way, or at least to accompany us as spiritual guides in the search for a better world."
Frank Barat
OTHER TITLES BY THIS AUTHOR:
Abolition. Feminism. Now (Angela Y. Davis, Gina Dent, Erica Meiners, and Beth Richie, editors)
Angela Davis: An Autobiography
ABOUT THE CONTRIBUTORS:
Angela Y. Davis is a political activist, scholar, author, and speaker. She is an outspoken advocate for the oppressed and exploited, writing on Black liberation, prison abolition, the intersections of race, gender, and class, and international solidarity with Palestine. Davis is the recipient of the 2020 Lannan Cultural Freedom Prize.
Cornel West is a prominent and provocative democratic intellectual. He is the Class of 1943 University Professor at Princeton University. He is best known for his classic Race Matters, Democracy Matters, and his new memoir, Brother West: Living and Loving Out Loud. He appears frequently on Tavis Smiley, Real Time with Bill Maher, The Colbert Report, CNN, and C-Span.
Frank Barat was the coordinator of the Russell Tribunal on Palestine. His books include Gaza in Crisis, On Palestine, Freedom Is a Constant Struggle, and We Still Here.
RIGHTS INFORMATION:
Audio book:
Languages & Territories Where Rights Have Been Sold:
Please contact subagents for the following languages and territories:
For all other languages/territories, please contact Roam Agency.