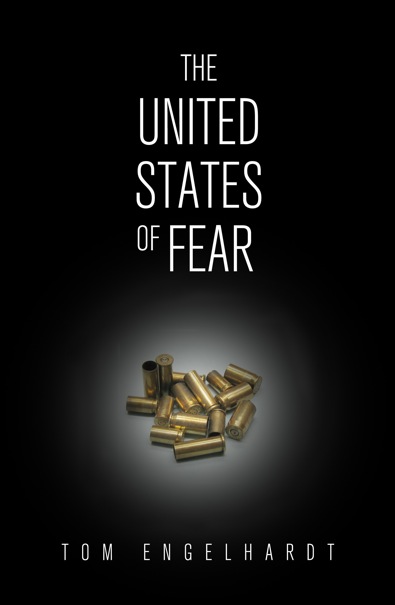 THE UNITED STATES OF FEAR
By Tom Engelhardt
Haymarket Books (October 2011, world English rights)
Trade paper • ISBN-13: 9781608461547 • US $16.95 • 5.5 in x 8.5 in • 200 pgs.
ABOUT THE BOOK:
The creator of TomDispatch.com dissects America's endless urge to go to war.
In 2008, when the U.S. National Intelligence Council issued its latest report meant for the administration of newly elected President Barack Obama, it predicted that the planet's "sole superpower" would suffer a modest decline and a soft landing fifteen years hence. In his new book, The United States of Fear, Tom Engelhardt makes clear that Americans should don their crash helmets and buckle their seat belts, because the U.S. is on the path to a major decline at a startling speed. Engelhardt, offers a savage anatomy of how successive administrations in Washington took the "Soviet path" — pouring American treasure into the military, war, and national security — and so helped drive their country off the nearest cliff.
This is the startling tale of how fear was profitably shot into the national bloodstream; how the country — gripped by terror fantasies — was locked down; and how a brain-dead Washington elite fiddled (and profited) while America quietly burned.
Think of it as the story of how the Cold War really ended, with the triumphalist "sole superpower" of 1991 heading slowly for the same exit through which the Soviet Union left the stage twenty years earlier.
PRAISE:
"A tour de force."
Jeremy Scahill
"Tom Engelhardt, as always, focuses his laser-like intelligence on a core problem that the media avoid: Obama's stunning embrace of Bush's secret government by surveillance, torture, and sanctioned assassination. A stunning polemic."
Mike Davis, author of In Praise of Barbarians and Planet of Slums
"Tom Engelhardt is the I. F. Stone of the post-9/11 age."
Andrew J. Bacevich
ABOUT THE AUTHOR:
Tom Engelhardt created and runs the TomDispatch.com website, a project of the Nation Institute, where he is a fellow. He is the author of Shadow Government and The American Way of War, both published by Haymarket Books, a highly praised history of American triumphalism in the cold war, The End of Victory Culture, and a novel, The Last Days of Publishing. Many of his TomDispatch interviews were collected in Mission Unaccomplished: TomDispatch Interviews with American Iconoclasts and Dissenters. With Nick Turse, he has written Terminator Planet: The First History of Drone Warfare, 2001-2050. He also edited The World According to TomDispatch: America in the New Age of Empire, a collection of pieces from his site that functions as an alternative history of the mad Bush years. TomDispatch is the sideline that ate his life. Before that he worked as an editor at Pacific News Service in the early 1970s, and, these last four decades as an editor in book publishing. For fifteen years, he was senior editor at Pantheon Books, where he edited and published award-winning works ranging from Art Spiegelman's Maus and John Dower's War Without Mercy to Eduardo Galeano's Memory of Fire trilogy. He is now Consulting Editor at Metropolitan Books, as well as the cofounder and coeditor of Metropolitan's the American Empire Project, where he has published bestselling works by Chalmers Johnson, Andrew Bacevich, Noam Chomsky, and Nick Turse, among others. Many of the authors whose books he has edited and published over the years now write for TomDispatch.com. For a number of years, he was also a Teaching Fellow at the Graduate School of Journalism at the University of California, Berkeley. He is married to Nancy J. Garrity, a therapist, and has two children, Maggie and Will, and a grandchild, Charlie.
ABOUT TOMDISPATCH.COM:
Tom Engelhardt launched TomDispatch.com in November 2001 as an email publication offering commentary and collected articles from the world press. In December 2002, it gained its name, became a project of The Nation Institute, and went online as "a regular antidote to the mainstream media." The site now features three articles a week, all original to the site. These include Engelhardt's regular commentaries, as well as the work of authors ranging from Rebecca Solnit, Bill McKibben, Barbara Ehrenreich, and Michael Klare to Adam Hochschild, Noam Chomsky, Anand Gopal, and Karen J. Greenberg. Nick Turse, who also writes for the site, is its managing editor and research director. Andy Kroll is its associate editor, Erika Eichelberger, its social media director, and Christopher Holmes, its copyeditor. TomDispatch is intended to introduce readers to voices and perspectives from elsewhere (even when the elsewhere is here). Its mission is to connect some of the global dots regularly left unconnected by the mainstream media and to offer a clearer sense of how this imperial globe of ours actually works.
OTHER TITLES BY THIS AUTHOR:
Shadow Government: Surveillance, Secret Wars, and a Global Security State in a Single Superpower World
The American Way of War: How Bush's Wars Became Obama's
RIGHTS INFORMATION:
Please contact subagents for the following languages and territories:
For all other languages/territories, please contact Roam Agency.