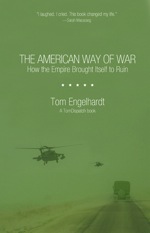 THE AMERICAN WAY OF WAR
How Bush's Wars Became Obama's
By Tom Engelhardt
Haymarket Books (June 2010, world English rights)
Paper • ISBN-13: 9781608460717 • US $16.95 • 5.5 in x 8.25 in • 269 pgs.
ABOUT THE BOOK:
Tom Engelhardt, creator of the indispensable website TomDispatch.com, takes a scalpel to the American urge to dominate the globe. Tracing developments from 9/11 to late last night, this is an unforgettable anatomy of a disaster that is yet to end.
Since 2001, Tom Engelhardt has written regular reports for TomDispatch that have provided badly needed insight into US militarism and its effects, both at home and abroad. When others were celebrating the invasions of Afghanistan and Iraq, he warned of the enormous dangers of both occupations.
In The American Way of War, Engelhardt documents Washington's ongoing commitment to military bases to preserve — and extend — its empire; reveals damning information about the American reliance on air power, at great cost to civilians in Afghanistan, Iraq, and Pakistan; and shows that the US empire has deep historical roots that precede the Bush administration — and continue today into the presidency of Barack Obama.
PRAISE:
"Tom Engelhardt is among our most trenchant critics of American perpetual war. Like I. F. Stone in the 1960s, he has an uncanny ability to ferret out and see clearly the ugly truths hidden in government reports and statistics. No cynic, he always measures the sordid reality against a bright vision of an America that lives up to its highest ideals."
Juan Cole, Professor of History at the University of Michigan
"They may have Blackwater/Xe, Halliburton, aircraft carrier battle groups, deadly drones by the score and the world's largest military budget, but we have Tom Engelhardt — and a more powerful truth-seeking missile has seldom been invented. Long-time fans like me will be happy to see some of his most memorable pieces reprinted here, although woven together in a way that makes them still stronger; for anyone not yet familiar with his work, this is your chance to meet one of the most forceful analysts alive of our country's dangerous, costly addiction to all things military."
Adam Hochschild, author of Bury the Chains and King Leopold's Ghost
"Tom Engelhardt is the I. F. Stone of the post 9/11 age — seeing what others miss, calling attention to contradictions that others willfully ignore, insisting that Americans examine in full precisely those things that make us most uncomfortable."
Andrew Bacevich, author of Washington Rules: America's Path to Permanent War
"There are a lot of ways to describe Tom Engelhardt's astonishing service to this country's conscience and imagination: you could portray him as our generation's Orwell, standing aside from all conventional framings to see afresh our dilemmas and blind spots, as the diligent little boy sending in regular dispatches on the nakedness of the emperor and his empire, as a Bodhisattva dedicated to saving all beings through compassion and awareness, but analogies don't really describe the mix of clear and sometimes hilarious writing, deep insight, superb information, empathy and outrage that has been the core of Tom's TomDispatches for almost a decade, or the extraordinary contribution they've made to the American dialogue. Check out this bundle of some of the best from that time span."
Rebecca Solnit, author of Men Explain Things to Me
"One of my favorite websites."
Bill Moyers
"Indispensable."
Tony Karon
"TomDispatch is essential reading."
Amy Goodman
ABOUT THE AUTHOR:
Tom Engelhardt created and runs the TomDispatch.com website, a project of the Nation Institute, where he is a fellow. He is the author of Shadow Government and The United States of Fear, both published by Haymarket Books, a highly praised history of American triumphalism in the cold war, The End of Victory Culture, and a novel, The Last Days of Publishing. Many of his TomDispatch interviews were collected in Mission Unaccomplished: TomDispatch Interviews with American Iconoclasts and Dissenters. With Nick Turse, he has written Terminator Planet: The First History of Drone Warfare, 2001-2050. He also edited The World According to TomDispatch: America in the New Age of Empire, a collection of pieces from his site that functions as an alternative history of the mad Bush years. TomDispatch is the sideline that ate his life. Before that he worked as an editor at Pacific News Service in the early 1970s, and, these last four decades as an editor in book publishing. For fifteen years, he was senior editor at Pantheon Books, where he edited and published award-winning works ranging from Art Spiegelman's Maus and John Dower's War Without Mercy to Eduardo Galeano's Memory of Fire trilogy. He is now Consulting Editor at Metropolitan Books, as well as the cofounder and coeditor of Metropolitan's the American Empire Project, where he has published bestselling works by Chalmers Johnson, Andrew Bacevich, Noam Chomsky, and Nick Turse, among others. Many of the authors whose books he has edited and published over the years now write for TomDispatch.com. For a number of years, he was also a Teaching Fellow at the Graduate School of Journalism at the University of California, Berkeley.
ABOUT TOMDISPATCH.COM:
Tom Engelhardt launched TomDispatch.com in November 2001 as an email publication offering commentary and collected articles from the world press. In December 2002, it gained its name, became a project of The Nation Institute, and went online as "a regular antidote to the mainstream media." The site now features three articles a week, all original to the site. These include Engelhardt's regular commentaries, as well as the work of authors ranging from Rebecca Solnit, Bill McKibben, Barbara Ehrenreich, and Michael Klare to Adam Hochschild, Noam Chomsky, Anand Gopal, and Karen J. Greenberg. Nick Turse, who also writes for the site, is its managing editor and research director. Andy Kroll is its associate editor, Erika Eichelberger, its social media director, and Christopher Holmes, its copyeditor. TomDispatch is intended to introduce readers to voices and perspectives from elsewhere (even when the elsewhere is here). Its mission is to connect some of the global dots regularly left unconnected by the mainstream media and to offer a clearer sense of how this imperial globe of ours actually works.
OTHER TITLES BY THIS AUTHOR:
Shadow Government: Surveillance, Secret Wars, and a Global Security State in a Single Superpower World
RIGHTS INFORMATION:
Please contact subagents for the following languages and territories:
For all other languages/territories, please contact Roam Agency.