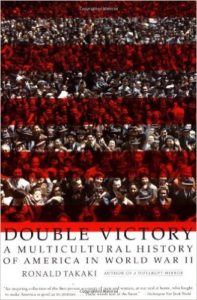 DOUBLE VICTORY
A Multicultural History of America in World War II
Ronald Takaki
Little, Brown (2001)
Paper • ISBN 9780316831567 • US $15.95 • 304 pages
ABOUT THE BOOK:
In this highly praised book, America's preeminent multicultural historian scrutinies the contradictions of the "good war" and—through the stories and voices of ordinary, ethnically diverse Americans—reveals how World War II represented a "double victory" against fascism abroad and prejudice at home."
PRAISE:
"An inspiring collection of first-person accounts of men and women, at war and at home, who fought to make America as good as its promise. . . . These words tear at the heart."
Washington Post Book World
"Takaki delivers on his promise of an 'eye-level view' of the war, bringing to life the experiences and suffering of men and women whose stories have too often been overlooked in monochromatic histories of the 'good war.' Takaki's swift account is rich in humanity and inclusiveness."
San Francisco Chronicle
"Double Victory reconsiders some of the war's most troubling questions . . . . Takaki's portraits of Roosevelt, having to be prodded into doing th right but politically risky thing and then doing it halfheartedly, and of President Harry S. Truman, his 'buck-stops-here" facade hiding his genuine terror over the A-bombing, are convincingly nuanced."
Michael Harris, Los Angeles Times
"The war against fascism, presumably for democracy, was tarnished by the racist treatment of Asians, Mexicans, and African Americans and by the official coldness in the face of the Jewish Holocaust. Takaki writes with undisguised passion, and lets us hear again and again the eloquent voices of those who fought the double fight, against the enemy abroad, for justice at home."
Howard Zinn, author of A People's History of the United States
OTHER BOOKS BY THIS AUTHOR:
A Different Mirror: A History of Multicultural America
A Larger Memory: A History of Our Diversity, with Voices
Hiroshima: Why American Dropped the Atomic Bomb
Strangers from a Different Shore: A History of Asian Americans
ABOUT THE AUTHOR:
Ronald Takaki (1939–2009) was an award-winning scholar and writer, and a fellow of the Society of American Historians. A third-generation American of Japanese heritage, Takaki designed and led the Ethnic Studies Ph.D. program at the University of California, Berkley until his retirement in 2004. His many books address the history of racial ideas and diverse groups in the American past, including Strangers from a Different Shore and A Different Mirror. Takaki was the recipient of the Association of Asian American Studies Lifetime Achievement Award in 2009.
RIGHTS INFORMATION:
For all languages and territories, please contact Taryn Fagerness at Taryn Fagerness Agency.
See here for a list of Taryn Fagerness's foreign subagents.