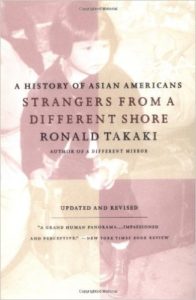 STRANGERS FROM A DIFFERENT SHORE
A History of Asian Americans
Ronald Takaki
Little, Brown (updated and revised, 1998)
Paper • ISBN 9780316831307 • US $18.00 • 640 pages
ABOUT THE BOOK:
In an extraordinary blend of narrative history, personal recollection, and oral testimony, the author presents a sweeping history of Asian Americans. He writes of the Chinese who laid tracks for the transcontinental railroad, of plantation laborers in the canefields of Hawaii, of "picture brides" marrying strangers in the hope of becoming part of the American dream. He tells stories of Japanese Americans behind the barbed wire of U.S. internment camps during World War II, Hmong refugees tragically unable to adjust to Wisconsin's alien climate and culture, and Asian American students stigmatized by the stereotype of the "model minority." This is a powerful and moving work that will resonate for all Americans, who together make up a nation of immigrants from other shores.
PRAISE:
"A grand human panorama. . . . Impassioned and perceptive."
New York Times Book Review
"Takaki effortlessly weaves the stories of thousands of Japanese, Chinese, Korean, Filipino, Indian, Vietnamese, Cambodian, and Laotian Americans into a single tale of discovery, endurance, and courage."
San Francisco Chronicle
"Takaki marshals an impressive array of details in his history of Asian Americans. . . . Personal passion shines through this scholarship."
Chicago Tribune
"Takaki, descended from a Japanese-American family who labored on Hawaiian plantations, and now an ethnic studies professor at UC Berkeley, has written a vibrant, rich history that gives back a voice to countless 'invisible Americans.' His broad, multi-ethnic survey is peopled with real individuals, allowing us to experience their loneliness, separation from families, struggles for survival."
Publishers Weekly
"This is fascinating reading, highly recommended."
Library Journal 
OTHER BOOKS BY THIS AUTHOR: 
A Different Mirror: A History of Multicultural America
A Larger Memory: A History of Our Diversity, with Voices
Double Victory: A Multicultural History of America in World War II
Hiroshima: Why American Dropped the Atomic Bomb
ABOUT THE AUTHOR:
Ronald Takaki (1939–2009) was an award-winning scholar and writer, and a fellow of the Society of American Historians. A third-generation American of Japanese heritage, Takaki designed and led the Ethnic Studies Ph.D. program at the University of California, Berkley until his retirement in 2004. His many books address the history of racial ideas and diverse groups in the American past, including Strangers from a Different Shore and A Different Mirror. Takaki was the recipient of the Association of Asian American Studies Lifetime Achievement Award in 2009.
RIGHTS INFORMATION:
For all languages and territories, please contact Taryn Fagerness at Taryn Fagerness Agency.
See here for a list of Taryn Fagerness's foreign subagents.