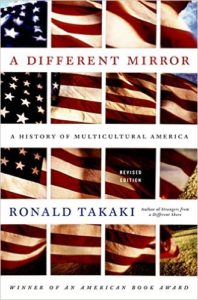 A DIFFERENT MIRROR
A History of Multicultural America
Winner of an American Book Award
Ronald Takaki
Little, Brown (Revised ed., 2008)
Paper • ISBN 9780316022361 • US $18 • 529 pgs.
ABOUT THE BOOK:
Upon its first publication, A Different Mirror was hailed by critics and academics everywhere as a dramatic new retelling of our nation's past. Beginning with the colonization of the New World, it recounted the history of America in the voice of the non-Anglo peoples of the United States—Native Americans, African Americans, Jews, Irish Americans, Asian Americans, Latinos, and others—groups who helped create this country's rich mosaic culture.
Now, Ronald Takaki has revised his landmark work and made it even more relevant and important. Among the new additions to the book are:
– The role of black soldiers in preserving the Union
– The history of Chinese Americans from 1900-1941
– An investigation into the hot-button issue of "illegal" immigrants from Mexico
– A look at the sudden visibility of Muslim refugees from Afghanistan
This new edition of A Different Mirror is a remarkable achievement that grapples with the raw truth of American history and examines the ultimate question of what it means to be an American.
PRAISE:
"In a vibrantly rich, moving multicultural tapestry, Takaki provides a fresh slant on American society by tracing the interwoven histories of Native Americans, Africans, Chinese, Japanese, Chicanos, Irish and Jewish immigrants. We see how 17th-century white planters, anxious to weaken an armed, politicized, white proletariat, enslaved an unarmed black workforce, with explosive consequences. We follow Chicano struggles as an integral part of America's westward expansion and learn how Jewish-black solidarity extends back to John Brown's uprising in 1856 against slavery in Kansas, an insurrection in which Jews participated. We see how oppression of the Irish (the first people the English called "savages") foreshadowed the subjugation of Native Americans. Interweaving voices from all points on the ethnic rainbow, Takaki, ethnic studies professor at UC Berkeley, has produced a brilliant revisionist history of America that is likely to become a classic of multicultural studies."
Publishers Weekly
OTHER BOOKS BY THIS AUTHOR: 
A Larger Memory: A History of Our Diversity, with Voices
Double Victory: A Multicultural History of America in World War II
Hiroshima: Why American Dropped the Atomic Bomb
Strangers from a Different Shore: A History of Asian Americans
ABOUT THE AUTHOR:
Ronald Takaki (1939–2009) was an award-winning scholar and writer, and a fellow of the Society of American Historians. A third-generation American of Japanese heritage, Takaki designed and led the Ethnic Studies Ph.D. program at the University of California, Berkley until his retirement in 2004. His many books address the history of racial ideas and diverse groups in the American past, including Strangers from a Different Shore and A Different Mirror. Takaki was the recipient of the Association of Asian American Studies Lifetime Achievement Award in 2009.
RIGHTS INFORMATION:
Audio book:
For all languages and territories, please contact Taryn Fagerness at Taryn Fagerness Agency.
See here for a list of Taryn Fagerness's foreign subagents.