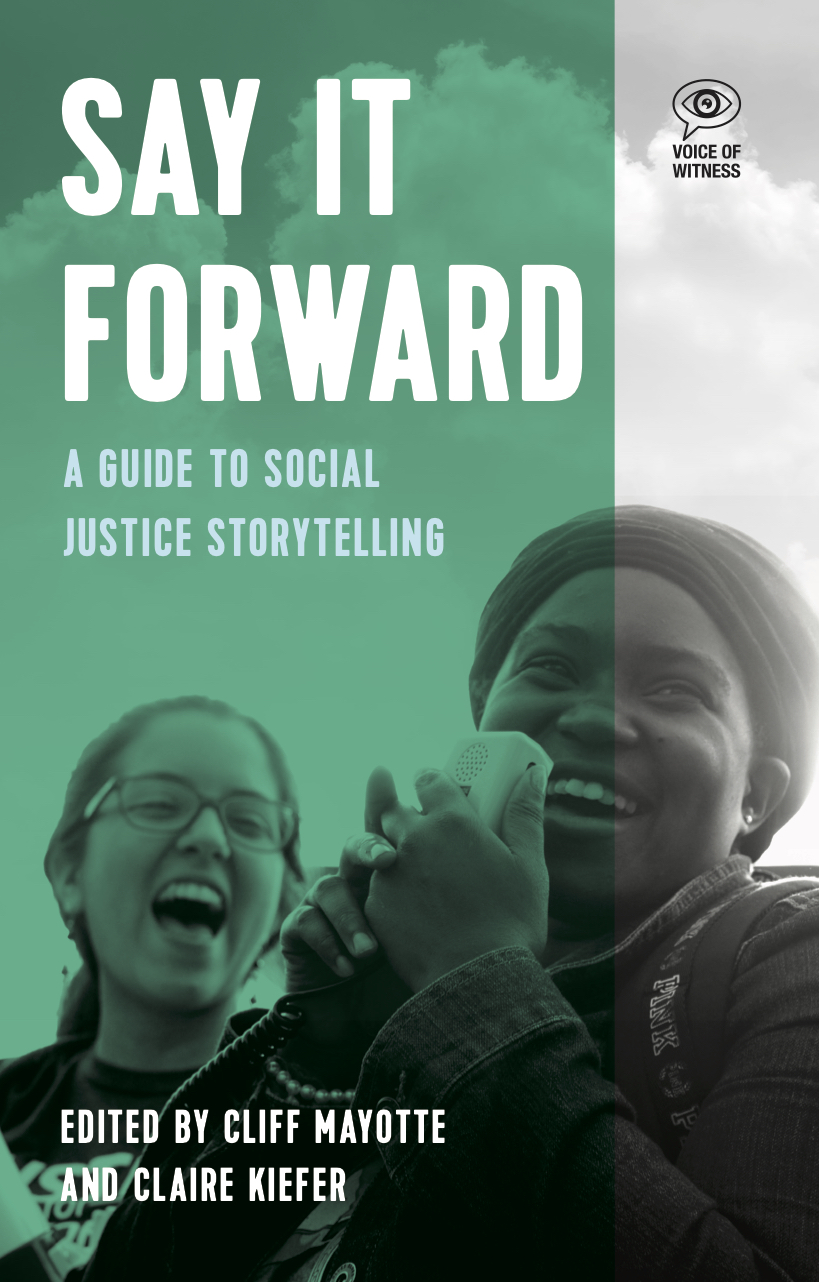 SAY IT FORWARD
A Guide to Social Justice Storytelling
Edited by Claire Kiefer and Cliff Mayotte
Haymarket Books (November 2018)
Paper • ISBN-13: 9781608469581• US $19.95 • 5.5 in x 8.5 in• 280 pgs.
ABOUT THE BOOK:
Oral history is a universal form of storytelling. For many years, Voice of Witness has shared powerful stories of people impacted by injustice with a broad audience of readers. Say It Forward extends this work, offering a guide for social justice storytelling that outlines the critical methodology at the core of Voice of Witness's evocative oral history collections. Field reports such as "OG Told Me" and "Tales of Tar Sands Resistance" candidly detail how to harness the power of personal narrative to expose larger issues of inequality.
PRAISE:
"Stories are humankind's connective tissue, and Say It Forward reminds us the process through which we document a story is as important and powerful as the story itself."
Lauren Markham, author of The Far Away Brothers
"Oral history changes lives. Claire Kiefer and Cliff Mayotte have made a profoundly clear, fluid, and accessible guide to doing your own oral histories, and teachers, students, and parents: I beg you to try it."
Dave Eggers, Voice of Witness cofounder and author, The Monk of Mokha and What Is the What
"Say It Forward is a useful guide for anyone new to recording the oral histories of vulnerable populations. Voice of Witness makes plain how to work with sensitivity, respect, and care."
Danielle Jackson, cofounder, Bronx Documentary Center
OTHER TITLES IN THIS SERIES:
Six by Ten: Stories from Solitary
Solito, Solita: Crossing Borders with Youth Refugees from Central America
ABOUT THE AUTHORS:
Voice of Witness (VOW) advances human rights by amplifying the voices of people impacted by injustice. Cofounded by author Dave Eggers, writer and educator Mimi Lok, and physician Lola Vollen, the work of VOW is driven by the transformative power of the story, and by a strong belief that an understanding of crucial issues is incomplete without deep listening and learning from people who have experienced injustice firsthand.
Cliff Mayotte is the Education Program Director with Voice of Witness. He previously edited The Power of the Story: The Voice of Witness Teachers Guide to Oral History published in 2013 by Voice of Witness and McSweeney's.
Claire Kiefer is the author of Bear Witness, forthcoming from Big Pencil Press in Fall 2018. She is a Voice of Witness curriculum specialist.
RIGHTS INFORMATION:
Please contact subagents for the following languages and territories:
For all other languages/territories, please contact Roam Agency.