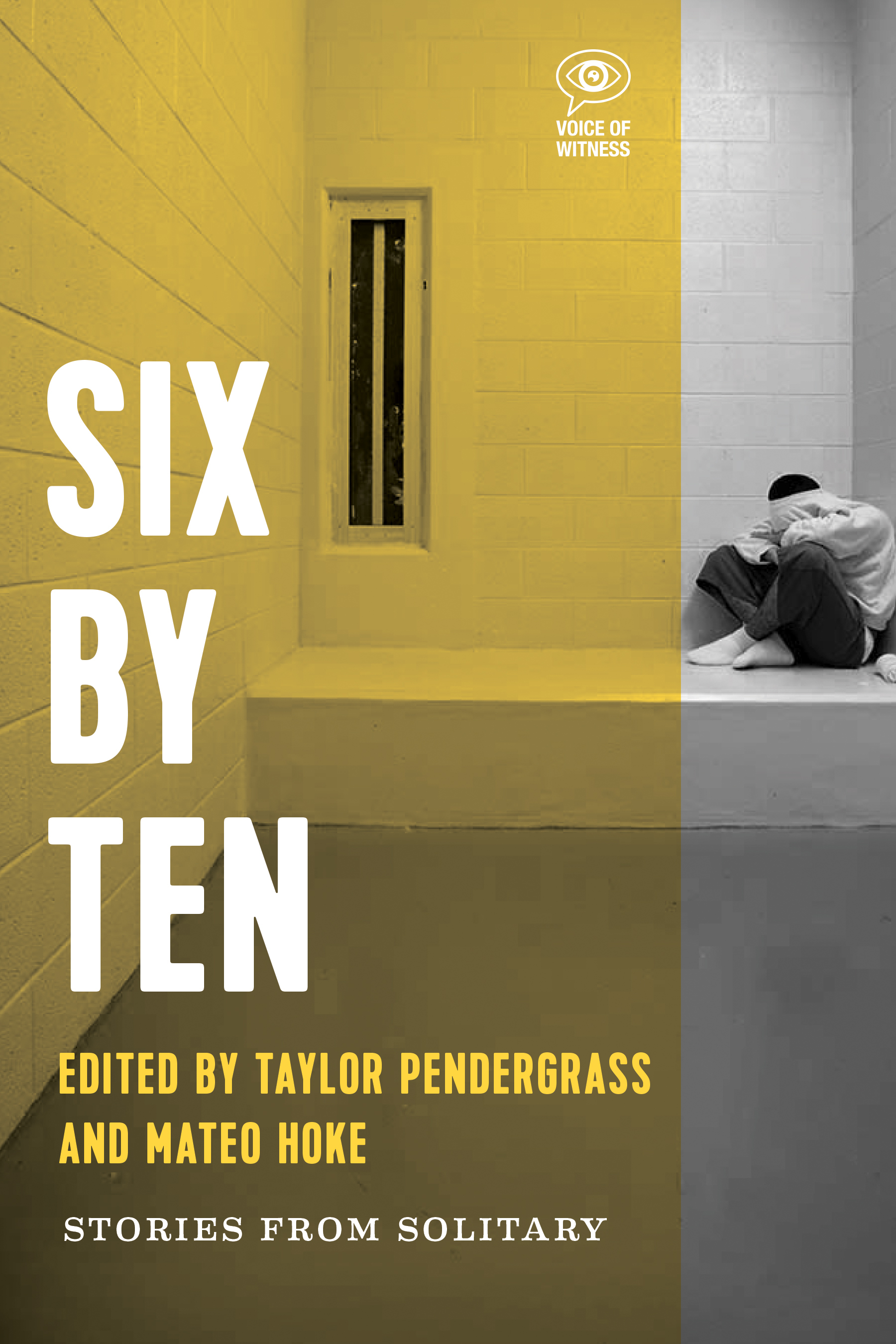 SIX BY TEN
Stories from Solitary
Edited by Taylor Pendergrass and Mateo Hoke
Haymarket Books (Fall 2018)
Paper • ISBN-13:9781608469567• US $17.95 • 5.5 in x 8.5 in• 320 pgs.
ABOUT THE BOOK:
An estimated 80,000 Americans are held in solitary confinement in prisons across the country. Solitary confinement, often in cells no bigger than 6 by 10 feet, means 24 hours per day with little or no meaningful human contact.
Six By Ten explores the mental, physical, and spiritual impacts of America's widespread embrace of solitary confinement, as told through the first-person narratives of individuals subjected to solitary confinement, family members on the outside, and corrections officers. Each chapter presents a different individual's story and probes how Americans from all over the country and all walks of life find themselves held in solitary for years or even decades at a time.
PRAISE:
"The stories stop you in your tracks, but the appendices help move progress forward with simplicity, depth, and hope, beginning with ten things anyone can do that are impactful and accessible. The educational pieces of the book give apt background on the history and usage of solitary confinement, allowing even those examining the practice for the first time to have a firm grasp of the situation. Six by Ten moves Americans to action for humanity and fairness in the criminal justice system."
Foreword Reviews
"Deeply moving and profoundly unsettling."
Heather Ann Thompson, Pulitzer Prize-winning author of Blood in the Water: The Attica Prison Uprising of 1971 and Its Legacy.
"A consistently eye-opening, urgent report on the use and misuse of prisoner isolation. "
Kirkus Reviews
OTHER TITLES IN THIS SERIES:
Say it Forward: A Guide to Social Justice Storytelling
Solito, Solita: Crossing Borders with Youth Refugees from Central America
ABOUT THE AUTHORS:
Voice of Witness (VOW) advances human rights by amplifying the voices of people impacted by injustice. Cofounded by author Dave Eggers, writer and educator Mimi Lok, and physician Lola Vollen, the work of VOW is driven by the transformative power of the story, and by a strong belief that an understanding of crucial issues is incomplete without deep listening and learning from people who have experienced injustice firsthand.
Mateo Hoke is writer, journalist, and coeditor of Palestine Speaks: Narratives of Life under Occupation. He studied journalism at the University of Colorado and the University of California-Berkeley Graduate School of Journalism.
Taylor Pendergrass is an advocate and activist around ending mass incarceration and racial injustice in the criminal legal system. He currently works for the ACLU and lives in Denver, Colorado. He graduated from Duke University and the University of Colorado School of Law.
RIGHTS INFORMATION:
Please contact subagents for the following languages and territories:
For all other languages/territories, please contact Roam Agency.