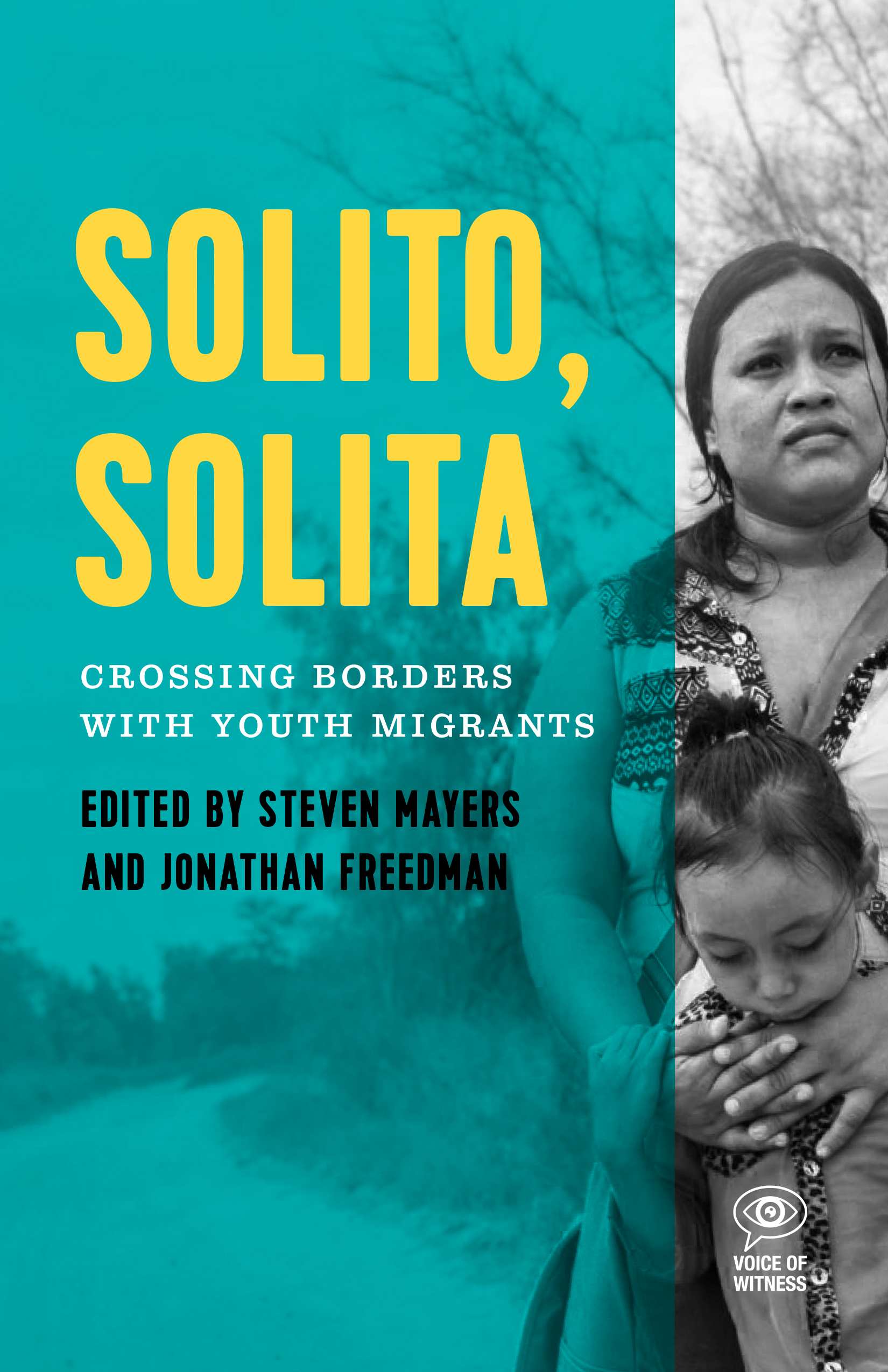 SOLITO, SOLITA
Crossing Borders with Youth Refugees from Central America
Edited by Jonathan Freedman and Steven Mayers.
Haymarket Books (Spring 2019)
Trade Paper • ISBN-13:9781608466184 • US $19.95 • 5.5 in x 8.5 in • 320 pgs.
ABOUT THE BOOK:
A collection of oral histories told by the thousands of young people fleeing violence and poverty in Central America.
They are a mass migration of thousands, yet each on travels alone. Solito, Solita, ("Alone, Alone"), is a Voice of Witness collection of oral histories which tell the story of youth refugees fleeing their home countries and traveling for hundreds of miles seeking safety and protection in America.
These powerful narrators describe why they fled their homes, what happened on their dangerous journeys through Mexico, how they crossed the border, and their ongoing struggle to survive in the United States. In our era of fear, xenophobia, and outright lies, these stories amplify the powerful voices of immigrant youth. What can they teach us about abuse and abandonment, bravery and resilience, hypocrisy and hope? In fitful bursts or breathless revelations, they bring us into their hearts and onto streets filled with the lure of freedom and fraught with violence. From fending off kidnappers with knives and being locked in freezing holding cells to tearful reunions with parents, Solito, Solita's evocative stories bring to light the authentic experiences of young people struggling for a better life across the border.
PRAISE:
"In this moving and expertly researched collection of 15 narratives, Mayers, a historian and professor, and Freedman, a Pulitzer Prize–winning journalist, offer readers oral histories told by some of the 'thousands of children… trekking from Central America to El Norte' and some of the mothers making the journey with their children…The authors end by urging readers to take political action to help migrants like those interviewed here. This work carries a harrowing message."
Publishers Weekly
"A poignant, uncompromising addition to the growing literature on the plights of migrating asylum-seekers from Central America."
"Intense testimonies that leave one shivering, astonished at the bravery of the human spirit."
Sandra Cisneros, MacArthur Genius Grant recipient and author of The House on Mango Street
"Solito, Solita gives readers the rare chance to hear directly from young migrants who have risked everything for a better life on our side of the border. With unflinching clarity, they detail the violence they left behind, the fear and difficulties they face after arrival, and the hope and resiliency that carries them through it all. They have courageously shared these experiences with the idea that people like us might read their stories and be moved to action, and we owe it to them to do so."
Francisco Cantú, author of The Line Becomes a River
"This book fills a crucial missing piece in today's immigration debate. Everyone who cares about immigration—and about migrants—should read it."
Aviva Chomsky, professor at Salem State University and author of Undocumented
"Stories of war and exile, of migrations and survival—a most pertinent collection for our times, one that puts a human face on the greatest tragedy and humanitarian crises of our generation. This collection is a must read for politicians that demonize refugees and a call to action for everyone else."
− Alejandro Murguia, San Francisco Poet Laureate Emeritus and Professor of Latina/ Latino Studies at San Francisco State University
"Immigration narratives are too often reduced to tropes, to statistics and numbers, to binary politics and manipulative rhetoric, but not so in this volume of stories. Solito, Solita reaches beyond and beneath the headlines, clearing the mess and the noise so that we can hear the voices that matter most in contemporary migration: those of young migrants themselves."
Lauren Markham, author of Far Away Brothers: Two Young Migrants and the Making of an American Life
"These raw voices pulse with heartbreak, resilience, hope and even joy, shining a light on the forces that compel young people to flee their homes in the Northern Triangle in search of safety and solace in the United States. A must read for today's immigration debate."
Sara Campos, co-director of the New American Story Project
"This is a thorough, compassionate, and necessary book that allows an unique set of voices – child refugees – to be heard. The framing of the narratives and the Introduction offer important information about the U.S. role in the proliferation of violence and corruption but the work remains focused on the crucial individual voices."
Ariana Vigil, professor at UNC Chapel Hill
OTHER TITLES IN THIS SERIES:
Say it Forward: A Guide to Social Justice Storytelling
Six by Ten: Stories from Solitary
ABOUT THE AUTHORS:
Voice of Witness (VOW) advances human rights by amplifying the voices of people impacted by injustice. Cofounded by author Dave Eggers, writer and educator Mimi Lok, and physician Lola Vollen, the work of VOW is driven by the transformative power of the story, and by a strong belief that an understanding of crucial issues is incomplete without deep listening and learning from people who have experienced injustice firsthand.
Steven Mayers is a writer, oral historian and Professor of English at the City College of San Francisco.
Jonathan Freedman is a Pulitzer prize-winning journalist, author, and writing mentor at the City College of San Francisco. His novel, The Last Brazil of Benjamin East, (2014 Bright Lights Press) was critically acclaimed. He graduated from Columbia University, traveled overland from America to Bolivia, and lived in Brazil, Spain, Portugal, and Switzerland. He was awarded a Pulitzer Prize in Distinguished Editorial Writing for his prophetic editorials calling for immigration reform.
RIGHTS INFORMATION:
Audio book:
Please contact subagents for the following languages and territories:
For all other languages/territories, please contact Roam Agency.