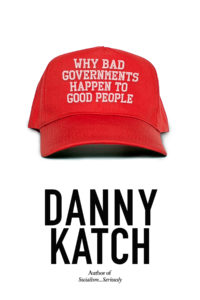 WHY BAD GOVERNMENTS HAPPEN TO GOOD PEOPLE
Danny Katch
Haymarket Books (Fall 2017)
Paper • ISBN-13: 9781608468584 • US $13.95 • 120 pgs.
Read an adapted excerpt in Jacobin: The System Failed
ABOUT THE BOOK:
"Imagine coming out of a long coma and finding out that a worm is now in charge of your country. Not a metaphorical worm but an actual giant night crawler—one that can stand upright, wear a suit, and tweet, but otherwise a typical worm that has no eyes to see beauty or suffering and no ears to listen to the wisdom of other points of view. Instead this thing that is now president is equipped only with the primal fear of the unknown shared by all living things, plus a set of chemoreceptors all over his slimy skin that pick up even the faintest scents of money and celebrity that he's been crawling toward throughout his dim and miserable life.
"If you woke up in this strange world, your first question wouldn't be about the damn worm, but about what the hell had happened to everything else to get to this point. This book aims to give some answers."
—From Chapter 1
PRAISE:
"This is a moment when politics and laughter are both necessities for survival. Without them we would be lost. Now we have a book that gives us both. When political ideas and humor come together, as they do here under the pen of Danny Katch, it is nothing less than a compass out of the wilderness."
Dave Zirin, Sports Editor, The Nation Magazine
If your world seems to be spinning off into the surreal, if you arise every morning sleepily expecting to be freed from an ongoing, unthinkable nightmare only to discover that things are even worse today than yesterday, and if your waking hours are punctuated with sudden shudders of political vertigo, Danny Katch is the antidote. Katch is a rib-tickling radical—two words that rarely go well together— the clown prince of socialism, who provides sparkling new insights as well as therapeutic laughs on every page. In the tradition of Abbie Hoffman and George Carlin, Sarah Silverman and Dave Chappelle, Katch's generous, embracing humor is deployed to uncover the deepest truths of our predicament. Why Bad Governments Happen to Good People is a necessary handbook for the struggles to come—don't miss it.
Bill Ayers, author of Demand the Impossible!: A Radical Manifesto
It's horrible, tragic, ridiculous, and full of suspense. But enough about the White House. This book will make you laugh out loud, learn something about our world, and get inspired to change it.
Brian Jones, Green Party candidate for Lt. Governor of New York, 2014
"Danny Katch brings his signature combination of pointed humor, righteous anger and political insight to bear on the election of Trump and, more importantly, its root causes. If you or your friends and family have been shocked and horrified since Election Day, Katch will calm you down, cheer you up, and get you ready to fight."
Sarah Jaffe, author, Necessary Trouble: Americans in Revolt
Danny Katch's Why Bad Governments Happen to Good People is a critical argument that the election of Trump is indicative of a crisis of democracy in the United States. The perpetual choice between the corrupt Republican Party or the inept Democratic Party has left millions of people without a real alternative in the contests that are supposed to determine our political representation. With wit and clarity, Katch argues for social movements, political activism, and socialism as the alternatives we need to win the world we want. Get this book!
Keeanga-Yamahtta Taylor, author of From #BlackLivesMatter to Black Liberation
OTHER BOOKS BY THIS AUTHOR:
America's Got Democracy! The Making of the World's Longest Running Reality Show
Socialism…Seriously: A Brief Guide to Human Liberation
ABOUT THE AUTHOR:

Danny Katch is an activist and humorist often accused of not knowing the difference. He has contributed chapters to Occupying Wall Street: The Inside Story of an Action that Changed America and 101 Changemakers: Rebels and Radicals Who Changed US History and is the author of Socialism . . . Seriously! and America's Got Democracy! The Making of the World's Longest Running Reality Show. When he is not coming up with absurdly long book titles, he writes regularly for Socialist Worker.
RIGHTS INFORMATION:
Please contact subagents for the following languages and territories:
For all other languages/territories, please contact Roam Agency.