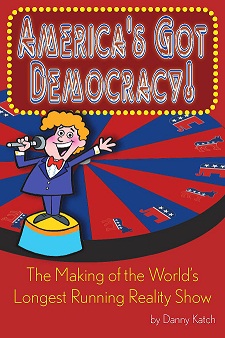 AMERICA'S GOT DEMOCRACY!
The Making of the World's Longest Running Reality Show
By Danny Katch
Haymarket Books (September 2012, world English rights)
ISBN-13: 9781608462988 • EBook format • 80 p.
ABOUT THE BOOK:
A humorous put passionate look at the criminal silliness of the U.S. political system.
The 2012 election is a bummer. A loud, angry, expensive bummer.
In four years Americans have gone from hoping Obama could fix the country's enormous problems to praying he can just hold off the Romney Ryan creep show. What happened?
The problem, according to Danny Katch, is that the real decision making authority resides in institutions from Wall Street to the Pentagon that are literally mad with power. In this raucous irreverent book, Katch diagnoses the various mental disorders peculiar to those who have way too much money and power – and the politicians who work for them. He shows how the very elections that are supposed to be our way of bringing about change have become a tool to get us to accept the insane status quo.
Combining a Marxist's critical perspective with a stand up's comic timing, Katch ridicules the fundamental assumptions of our political system from the perspective of one who is stuck like everybody else inside that system with no short term alternative.
For anybody with a basic sense that something is very wrong with the system, regardless of how they plan to vote in November, America's Got Democracy! can help them maintain perspective, sanity, and humor during the silliest and scariest final months of the campaign.
PRAISE:
"Danny Katch has better comic bomb sights than Jon Stewart: his outrageous, passionate sarcasm always falls exactly on target. The Democratic Party, as we used to say in the day, is the killing joke."
Mike Davis, author, In Praise of Barbarians
"The funniest, smartest, and most dangerous political writer you never heard of is Danny Katch. You'll laugh. You'll get pissed off. You'll disagree. And you'll wonder how you read this terrific book in one sitting. A welcome antidote to what passes for political writing in an election year."
Dave Zirin, sports editor, The Nation magazine, author of A People's History of Sports in the United States
"From Cocoa Puffs to melting ice caps, Danny Katch's America's Got Democracy gets to the heart of how and why our political establishment creates economic, social, and environmental crapification, and he does it with a flair even the most disaffected café barista with a PhD will love. But if you enjoy reading dry, abstract political works in which the words go clopping across the page on little wooden feet, don't read Katch's book. I chuckled so much while reading it on the F train that not only did everyone around me ask what it was, but I was so engrossed I missed my stop."
Sherry Wolf, author, Sexuality and Socialism
"Guess what? It's even more boringer reading it than talking about it."
Lila Katch, seven years old
ABOUT THE AUTHOR:
Danny Katch is an activist and humorist often accused of not knowing the difference. He has contributed chapters to Occupying Wall Street: The Inside Story of an Action that Changed America and 101 Changemakers: Rebels and Radicals Who Changed US History and is the author of Socialism . . . Seriously! and Why Bad Governments Happen to Good People. When he is not coming up with absurdly long book titles, he writes regularly for Socialist Worker.
OTHER TITLES BY THIS AUTHOR:
Socialism…Seriously: A Brief Guide to Human Liberation
Why Bad Governments Happen to Good People
RIGHTS INFORMATION:
Please contact subagents for the following languages and territories:
For all other languages/territories, please contact Roam Agency.