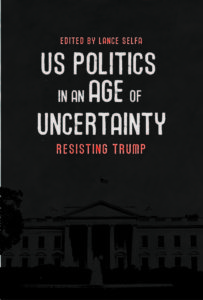 US POLITICS IN AN AGE OF UNCERTAINTY
Essays on a New Reality
Edited by Lance Selfa
Haymarket Books (October 2017)
Paper • ISBN-13:9781608468539 • US $14.95 • 234 pgs.
ABOUT THE BOOK:
Right up until November 8, 2016, few predicted Donald J. Trump, who ran an openly misogynist, racist, and xenophobic campaign, would make it into the White House. Since that dreadful day, the nation has reeled through an unbroken sequence of political scandals, outrages and crises.
In these timely essays, leading socialist scholars and activists take up urgent but often overlooked questions to understand the political climate marked by both the least popular president and the largest popular protests in US history. Critically, they argue that Trump's ascension is not a radical departure from the past, but an all-too-logical outcome of a political duopoly in which both parties vie for the support of the 1 percent and leave the majority of the population behind. Situating the rise of Trumpism in the broader direction of US politics isn't a cause for despair. It's a call to break from the undemocratic institutions that led us here and instead imagine a radically different politics of justice and liberation.
PRAISE:
"To successfully wage political struggles, we must first understand the terrain on which we stand. This collection contains everything we need to understand the world that gave us Trump, and to arm ourselves for the battles to come."
Sarah Jaffe, author of Necessary Trouble: Americans in Revolt.
"This brilliant collection shows how the dismal neoliberalism of the corporate Democrats combined with the dark genius of the right to put a malignantly narcissistic, racist, sexist, and nativist white-nationalist mogul in the White House. The contributors point the way to an independent and genuinely Left politics beyond what contributor Nancy Fraser rightly calls "the Hobson's choice between reactionary populism and progressive neoliberalism."
Paul Street, author of They Rule: The 1 Percent v. Democracy
"US Politics in an Age of Uncertainty is a must-read for anyone serious about understanding the nation's political affairs in a deep and historically astute way that goes beneath and beyond the endless soap opera and superficial coverage of the reigning media-politics culture."
Truthdig
OTHER BOOKS BY THIS AUTHOR:
The Democrats: A Critical History (Updated Edition)
ABOUT THE AUTHOR:
Lance Selfa is an editor of International Socialist Review and the author of The Democrats: A Critical History and editor of The Struggle for Palestine. He is also a regular contributor to Socialist Worker newspaper, based in Chicago.
RIGHTS INFORMATION:
Please contact subagents for the following languages and territories:
| Language/Territory | Subagent |
| --- | --- |
| China, Taiwan, Indonesia, Malaysia, and Vietnam | Big Apple Agency |
| English outside North America | David Grossman Literary Agency |
| German | Paul & Peter Fritz AG Literatur Agentur |
| Greek | Read n' Right Agency |
| Hebrew | The Deborah Harris Agency |
| Italian | The Nabu International Literary Agency |
| Japanese | The English Agency (Japan) Ltd |
| Korean | BC Agency, or Korea Copyright Center |
| Portuguese | RIFF Agency |
| Russia/Baltics/Eastern Europe | Prava I Prevodi |
| Scandinavia: Sweden, Norway, Finland, Denmark, Iceland | Brandt New Agency |
| Spanish in Latin America | International Editors' Co., S.A. |
| Spanish in Spain | International Editors' Co., S.A. |
| Turkish | Anatolialit Agency |
For all other languages/territories, please contact Roam Agency.