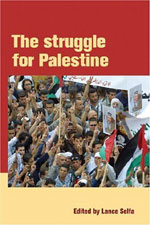 THE STRUGGLE FOR PALESTINE
Edited by Lance Selfa
Haymarket Books (2002, world English rights)
With chapters by Anthony Arnove, Naseer Aruri, David Barsamian, Paul D'Amato, Phil Gasper, Toufic Haddad, Tikva Honig-Parnass, Rania Masri, Mostafa Omar, Tanya Reinhart, Edward W. Said, Lance Selfa, Ahmed Shawki, and Hadas Thier.
Paper • ISBN-13: 9781931859004 • US $14 • 7.7 in x 5.5 in • 256 pgs.
ABOUT THE BOOK:
In this important new collection of essays, leading international solidarity activists offer insight into the ongoing struggle for Palestinian freedom and for justice in the Middle East.
After years of being told that a U.S.-brokered "peace process" would bring them a better life and their own state, Palestinians today are worse off than they have ever been. Israel's illegal settlements have doubled.
Unemployment and poverty have risen dramatically. And Palestinians face the daily humiliations and brutality of life under military occupation.
The Struggle for Palestine gets behind the headlines and myths about the occupation and the "peace process" to expose the role of the U.S. government in sponsoring Israel's war against the Palestinians. It documents the efforts of Palestinians to win their freedom, most recently in the Al Aqsa Intifada. And it presents a clear vision of a real solution: the creation of a secular, democratic state in all of Palestine.
With maps, detailed notes, a detailed bibliography, and resources for further information and action.
ABOUT THE EDITOR:
Lance Selfa is a researcher and author based in Chicago, Illinois. An editor and contributor to the International Socialist Review, Selfa is the author of The Democrats: A Critical History (Haymarket, 2008).
OTHER TITLES BY THIS AUTHOR:
The Democrats: A Critical History (Updated Edition)
US Politics in an Age of Uncertainty: Essays on a New Reality
RIGHTS INFORMATION:
Languages & Territories Where Rights Have Been Sold:
| Language/Territory | Publisher |
| --- | --- |
| French/worldwide | Paragon/L'Aventurine |
Please contact subagents for the following languages and territories:
For all other languages/territories, please contact Roam Agency.