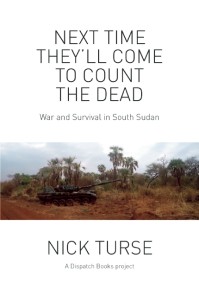 NEXT TIME THEY'LL COME TO COUNT THE DEAD
War and Survival in South Sudan
By Nick Turse
Haymarket Books (2016)
Paper • ISBN-13: 9781608466481 • US $15.95 • 220 pages
ABOUT THE BOOK:
A dramatic, true story of men and women trapped in the grip of war, Next Time They'll Come to Count the Dead is modern crisis reporting at its best.
For six weeks in the Spring of 2015, award-winning journalist Nick Turse traveled on foot as well as by car, SUV, and helicopter around war-torn South Sudan talking to military officers and child soldiers, United Nations officials and humanitarian workers, civil servants, civil society activists, and internally displaced persons–people whose lives had been blown apart by a ceaseless conflict there. In fast-paced and dramatic fashion, Turse reveals the harsh reality of modern warfare in the developing world and the ways people manage to survive the unimaginable.
Next Time They'll Come to Count the Dead isn't about combat, it's about the human condition, about ordinary people thrust into extraordinary circumstances, about death, life, and the crimes of war in the newest nation on earth.
PRAISE FOR THE BOOK:
"'Horror shows are plentiful in a country at war,' Nick Turse writes in this painful, chilling account of the rapid descent of South Sudan from the birth of a new country, resurrected from the ashes of bitter conflict, to utter despair and possible genocide. 'But some are grimmer than others,' he adds, finding them wherever he turns in this vivid, gripping account of inhuman cruelty, laced with rays of hope and courage and dignity amidst the horrors."
Noam Chomsky
"The average journalist follows the herd of others. A bold one like Nick Turse goes to where the herd isn't. His searing reporting in this book brings alive the suffering of a country that the United States, midwife to its birth, has largely forgotten."
Adam Hochschild, author of To End All Wars: A Story of Loyalty and Rebellion, 1914-1918 and King Leopold's Ghost: A Story of Greed, Terror and Heroism in Colonial Africa
"Turse gives a sobering account of the horrific crimes against ordinary people that define South Sudan's conflict. He shows how efforts to count the dead, investigate the crimes, and bring perpetrators to justice have so far failed. His compelling account reminds us why accountability is both urgent and necessary."
Kenneth Roth, executive director, Human Rights Watch
"Nick Turse, alone among war reporters, is the wandering scribe of war crimes. Reading Turse will turn your view of war upside down. In South Sudan, troops run amok, desperate civilians shelter in squalid UN camps, international officials fail to record evidence of atrocities, while military and political bigwigs battle for power at the cost of their country. No glory here in Turse's pages, but the clear voices of people caught up in this fruitless cruelty, speaking for themselves."
Ann Jones, author of They Were Soldiers
PRAISE FOR THE AUTHOR:
"Gripping and meticulous, Nick Turse's reporting on Africa sheds much-needed light on shadowy missions the U.S. military would rather keep secret. His investigations of U.S. military missions in Africa in Tomorrow's Battlefield reveal a secret war with grave implications for Africans and Americans, alike."
Glenn Greenwald
"A dogged and intrepid journalist who won't take 'no comment' for an answer, Nick Turse has done a fantastic job of exposing the U.S. military's expansion into Africa and the proliferation of its secret missions on the continent."
Craig Whitlock, Pentagon correspondent, Washington Post
ABOUT THE AUTHOR:
Nick Turse is the managing editor of TomDispatch.com, a contributing writer reporting on national security and foreign policy for The Intercept, and a fellow at The Nation Institute. He is the author of Next Time They'll Come to Count the Dead: War and Survival in South Sudan, Tomorrow's Battlefield: U.S. Proxy Wars and Secret Ops in Africa, and Kill Anything That Moves: The Real American War in Vietnam. His writing has appeared in the New York Times, Los Angeles Times, San Francisco Chronicle, The Nation, Village Voice, and many other publications. He has received a Ridenhour Prize for Investigative Reporting, a James Aronson Award for Social Justice Journalism, and a Guggenheim Fellowship
OTHER TITLES BY THIS AUTHOR:
The Changing Face of Empire: Special Ops, Drones, Spies, Proxy Fighters, Secret Bases, and Cyber Warfare
Tomorrow's Battlefield: U.S. Proxy Wars and Secret Ops in Africa
RIGHTS INFORMATION:
Languages & Territories Where Rights Have Been Sold:
Please contact subagents for the following languages and territories:
For all other languages/territories, please contact Roam Agency.