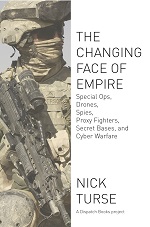 THE CHANGING FACE OF EMPIRE
Special Ops, Drones, Spies, Proxy Fighters, Secret Bases, and Cyber Warfare
By Nick Turse
Haymarket Books / Dispatch Books (October 2012, world English rights)
Paper • ISBN-13: 9781608463114 • 5 x 8 • 112 p.
ABOUT THE BOOK:
The Changing Face of Empire is a devastating anatomy of the U.S. military's new six-point program for twenty-first-century war. Following failures in Iraq and Afghan, as well as "military lite" methods and counterinsurgency, the Pentagon is now pioneering a new brand of global warfare predicated on special ops, drones, spy games, civilian soldiers, cyberwarfare, and proxy fighters.
From the Greater Middle East and Africa to Asia and Latin America, this new American style of warfare is already spreading around the world as secret drone bases expand, proxy armies are trained, and the CIA is further militarized. For the first time, Turse brings to the forefront an emerging way of war that few have noticed, but is sure to be in tomorrow's headlines.
It may sound like a safer, saner brand of war-fighting – a panacea for America's national security ills. In reality, it will prove anything but, as Nick Turse's pathbreaking reportage makes all too clear. It's a guarantee of global blowback.
ABOUT THE AUTHOR:
Nick Turse is the managing editor of TomDispatch.com and a fellow at The Nation Institute. A 2014 Izzy Award winner, he has reported from the Middle East, Southeast Asia and Africa, and his pieces have appeared in The New York Times, The Los Angeles Times, The Nation and regularly at TomDispatch. Turse's New York Times bestseller Kill Anything That Moves: The Real American War in Vietnam received a 2014 American Book Award.
OTHER TITLES BY THIS AUTHOR:
Next Time They'll Come to Count the Dead: War and Survival in South Sudan
Tomorrow's Battlefield: U.S. Proxy Wars and Secret Ops in Africa
RIGHTS INFORMATION:
Languages & Territories Where Rights Have Been Sold:
| Language/Territory | Publisher |
| --- | --- |
| French/worldwide | Découverte |
Please contact subagents for the following languages and territories:
| Language/Territory | Subagent |
| --- | --- |
| China, Taiwan, Indonesia, Malaysia, and Vietnam | Big Apple Agency |
| English outside North America | David Grossman Literary Agency |
| German | Paul & Peter Fritz AG Literatur Agentur |
| Greek | Read n' Right Agency |
| Hebrew | The Deborah Harris Agency |
| Italian | The Nabu International Literary Agency |
| Japanese | The English Agency (Japan) Ltd |
| Korean | BC Agency, or Korea Copyright Center |
| Portuguese | RIFF Agency |
| Russia/Baltics/Eastern Europe | Prava I Prevodi |
| Scandinavia: Sweden, Norway, Finland, Denmark, Iceland | Brandt New Agency |
| Spanish in Latin America | International Editors' Co., S.A. |
| Spanish in Spain | International Editors' Co., S.A. |
| Turkish | Anatolialit Agency |
For all other languages/territories, please contact Roam Agency.