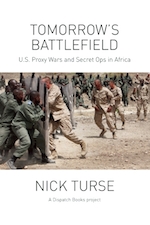 TOMORROW'S BATTLEFIELD
U.S. Proxy Wars and Secret Ops in Africa
Nick Turse
Haymarket Books (2015, world English rights)
Trade paper • ISBN-13: 9781608464630 • US $15.95 • 5 5/8 in x 7 5/8 in •156 pgs.
ABOUT THE BOOK:
You won't see segments about it on the nightly news or read about it on the front page of America's newspapers, but the Pentagon is fighting a new shadow war in Africa, helping to destabilize whole countries and preparing the ground for future blowback. Behind closed doors, U.S. officers now claim that "Africa is the battlefield of tomorrow, today." In Tomorrow's Battlefield, award-winning journalist and bestselling author Nick Turse exposes the shocking true story of the U.S. military's spreading secret wars in Africa.
PRAISE:
"Gripping and meticulous, Nick Turse's reporting on Africa sheds much-needed light on shadowy missions the US military would rather keep secret. His investigations of U.S. military missions in Africa in Tomorrow's Battlefield reveal a secret war with grave implications for Africans and Americans, alike."
Glenn Greenwald
"Nick Turse's investigative reporting has revealed a remarkable picture of evolving US military operations in Africa that have been concealed from view, but have ominous portent, as he demonstrates vividly and in depth."
Noam Chomsky
"In the first book length account of AFRICOM's operations, Nick Turse chronicles how in a very short time, Africa went from the margins of US foreign policy—to be not just the warzone of tomorrow, but of today."
Sean Jacobs, international affairs faculty at The New School and founder of Africa is a Country
"US military training missions, joint exercises, military aid operations in many different countries, most ruled by repressive regimes… sound like the Middle East? The Arabian Peninsula? Think again. The indispensable Nick Turse introduces us to the rapidly expanding American military footprint in Africa. It is astounding how few other journalists have paid attention to this highly important story."
Adam Hochschild, author of To End All Wars: A Story of Loyalty and Rebellion, 1914-1918 and King Leopold's Ghost: A Story of Greed, Terror and Heroism in Colonial Africa
"A dogged and intrepid journalist who won't take 'no comment' for an answer, Nick Turse has done a fantastic job of exposing the U.S. military's expansion into Africa and the proliferation of its secret missions on the continent."
Craig Whitlock, Pentagon correspondent, Washington Post
"Tomorrow's Battlefield is an urgently needed resource for all those seeking ways to end military intervention in Africa."
Lee Sustar, Socialist Worker
ABOUT THE AUTHOR:
Nick Turse is the managing editor of TomDispatch.com, a contributing writer reporting on national security and foreign policy for The Intercept, and a fellow at The Nation Institute. He is the author of Next Time They'll Come to Count the Dead: War and Survival in South Sudan, Tomorrow's Battlefield: U.S. Proxy Wars and Secret Ops in Africa, and Kill Anything That Moves: The Real American War in Vietnam. His writing has appeared in the New York Times, Los Angeles Times, San Francisco Chronicle, The Nation, Village Voice, and many other publications. He has received a Ridenhour Prize for Investigative Reporting, a James Aronson Award for Social Justice Journalism, and a Guggenheim Fellowship.
OTHER TITLES BY THIS AUTHOR:
Next Time They'll Come to Count the Dead: War and Survival in South Sudan
The Changing Face of Empire: Special Ops, Drones, Spies, Proxy Fighters, Secret Bases, and Cyber Warfare
RIGHTS INFORMATION:
Languages & Territories Where Rights Have Been Sold:
Please contact subagents for the following languages and territories:
For all other languages/territories, please contact Roam Agency.