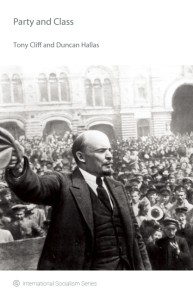 PARTY AND CLASS
Second Edition
By Tony Cliff and Duncan Hallas
Haymarket Books (July 2016)
Paper • ISBN-13: 9781608465415 • 112 pages
ABOUT THE BOOK:
Party and Class dispels the myths about "democratic centralism" and demonstrate that the kind of socialist party that Lenin built had nothing in common with the Stalinist despotism that replaced it.
ABOUT THE AUTHOR:
Tony Cliff was a lifelong organizer within the international socialist movement. His groundbreaking work established the unique interpretation of the Soviet Union as a bureaucratic, state-centered version of capitalism, rather than a workers' state. His many works include State Capitalism in Russia and the volume that follows-up from this book, All Power to the Soviets, about Lenin's political leadership from 1914 to 1917.
OTHER TITLES BY THIS AUTHOR:
The Duncan Hallas Reader (Ahmed Shawki, editor)
Trotsky's Marxism and Other Essays
RIGHTS INFORMATION:
Please contact subagents for the following languages and territories:
| Language/Territory | Subagent |
| --- | --- |
| China, Taiwan, Indonesia, Malaysia, and Vietnam | Big Apple Agency |
| English outside North America | David Grossman Literary Agency |
| German | Paul & Peter Fritz AG Literatur Agentur |
| Greek | Read n' Right Agency |
| Hebrew | The Deborah Harris Agency |
| Italian | The Nabu International Literary Agency |
| Japanese | The English Agency (Japan) Ltd |
| Korean | BC Agency, or Korea Copyright Center |
| Portuguese | RIFF Agency |
| Russia/Baltics/Eastern Europe | Prava I Prevodi |
| Scandinavia: Sweden, Norway, Finland, Denmark, Iceland | Brandt New Agency |
| Spanish in Latin America | International Editors' Co., S.A. |
| Spanish in Spain | International Editors' Co., S.A. |
| Turkish | Anatolialit Agency |
For all other languages/territories, please contact Roam Agency.