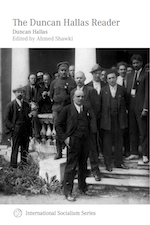 THE DUNCAN HALLAS READER
By Duncan Hallas
Edited by Ahmed Shawki
Haymarket Books (Fall 2014, world English rights)
Trade Paper • ISBN-13: 9781608463893 • US $20 • 5 1/8 in x 8 3/8 in • 320 pgs.
ABOUT THE BOOK:
Duncan Hallas was a tireless activist, teacher and revolutionary. He not only wrote about the class struggle, but also led that movement in his life. This volume collects his writings and speeches, but also includes transcripts of some of his best speeches and additional material such as an interview about his role in leading revolt in the British army.
ABOUT THE AUTHORS:
Duncan Hallas (1925-2002) was an internationally acclaimed British socialist author and activist. He joined the Trotskyist Workers International League during World War II and became a founding member of the Socialist Review Group, the forerunner of the Socialist Workers Party (UK) and the International Socialist Tendency.
Ahmed Shawki is an Arab American socialist activist and journalist, the editor of the International Socialist Review and a leader of the International Socialist Organization. He also serves on the steering committee of the National Council of Arab-Americans. Shawki is the author of Black Liberation and Socialism (Haymarket Books, 2006).
OTHER TITLES BY THIS AUTHOR:
Trotsky's Marxism and Other Essays
RIGHTS INFORMATION:
Please contact subagents for the following languages and territories:
For all other languages/territories, please contact Roam Agency.