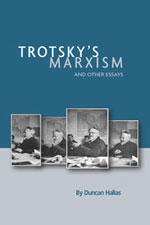 TROTSKY'S MARXISM AND OTHER ESSAYS
By Duncan Hallas
Foreword by Ahmed Shawki
Haymarket Books (2003, world English rights)
Trade paper • ISBN-13: 9781931859035 • US $12 • 8.3 in x 5.7 in • 202 pgs.
ABOUT THE BOOK:
No serious attempt to understand the tragedy of the Russian Revolution — and its relevance to the building of socialism today — can ignore the unique contribution made by Leon Trotsky.
Leon Trotsky was one of the major architects of the October Revolution of 1917 and an organizer of the Red Army. Ironically, it also fell to him to chronicle and analyze the degeneration and destruction of socialism in Russia under Stalin's regime. In this introduction to the politics of Trotsky, Duncan Hallas analyzes four major strands in Trotsky's writings.
First, the theory of "permanent revolution," in which Trotsky elaborated a scenario for the revolution of 1917 and for understanding subsequent political developments in the underdeveloped world. Second, the first sustained attempt at a materialist analysis of the rise of Stalinism, which Trotsky spent years seeking to understand — and against which he courageously organized international opposition. Third, Trotsky's analysis of the strategy and tactics of mass revolutionary parties in a wide variety of situations, particularly his theory of the "united front". Fourth, his views on the relationship between the revolutionary socialist party and the working class in periods of mass upheaval as well as in periods of decline.
In addition, Trotsky's Marxism and Other Essays includes essential writings by Duncan Hallas about the development of Trotskyism after Trotsky's assassination by Stalin's agents in 1940 and the need for an assessment of that tradition in building today's struggles.
ABOUT THE AUTHOR:
Duncan Hallas (1925-2002) was an internationally acclaimed British socialist author and activist. He joined the Trotskyist Workers International League during World War II and became a founding member of the Socialist Review Group, the forerunner of the Socialist Workers Party (UK) and the International Socialist Tendency.
OTHER TITLES BY THIS AUTHOR:
The Duncan Hallas Reader (Ahmed Shawki, editor)
RIGHTS INFORMATION:
Languages & Territories Where Rights Have Been Sold:
Please contact subagents for the following languages and territories:
For all other languages/territories, please contact Roam Agency.