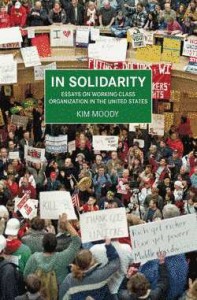 IN SOLIDARITY
Essays on Working-Class Organization and Strategy in the United States
Kim Moody
Haymarket Books (Fall 2013, world English rights)
Trade Paper • ISBN-13: 9781608463268 • US $22 • 5 1/8 IN x 8 1/4 in • 326 pgs.
ABOUT THE BOOK:
Kim Moody, one of the world's most authoritative and recognized labor writers, analyzes the past, present, and future of unions in the US. With a sharp understanding of Marxist theory and labor history, Moody charts a wellreasoned course for the future of the rank-and-file.
OTHER TITLES BY THIS AUTHOR:
On New Terrain: How Capital Reshaped the Battleground of Class War
Tramps and Trade Union Travellers: Internal Migration and Organized Labor in Gilded Age America, 1870-1900
ABOUT THE AUTHOR:
Kim Moody was a founder of Labor Notes and author of several books on the U.S. labor movement, including On New Terrain: How Capitalism is Reshaping the Battleground of Class War (Haymarket Books, 2017), In Solidarity: Essays on Working-Class Organization in the United States (Haymarket Books, 2014) and U.S. Labor in Trouble and Transition (Verso, 2007). He has a PhD from the University of Nottingham.
RIGHTS INFORMATION:
Please contact subagents for the following languages and territories:
For all other languages/territories, please contact Roam Agency.