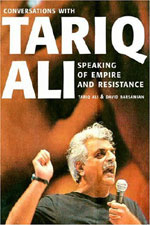 SPEAKING OF EMPIRE AND RESISTANCE
Conversations with Tariq Ali
By Tariq Ali and David Barsamian
With a new afterword on the 2004 elections.
The New Press (2005, world English rights, except India, Australia, New Zealand)
Paper • ISBN-13: 9781565849549 • US $16.95 • 5.25 in x 7.5 in • 240 pgs.
ABOUT THE BOOK:
Speaking of Empire and Resistance is a series of stirring conversations between Tariq Ali and Alternative Radio's David Barsamian, conducted from January 2002 to November 2004. In these interviews, Ali's prescient observations turn a sharp eye on the American and British invasions of Afghanistan and Iraq. His provocative ideas explain not only Anglo-American motivations, but the sense of betrayal and powerlessness that has led to the international terrorism that Americans now claim to fight. "In order to justify infinite war, they have invented this enemy, which — I'm almost tired of pointing this out — they created themselves at the height of the Cold War," says Ali.
Ali also addresses the development of resistance movements within and outside the United States. In particular, he discusses Palestinian and Iraqi resistance to the occupation of their own countries. He evokes the early American anti-imperial movements of the nineteenth century, as well as the unprecedented public reaction across the world to the US invasion of Iraq.
PRAISE:
"Come and join this talk. It's a feast for the mind and the heart. We're all invited."
Eduardo Galeano, author, The Open Veins of Latin America
ABOUT THE AUTHORS:
Tariq Ali — public intellectual, novelist, playwright, and filmmaker — has been, above all, a major political activist. From Vietnam to Iraq, he has been a distinguished and sophisticated critic of the malfeasant foreign policy of an increasingly imperialistic world. Born in Lahore, now part of Pakistan, then part of British-ruled India, Ali received a Catholic school education before attending Government College, part of Punjab University, where he organized public demonstrations against Pakistan's military dictatorship.
He went to Britain to study at Exeter College, Oxford. There he became involved with socialist student organizations and soon emerged as a key figure in radical politics. During his tenure at Oxford, Ali debated such figures as Henry Kissinger and British Foreign Secretary Michael Stewart, protested vehemently against the Vietnam War, led the now infamous march on the American Embassy in London in 1968, and edited the revolutionary paper Black Dwarf, where he became fast friends with Stokely Carmichael, Malcolm X, John Lennon and Yoko Ono.
As the radicalism of the 1960s began to wane, Ali refocused his energies and emerged as a prolific writer and speaker. He is a board member and longstanding editor of the New Left Review and has written more than a dozen books on history and politics. A Sultan in Palermo, the fourth volume of Ali's "Islamic Quintet," an award-winning collection of historical novels, was published in Spring 2005. His Clash of Fundamentalisms: Crusades, Jihads and Modernity (2002) is a broad analysis of the historical and religious roots of the attacks of September 11, 2001, the "War of Terror" and the inexorable collision between rigid Islamic fundamentalism and persistent American aggrandizement. Bush in Babylon: The Recolonisation of Iraq (2003), presents a cultural and political history of Iraqi resistance against empires of old and new. Ali is also a regular contributor to publications such as the Guardian, Independent, and London Review of Books.
David Barsamian is a radio producer, journalist, author and lecturer. He is founder and director of Alternative Radio, the independent award-winning weekly series based in Boulder, Colorado. He has been working in radio since 1978. His interviews and articles appear regularly in The Progressive and Z Magazine. He is the author of several books, including Propaganda and the Public Mind: Conversations with Noam Chomsky, Eqbal Ahmad: Confronting Empire, and The Decline and Fall of Public Broadcasting. His latest books are The Checkbook and the Cruise Missile: Conversations with Arundhati Roy (South End Press, 2004) and Louder Than Bombs: Interviews from The Progressive Magazine (South End Press, 2004).
The Institute for Alternative Journalism named Barsamian one of its "Top Ten Media Heroes." Barsamian lectures on U.S. foreign policy, the media, propaganda, and corporate power in the U.S., Canada, Brazil, India and Europe. He is the winner of the ACLU's 2003 Upton Sinclair Award for independent journalism.
OTHER TITLES BY THIS AUTHOR:
The Stalinist Legacy: Its Impact on 20th-Century World Politics (Second Edition)
On History: Tariq Ali and Oliver Stone in Conversation
RIGHTS INFORMATION:
Languages & Territories Where Rights Have Been Sold:
Please contact subagents for the following languages and territories:
For all other languages/territories, please contact Roam Agency.