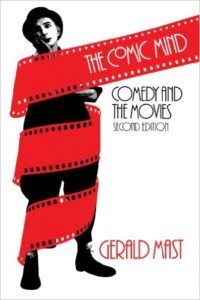 THE COMIC MIND
Comedy and the Movies
Gerald Mast
University of Chicago Press (September 1979)
Paper • ISBN: 9780226509785 • US $38.00 • 377 pages
ABOUT THE BOOK:
Although books on the comedies of the silent era abound, few have attempted to survey film comedy as a whole—its history and evolution, how the philosophical visions of its greatest artists and directors have shaped its traditions, and how these visions have informed both the meaning and manner of their work.
Blending information with interpretation, description with analysis, Mast traces the development of screen comedy from the first crude efforts of Edison and Lumière to the subtlety and psychological complexity of Annie Hall. As he guides the reader through detailed discussions of specific films, Mast reveals the structures, the values, and the cinematic techniques which have appeared and reappeared in comic cinema.
The second edition of The Comic Mind treats the comic developments of the 1970s in terms of the traditions of film comedy set forth in the first edition, including a discussion of the evolution of Jacques Tati and the emergence of Mel Brooks and Woody Allen as the two greatest American comic stylists of the seventies.
PRAISE:
"The most comprehensive study of film comedy yet written in English. . . .The book's extensive index with references to companies from which 16mm prints of many of the cited films may be rented will be of great value to the film teacher and audiovisual librarian."
Choice
OTHER WORKS BY THIS AUTHOR
A Short History of the Movies (Abridged)
ABOUT THE AUTHOR:
Gerald Mast was an author, film historian, and chairman of the English department at the University of Chicago. Dr. Mast joined the faculty of the University of Chicago in 1978 after teaching at New York University, Oberlin College, and the City University of New York. His writings on film history are credited with helping establish the subject as a serious academic discipline, and his many works are used extensively in film courses across the United States.
RIGHTS INFORMATION:
For all languages and territories, please contact Taryn Fagerness at Taryn Fagerness Agency.
See here for a list of Taryn Fagerness's foreign subagents.