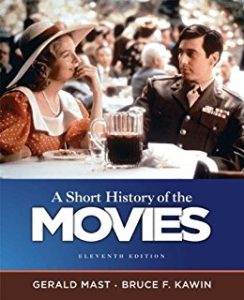 A SHORT HISTORY OF THE MOVIES
Eleventh Edition
Gerald Mast and Bruce Kawin
Pearson (2011)
Paper • ISBN 9780205755578 • US $163.80 • 784 pages
ABOUT THE BOOK:
An updated version of the most widely adopted film history textbook 
The eleventh edition of A Short History of the Movies continues its long-standing tradition of scrupulously accurate details, up-to-date information, and jargon-free writing style that has made it the most widely adopted film history textbook.
This edition offers students a panoramic overview of the worldwide development of film. From the early experiments with motion photography, through the American studio years of the 1930's and 1940's, from Neorealism and the New Wave, up to the present age of digital cinema, A Short History of Film provides a comprehensive presentation of the history of cinema. This eleventh edition has been revised and updated to include current scholarship, recent industry developments, and new films and filmmakers.
ABOUT THE AUTHORS:
Bruce Kawin is the author of film criticism, film history, literary theory, and poetry, and was a professor at the University of Colorado-Boulder from 1975 to 2015 in the English Department and Film Studies Program. He received an AB in English and Comparative Literature from Columbia (1967), an MFA in Creative Writing and Filmmaking from Cornell (1969), and a PhD in Modern British and American Literature and Film Aesthetics from Cornell (1970). His many books include Telling It Again and Again, Mindscreen, The Mind of the Novel, Horror and the Horror Film, and two books of poetry.
Gerald Mast was an author, film historian, and chairman of the English department at the University of Chicago. Dr. Mast joined the faculty of the University of Chicago in 1978 after teaching at New York University, Oberlin College, and the City University of New York. His writings on film history are credited with helping establish the subject as a serious academic discipline, and his many works are used extensively in film courses across the United States.
OTHER BOOKS BY THESE AUTHORS:
A Short History of the Movies (abridged), Eleventh Edition
The Comic Mind: Comedy and the Movies
RIGHTS INFORMATION:
For all languages and territories, please contact Taryn Fagerness at Taryn Fagerness Agency.
See here for a list of Taryn Fagerness's foreign subagents.