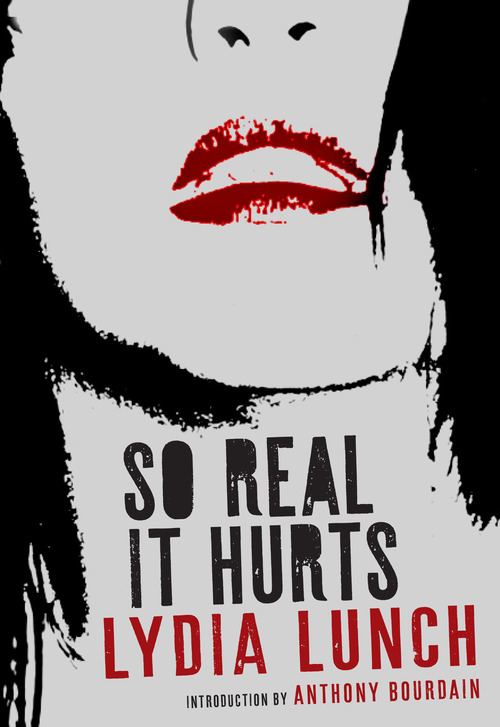 SO REAL IT HURTS
Lydia Lunch
Introduction by Anthony Bourdain
Seven Stories Press (July 2019, world English rights)
Paper • ISBN-13: 9781609809430 • US $15.95 • 112 pgs.
ABOUT THE BOOK:
"So Real It Hurts is the perfect title for this collection. It's a mission statement. A few bleeding slices straight from the butcher shop. A sampler from an enormous archive of work that will, no doubt, be pored over by grad students, book lovers, film historians, music nerds and straight-up perverts a hundred years from now."
—Anthony Bourdain, from the Introduction
Through personal essays, interviews, and poetic verse, punk musician and cultural icon Lydia Lunch claws and rakes at the reader's conscience in this powerful, uninhibited feminist collection. Oscillating between provocative celebrations of her own defiant nature and nearly tender ruminations on the debilitating effects of poverty, abuse, and environmental pollution, along with a visceral revenge fantasy against misogynistic men, Lydia Lunch presents her exploits without apology, daring the reader to judge her while she details the traumas and trials that have shaped her into the legendary figure she's become.
Inserted between these biting personal essays, Lunch's thoughtful cultural insights convey a widely-shared desire to forestall inevitable cultural amnesia and solidify a legacy for her predecessors and peers. Her interview with Hubert Selby Jr. and profile of Herbert Hunke, her short unromanticized histories of No Wave and of the late Sixties, and her scathing examination of the monetization of counterculture (thanks, Vivienne Westwood!) all serve to reinforce the notion that, while it may appear that there are no more heroes, we are actually just looking for heroes in the wrong places. The worthy idols of the past have been obscured by more profitable historical narratives, but Lunch challenges us to dig deeper.
So Real It Hurts pulls the reader into a world that is entirely hers—one in which she exacts vengeance against predators with an enviable ease and exerts an almost-sexual dominance over authority, never permitting those with power to hold on to it too tightly.
PRAISE:
"Lunch holds nothing back, providing rebellious, raunchy personal stories, scorching perspectives on the notion of mandatory motherhood, a purging glimpse at the nightmare of insomnia, and other themes. Amid these punchy personal revelations, the author layers honed essays with a broader scope. . . [It] seethes with the kind of urgency that reflects Lunch at her strongest. Lunch fans will enjoy her unleashed musings and the healthy rage that abound in these fierce essays."
Kirkus Reviews
"So Real It Hurts proves that more than 40 years into her career, [Lydia Lunch]'s lost none of her blistering anger and astringent eloquence. . . This slim collection of potent essays, profane rants and astute cultural critiques sometimes reads like the writings of a hypnotic Beat poet. . . they are confrontational, confessional, electrifying and unforgettable."
Shelf Awareness
"Lunch's work is defiant, thrilling and unflinching. Her latest release, So Real It Hurts, is just so: an anthology of new and established writings that include everything from violent feminist revenge fantasies to diatribes on pollution and politics (and yes, Trump) in the Anthropocene epoch. . . [Her] sense of humour is dark, delightful and revelatory."
The Guardian
"Lydia Lunch's new book is a feminist snapshot of our times…A feminist-anarchist manifesto that documents and critiques the modern age with a caustic, deliciously poisonous humor."
i-D
"The collection is personal, it's political, it's self-indulgent, it's empathic, it's wise, its funny. It's totally Lydia."
The Pittsburgh Current
"Her prose is incantatory—a point is made, made again, sharpened, and stabbed. She delivers dark sermons of death, perversity, and need with relish. . . So Real It Hurtsmakes it obvious that Lunch has always been more than a heckler. She is a journalist at heart, a documentarian of the darkest impulses, unafraid to catalogue ugliness, to be ugly, and to mock."
Vol. 1 Brooklyn
"Lunch most definitely still works her dark magic via humour, horror and healing. . . It's a full-on predatory psychic attack."
Dazed
"Lydia Lunch is a leg­end unlike any oth­er. The per­for­mance artist, writer and musi­cian is a fire­work unto her­self. . . she has an uncan­ny abil­i­ty to fuse words togeth­er like bul­lets. She doesn't hold back. She's the author of over ten books and she's now releas­ing So Real It Hurts, a col­lec­tion of essays pub­lished with Sev­en Sto­ries Press, which includes 20 essays from diaris­tic rants to polit­i­cal scribes, with an intro­duc­tion writ­ten by Antho­ny Bourdain."
The Face
"Calling the writing of Lydia Lunch 'transgressive fiction' falls way short of effectively categorizing the brutal, raw, obscene and honest words she bleeds. She has created her own genre of nonfiction and at present is its sole inhabitant."
Michael Imperioli, actor and author of The Perfume Burned His Eyes
"Lydia Lunch's utterly sane visionary madness goes right to the rotten core."
Mark Cunningham, musician (Mars and Blood Quartet)
"Do read Charlotte Richardson Andrews's interview with Lydia Lunch, in The Guardian. It may get you to order Lunch's new collection of essays and other written material, 'So Real It Hurts."
The New York Times
"Her excoriating, confrontational writing and spoken word performances remain determinedly counter-cultural, never straying far from the anti-lineage of Céline, Burroughs, Bukowski and Selby Jr. "
The Quietus
PRAISE FOR THE AUTHOR
"Lydia Lunch is an American icon."
Austin American-Statesman
"One of the 10 most influential performers of the 90's."
Boston Phoenix
"Miss Lunch was always an effective vocal performer. But rock has grown complacent again— even the underground rock that has borrowed so much from Miss Lunch's various bands over the years. Perhaps it's time for her to administer it a few more rude shocks."
Robert Palmer, New York Times
"Lunch has defined the underground music and art scene for over thirty years. Predictable only in her unpredictability, she has exploited every creative outlet at her disposal, from film to books, photography to poetry."
SF Weekly
"Lydia Lunch is one of your dumb-ass country's greatest fucking commentators, period. Lydia, I totally salute you!'
Everett True, The Stranger
"Before Marilyn Manson, before Courtney Love and before all the MTV lightweights made rage and controversy mere cheap commodities, there was punk poet queen of extremities Lydia Lunch…and her volatile narratives on life, death and all the bits in between. Unmissable."
Angela Lewis, The Independent (UK)
"On Queen of Siam, Lydia Lunch . . . surprises her fans and a legion of japing nonbelievers by delivering a record that covers all the bases so well that it's beyond words like calculated . . . Lunch stays busy by proving she can 'sing' (for those who care about such irrelevancies) and conjuring up memories of various grotesques like Peggy Lee, Nancy Sinatra, Petula Clark and Marlene Dietrich (though camp she ain't). Lunch's lyrics, while sometimes suffused with Catholic guilt, recognize the absurdity of that guilt's flagellant trappings. Lydia Lunch isn't sleazy, and sports a sense of humor about her persona and her music that collects increments of charm through successive cuts. Queen of Siam is a class act all the way."
Lester Bangs, Rolling Stone
OTHER TITLES BY THIS AUTHOR:
ABOUT THE AUTHOR:
Hailed by Time Out as "one of the greatest New York performers of all time," Lydia Lunch defies categorization. Few contemporary artists have forged a unique and varied artistic vision as successfully, or forcibly, during her long and notorious career.
Since bursting onto the late 1970s New York City music scene at the age of 16 with her band Teenage Jesus and the Jerks, Lunch has released over two hundred music recordings, either as a solo artist, in collaborations, or as guest artist. The poster-girl for the Whitney Museum of Art's Underground Film Festival, she has appeared in more than fifty films, including the infamous, gut-wrenching films of director Richard Kern, with whom she worked in the 1980s. As a writer, she has published numerous works of literature, such as her 2007 novel Paradoxia (Akashic), which has been translated into 12 languages.
Lunch continues to record and tour the world with numerous music and spoken word projects, film work, and art exhibitions, and is the subject of "Lydia Lunch: The War is Never Over," a forthcoming feature documentary by acclaimed underground filmmaker Beth B.
RIGHTS INFORMATION:
Audio book:
Languages & Territories Where Rights Have Been Sold:
Please contact subagents for the following languages and territories:
For all other languages/territories, please contact Roam Agency.