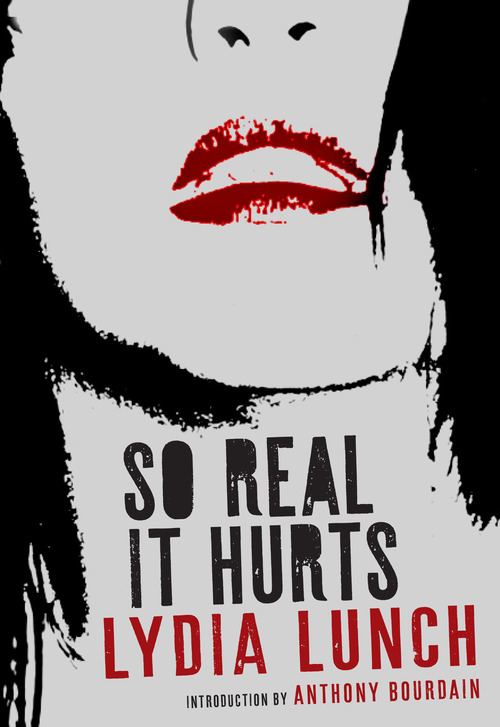 SO REAL IT HURTS
Lydia Lunch
Introduction by Anthony Bourdain
Seven Stories Press (July 2019, world English rights)
Paper • ISBN-13: 9781609809430 • US $15.95 • 112 pgs.
ABOUT THE BOOK:
"So Real It Hurts is the perfect title for this collection. It's a mission statement. A few bleeding slices straight from the butcher shop. A sampler from an enormous archive of work that will, no doubt, be pored over by grad students, book lovers, film historians, music nerds and straight-up perverts a hundred years from now."
—Anthony Bourdain, from the Introduction
Through personal essays, interviews, and poetic verse, punk musician and cultural icon Lydia Lunch claws and rakes at the reader's conscience in this powerful, uninhibited feminist collection. Oscillating between provocative celebrations of her own defiant nature and nearly tender ruminations on the debilitating effects of poverty, abuse, and environmental pollution, along with a visceral revenge fantasy against misogynistic men, Lydia Lunch presents her exploits without apology, daring the reader to judge her while she details the traumas and trials that have shaped her into the legendary figure she's become.
Inserted between these biting personal essays, Lunch's thoughtful cultural insights convey a widely-shared desire to forestall inevitable cultural amnesia and solidify a legacy for her predecessors and peers. Her interview with Hubert Selby Jr. and profile of Herbert Hunke, her short unromanticized histories of No Wave and of the late Sixties, and her scathing examination of the monetization of counterculture (thanks, Vivienne Westwood!) all serve to reinforce the notion that, while it may appear that there are no more heroes, we are actually just looking for heroes in the wrong places. The worthy idols of the past have been obscured by more profitable historical narratives, but Lunch challenges us to dig deeper.
So Real It Hurts pulls the reader into a world that is entirely hers—one in which she exacts vengeance against predators with an enviable ease and exerts an almost-sexual dominance over authority, never permitting those with power to hold on to it too tightly.
PRAISE:
"In her latest, singer, writer, and performer Lunch offers her unique blend of raw humor and uncompromising observations. Buoyed by indignant anger and outrage, these cultural critiques function best when viewed as performance pieces that vary between scathing indictments and rambling rants. Maintaining a deliberate defiance in tone and style, the author covers broad topics, from wildly intimate experiences to coarse opinions and razor-sharp social insights. As usual, Lunch holds nothing back, providing rebellious, raunchy personal stories, scorching perspectives on the notion of mandatory motherhood, a purging glimpse at the nightmare of insomnia, and other themes. Amid these punchy personal revelations, the author layers honed essays with a broader scope. The topics include a reflective interview with Hubert Selby Jr., an in-depth profile of poet Herbert Huncke ("short shift hustler, petty thief, con artist, convicted felon, parasitic hustler, lifelong junkie…whose collected memoirs, beautifully rendered, are infused with heartbreaking detours, detailing life lived to the extreme"), a gritty history of No Wave in New York, and a blistering criticism of recent environmental degradation, pollution, and political abuses of power for economic gains. In the ambitious 'Slobathon,' Lunch tackles fashion trends and the commodification of style from James Dean to the death of glam and beyond. Pulling attention to corporate greed and consumer accountability, this explosive essay seethes with the kind of urgency that reflects Lunch at her strongest. Together, these reactions to consumerism, global economic exploitation, hypocrisy, militarism, environmental destruction, and other social failures of modern American society are fervent, bordering on virulent…Lunch fans will enjoy her unleashed musings and the healthy rage that abound in these fierce essays."
Kirkus Reviews
"Lydia Lunch is an American icon."
Austin American-Statesman
"One of the 10 most influential performers of the 90's."
Boston Phoenix
"Miss Lunch was always an effective vocal performer. But rock has grown complacent again— even the underground rock that has borrowed so much from Miss Lunch's various bands over the years. Perhaps it's time for her to administer it a few more rude shocks."
Robert Palmer, New York Times
"Lunch has defined the underground music and art scene for over thirty years. Predictable only in her unpredictability, she has exploited every creative outlet at her disposal, from film to books, photography to poetry."
SF Weekly
"Lydia Lunch is one of your dumb-ass country's greatest fucking commentators, period. Lydia, I totally salute you!'
Everett True, The Stranger
"Before Marilyn Manson, before Courtney Love and before all the MTV lightweights made rage and controversy mere cheap commodities, there was punk poet queen of extremities Lydia Lunch…and her volatile narratives on life, death and all the bits in between. Unmissable."
Angela Lewis, The Independent (UK)
"On Queen of Siam, Lydia Lunch . . . surprises her fans and a legion of japing nonbelievers by delivering a record that covers all the bases so well that it's beyond words like calculated . . . Lunch stays busy by proving she can 'sing' (for those who care about such irrelevancies) and conjuring up memories of various grotesques like Peggy Lee, Nancy Sinatra, Petula Clark and Marlene Dietrich (though camp she ain't). Lunch's lyrics, while sometimes suffused with Catholic guilt, recognize the absurdity of that guilt's flagellant trappings. Lydia Lunch isn't sleazy, and sports a sense of humor about her persona and her music that collects increments of charm through successive cuts. Queen of Siam is a class act all the way."
Lester Bangs, Rolling Stone
Praise for Paradoxia (Akashic, 2007):
"Lunch's headlong plunge into manic devastation and corruption at times recalls the better work of William S. Burroughs…Strangely honest rantings from a modern-day Genet."
Kirkus Reviews
"A lurid, profane account of downtown living."
Newsday, "Our Favorites of 2007"
"Paradoxia is compelling, exhilarating, and infinitely readable."
Paper
"Paradoxia is very much a cultural document—a glimpse of the warts and-all attitude of someone who strove to be transgressive and often succeeded. Through streaming open-mike cadences, staccato scorn, and a highly attuned olfactory memory, Lunch captures the swoony, viscous downtown of yesteryear, when sex and the city meant something else entirely."
Time Out New York (4 stars)
"Intoxicating. Dirty. Erotic. Damn, Lydia Lunch's Paradoxia intrigues and resonates with every word…[It] is a seductive and redemptive story of lust—lust for satisfaction, for power, for solitude, and for understanding how to live."
Feminist Review
"Paradoxia reveals that Lunch is at her best when she's at her worst…and gives voice to her sometimes scary, frequently funny, always canny, never sentimental siren song."
Barbara Kruger, Artforum
"Lydia Lunch often is compared to Hubert Selby, Jr. and Jean Genet. Reading Paradoxia, I see some Dostoevsky in her shattered protagonist and her unforgettable, murderous opening line…Paradoxia has a place in the literature of depravity, and like the good work in that genre, it's intentionally funny."
Bookslut
ABOUT THE AUTHOR:
Hailed by Time Out as "one of the greatest New York performers of all time," Lydia Lunch defies categorization. Few contemporary artists have forged a unique and varied artistic vision as successfully, or forcibly, during her long and notorious career.
Since bursting onto the late 1970s New York City music scene at the age of 16 with her band Teenage Jesus and the Jerks, Lunch has released over two hundred music recordings, either as a solo artist, in collaborations, or as guest artist. The poster-girl for the Whitney Museum of Art's Underground Film Festival, she has appeared in more than fifty films, including the infamous, gut-wrenching films of director Richard Kern, with whom she worked in the 1980s. As a writer, she has published numerous works of literature, such as her 2007 novel Paradoxia (Akashic), which has been translated into 12 languages.
Lunch continues to record and tour the world with numerous music and spoken word projects, film work, and art exhibitions, and is the subject of "Lydia Lunch: The War is Never Over," a forthcoming feature documentary by acclaimed underground filmmaker Beth B.
RIGHTS INFORMATION:
Audio book:
Please contact subagents for the following languages and territories:
| Language/Territory | Subagent |
| --- | --- |
| China, Taiwan, Indonesia, Malaysia, and Vietnam | Big Apple Agency |
| English outside North America | David Grossman Literary Agency |
| German | Paul & Peter Fritz AG Literatur Agentur |
| Greek | Read n' Right Agency |
| Hebrew | The Deborah Harris Agency |
| Italian | The Nabu International Literary Agency |
| Japanese | The English Agency (Japan) Ltd |
| Korean | BC Agency, or Korea Copyright Center |
| Portuguese | RIFF Agency |
| Russia/Baltics/Eastern Europe | Prava I Prevodi |
| Scandinavia: Sweden, Norway, Finland, Denmark, Iceland | Brandt New Agency |
| Spanish in Latin America | International Editors' Co., S.A. |
| Spanish in Spain | International Editors' Co., S.A. |
| Turkish | Anatolialit Agency |
For all other languages/territories, please contact Roam Agency.