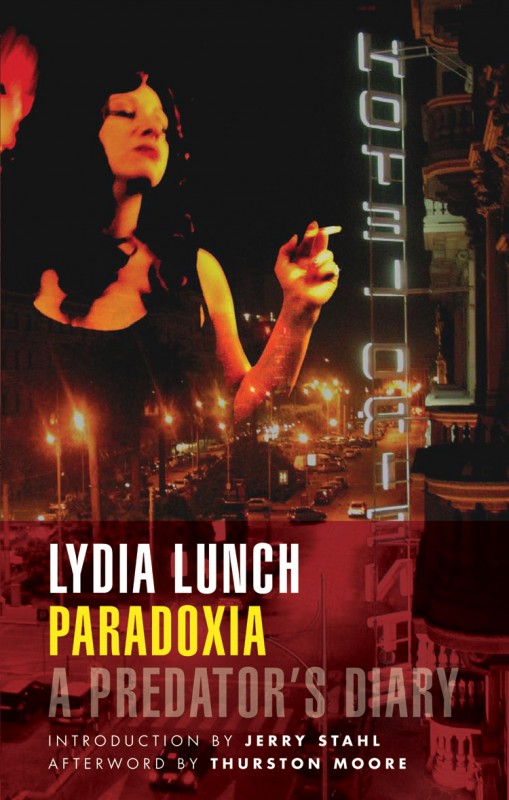 PARADOXIA
A Predator's Diary
Lydia Lunch
Akashic Books (2007)
Trade paper • ISBN-13: 9781933354354 • US $16.95 • 160 pgs.
ABOUT THE BOOK:
Lydia Lunch relays in graphic detail the true psychic repercussions of sexual misadventure. From New York to London to New Orleans, Paradoxia is an uncensored, novelized account of one woman's assault on men.
Lydia Lunch was the primary instigator of the No Wave Movement and the focal point of the Cinema of Transgression. A musician, writer, and photographer, she exposes the dark underbelly of passion confronting the lusty demons whose struggle for power and control forever stalk the periphery of our collective obsessions.
PRAISE:
"Paradoxia reveals that Lunch is at her best when she's at her worst . . . [and] gives voice to her sometimes scary, frequently funny, always canny, never sentimental siren song."

Barbara Kruger, Artforum
"Paradoxia is compelling, exhilarating, and infinitely readable."

Paper
"Hubert Selby, Jr. famously said that he grew up feeling like a scream without a mouth. Lydia Lunch, one of his most celebrated—and most uncompromising—literary progeny, delivered scream, mouth, teeth, blood, hair, sperm, knife, and adrenaline in her purgatorial masterpiece Paradoxia."

Jerry Stahl, from the Introduction
"Lydia Lunch is an American icon."
Austin American-Statesman
"One of the 10 most influential performers of the 90's."
Boston Phoenix
"Miss Lunch was always an effective vocal performer. But rock has grown complacent again— even the underground rock that has borrowed so much from Miss Lunch's various bands over the years. Perhaps it's time for her to administer it a few more rude shocks."
Robert Palmer, New York Times
"Lunch has defined the underground music and art scene for over thirty years. Predictable only in her unpredictability, she has exploited every creative outlet at her disposal, from film to books, photography to poetry."
SF Weekly
"Lydia Lunch is one of your dumb-ass country's greatest fucking commentators, period. Lydia, I totally salute you!'
Everett True, The Stranger
"Before Marilyn Manson, before Courtney Love and before all the MTV lightweights made rage and controversy mere cheap commodities, there was punk poet queen of extremities Lydia Lunch…and her volatile narratives on life, death and all the bits in between. Unmissable."
Angela Lewis, The Independent (UK)
"On Queen of Siam, Lydia Lunch . . . surprises her fans and a legion of japing nonbelievers by delivering a record that covers all the bases so well that it's beyond words like calculated . . . Lunch stays busy by proving she can 'sing' (for those who care about such irrelevancies) and conjuring up memories of various grotesques like Peggy Lee, Nancy Sinatra, Petula Clark and Marlene Dietrich (though camp she ain't). Lunch's lyrics, while sometimes suffused with Catholic guilt, recognize the absurdity of that guilt's flagellant trappings. Lydia Lunch isn't sleazy, and sports a sense of humor about her persona and her music that collects increments of charm through successive cuts. Queen of Siam is a class act all the way."
Lester Bangs, Rolling Stone
OTHER TITLES BY THIS AUTHOR:
ABOUT THE AUTHOR:
Hailed by Time Out as "one of the greatest New York performers of all time," Lydia Lunch defies categorization. Few contemporary artists have forged a unique and varied artistic vision as successfully, or forcibly, during her long and notorious career.
Since bursting onto the late 1970s New York City music scene at the age of 16 with her band Teenage Jesus and the Jerks, Lunch has released over two hundred music recordings, either as a solo artist, in collaborations, or as guest artist. The poster-girl for the Whitney Museum of Art's Underground Film Festival, she has appeared in more than fifty films, including the infamous, gut-wrenching films of director Richard Kern, with whom she worked in the 1980s. As a writer, she has published numerous works of literature, such as her 2007 novel Paradoxia (Akashic), which has been translated into 12 languages.
Lunch continues to record and tour the world with numerous music and spoken word projects, film work, and art exhibitions, and is the subject of "Lydia Lunch: The War is Never Over," a forthcoming feature documentary by acclaimed underground filmmaker Beth B.
Please contact subagents for the following languages and territories:
For all other languages/territories, please contact Roam Agency.