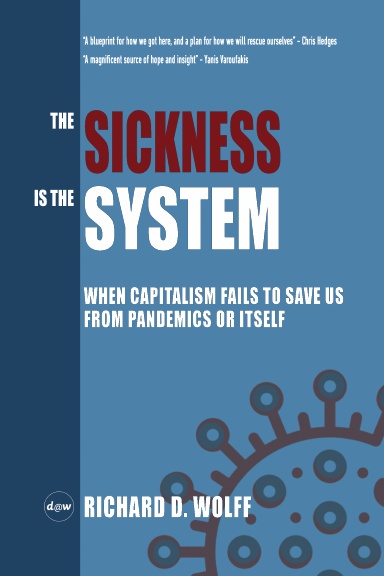 THE SICKNESS IS THE SYSTEM:
When Capitalism Fails to Save Us from Pandemics or Itself
Richard D. Wolff
Democracy at Work (August 2020)
Trade paper • ISBN-13: 9781735601304 • US $24.00 • 6 in x 9 in • 214 pgs.
WATCH: The Sickness is the System: When Capitalism Fails to Save Us from Pandemics or Itself
ABOUT THE BOOK:
The coronavirus pandemic, the deepening economic crash, dangerously divisive political responses, and exploding social tensions have thrown an already declining American capitalist system into a tailspin. The consequences of these mounting and intertwined crises will shape our future.
In this unique collection of over 50 essays, "The Sickness is the System: When Capitalism Fails to Save Us from Pandemics or Itself," Richard D. Wolff argues clearly that "returning to normal" no longer responds adequately to the accumulated problems of US capitalism. What is necessary, instead, is transition toward a new economic system that works for all of us.
PRAISE:
"A blueprint for how we got here, and a plan for how we will rescue ourselves"

Chris Hedges

"A magnificent source of hope and insight."

Yanis Varoufakis

"In this compelling set of essays, and with his signature clarity, intensity, accessibility and deference to historical and present perspective, Wolff has issued not just a stark warning, but concrete reasoning, as to why this time really should be different."

Nomi Prins
ABOUT THE AUTHOR:
Richard D. Wolff is Professor of Economics Emeritus, University of Massachusetts, Amherst and a Visiting Professor at the New School University in New York. Wolff's recent work has concentrated on analyzing the causes and alternative solutions to the global economic crisis. His groundbreaking book Democracy at Work: A Cure for Capitalism inspired the creation of Democracy at Work, a nonprofit organization dedicated to showing how and why to make democratic workplaces real. Wolff is also the author of Occupy the Economy: Challenging Capitalism and Capitalism Hits the Fan: The Global Economic Meltdown and What to Do About It. He hosts the weekly hour-long radio program "Economic Update," which is syndicated on public radio stations nationwide, and he writes regularly for The Guardian and Truthout.org. Wolff appears frequently on television and radio to discuss his work, with recent guest spots including "Real Time with Bill Maher," "Moyers & Company," "Charlie Rose," "Up with Chris Hayes," and "Democracy Now!."
OTHER TITLES BY THIS AUTHOR:
Capitalism's Crisis Deepens: Essays on the Global Economic Meltdown
Democracy at Work: A Cure for Capitalism
Understanding Marxism

Understanding Socialism
RIGHTS INFORMATION:
Audio book:
Please contact subagents for the following languages and territories:
For all other languages/territories, please contact Roam Agency.