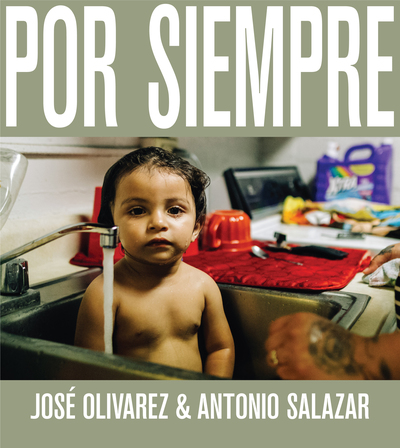 POR SIEMPRE
Haymarket Books (April 4, 2023)
Hard cover • ISBN-13: 9781642598377• US $29.95• 5.5 in x 8.5 in• 120 pgs.
ABOUT THE BOOK:
A visual and verbal narrative of the grit and gentleness in Southwestern Latinx communities through photography by Antonio Salazar and poetry by José Olivarez, author of Citizen Illegal.
Guns, tattoos, pit bulls, and cars appear alongside a tender aubade, a couple holding hands, a baby bathing in a kitchen sink; landscapes and skylines in Phoenix and Los Angeles show palm trees and messy garages; long white socks and acrylic nails of younger generations meet the smiles and traditions of elders. In a society that would rather disappear or ignore its own grittier dimensions, Salazar's work is both a refusal to be silenced and a love letter to the communities that sing, dance, live, and love, in their own beautiful and dangerous ways.
Alongside Salazar's powerful visual narrative, a series of poetry by José Olivarez appears throughout the book. Each poem "speaks" in its own way—to, of, with, and beyond the subjects of Salazar's photos—with humor, honesty, and compassion. These artists together in Por Siempre are a force: expanding and lifting each other's best parts, as those in sincere and caring communities often do.
Praise for Citizen Illegal:
PRAISE:
"Olivarez steps into the 'inbetween' standing between Mexico and America in these compelling, emotional poems. Written with humor and sincerity, each page looks at immigration, race, gender and class, and how it's all playing out amid the polarizing relationship between America, Mexico and those who inhabit both."
Newsweek, "Best Books of 2019 So Far"
"The son of Mexican immigrants, Olivarez celebrates his Mexican-American identity and examines how those two sides conflict in a striking collection of poems."
USA Today
"José Olivarez's indispensable debut poetry collection, Citizen Illegal, is a boisterous, empathetic, funny-yet-serious (but not self-serious) celebratory ode to Chicanx life in the contemporary United States."
Chicago Tribune
"This striking collection of poems is a testament to art's power to shine a light on the beauty and nuance of family life and the plight of oppressed populations."
NPR, "Best Books of 2018"
OTHER TITLES BY THIS AUTHOR:
ABOUT THE AUTHOR:
José Olivarez is the son of Mexican immigrants. His debut book of poems, Citizen Illegal, was a finalist for the PEN/Jean Stein Award and won the 2018 Chicago Review of Books Poetry Prize.
RIGHTS INFORMATION:
Please contact subagents for the following languages and territories:
For all other languages/territories, please contact Roam Agency.