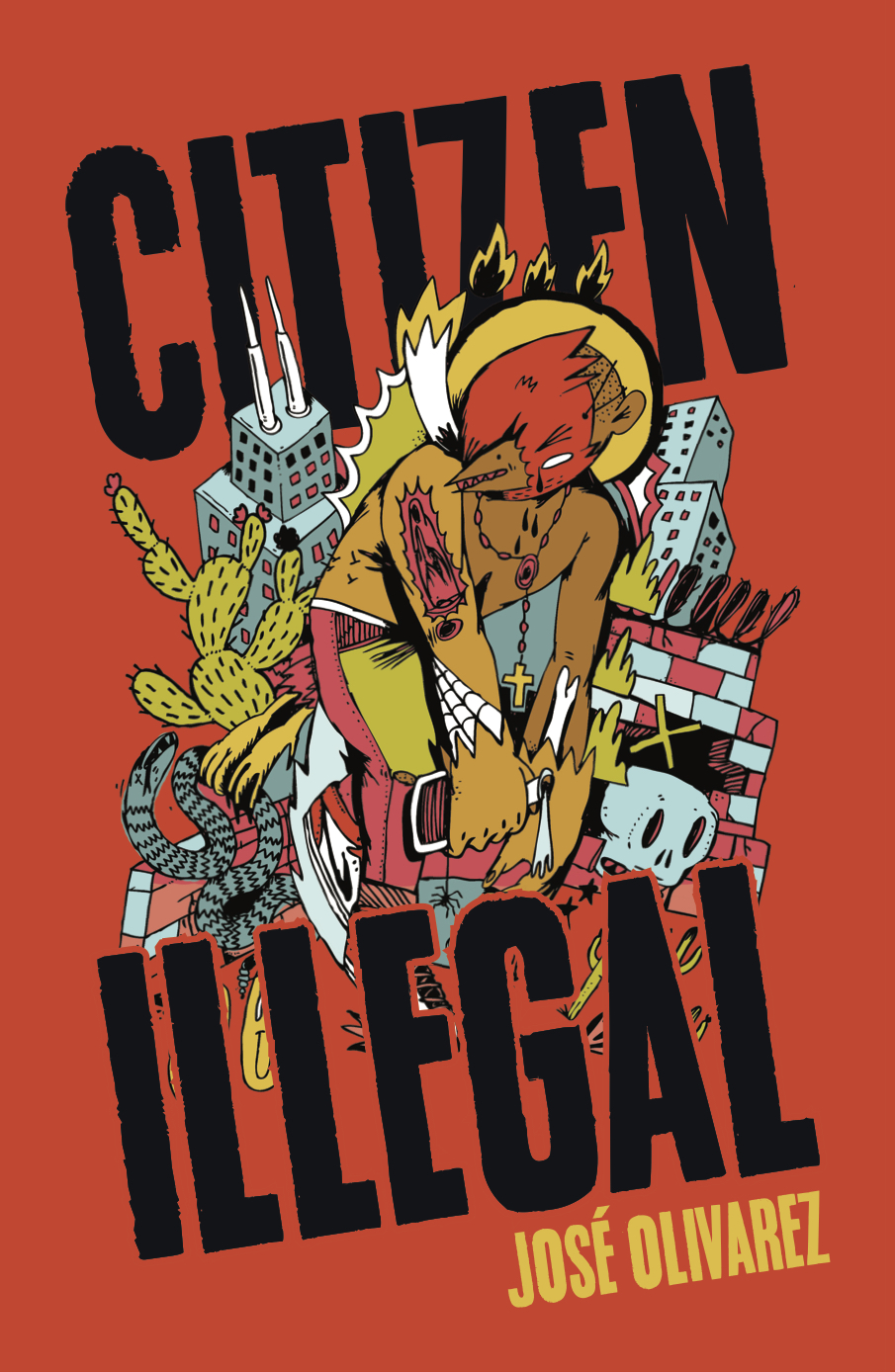 CITIZEN ILLEGAL
José Olivarez
Haymarket Books (July 2018)
Paper • ISBN-13:9781608469543• US $16 • 5.5 in x 8.5 in• 69 pgs.
Finalist, 2019 PEN/Jean Stein Award 
Winner, Chicago Review of Books Award for Best Poetry Book of 2018 
ABOUT THE BOOK:
In this stunning debut, poet José Olivarez explores the stories, contradictions, joys, and sorrows that embody life in the spaces between Mexico and America. He paints vivid portraits of good kids, bad kids, families clinging to hope, life after the steel mills, gentrifying barrios, and everything in between. Drawing on the rich traditions of Latinx and Chicago writers like Sandra Cisneros and Gwendolyn Brooks, Olivarez creates a home out of life in the in-between. Combining wry humor with potent emotional force, Olivarez takes on complex issues of race, ethnicity, gender, class, and immigration using an everyday language that invites the reader in. Olivarez has a unique voice that makes him a poet to watch.
PRAISE:
"Olivarez steps into the 'inbetween' standing between Mexico and America in these compelling, emotional poems. Written with humor and sincerity, each page looks at immigration, race, gender and class, and how it's all playing out amid the polarizing relationship between America, Mexico and those who inhabit both."
Newsweek, "Best Books of 2019 So Far"
"The son of Mexican immigrants, Olivarez celebrates his Mexican-American identity and examines how those two sides conflict in a striking collection of poems."
USA Today
"José Olivarez's indispensable debut poetry collection, Citizen Illegal, is a boisterous, empathetic, funny-yet-serious (but not self-serious) celebratory ode to Chicanx life in the contemporary United States."
Chicago Tribune
"This striking collection of poems is a testament to art's power to shine a light on the beauty and nuance of family life and the plight of oppressed populations."
NPR, "Best Books of 2018"
"José Olivarez's work shines a spotlight on the often-overlooked stories of Mexican-Americans in the Midwest. This identity is illustrated throughout Citizen Illegal in all of its complexities—the connections between Mexican-Americans and labor and the all too familiar feeling of being ni de aqui, ni de alla (not from here, nor there)."
Remezcla
"A high-octane take on the rhythms and contradictions of life as a first-generation child of Mexican parents."
Booklist
"Incredible… Olivarez gives us the poem as incantation, using language to transcend the limits of social constructions and the physical, temporal world."
The Rumpus
"A book of poems by Mexican American poet José Olivarez, ties together memory, experience, and humanity. This collection makes the reader sit with the idea of nationhood, assimilation, and how white people are granted immediate access to privileges denied to people of color, regardless of citizenship or immigration status."
Yes! Magazine
"Citizen Illegal is not only a commentary on timely and complicated  issues of race, immigration, and ethnicity, but also a celebration, a journey toward a self and a family identity that is grounded not merely in geography but in the veined map of the heart."
Rhino Poetry
"Poets like José Olivarez, a son of Mexican immigrants, are vital to keeping this nation from tearing apart—if only we could get Citizen Illegal, his debut collection, into the hands of the anti-immigrant crowd."
Foreword Reviews
"A poet never arrives ahead or behind schedule, but rather at just the right moment. Through his masterful demonstration of control over the pen, Olivarez has established himself as not only a voice to be reckoned with and mindful of, but also one that deserves to be respected."
Cultural Weekly
"In this collection of poems, Olivarez traces the lines between the country of his parents' birth and the Mexican-American communities that have formed an integral part of Chicago's identity. With equal measures of playfulness and razor-sharp critique, he writes of 'gentefication,' an imagined process in which the city's neighborhoods are returned unto the hands that wrought them.
Eve Ewing, Publishers Weekly
"Citizen Illegal is a fearless, instrumental, honest collection of poetry. In other words, the book is fire.  Skilled, tender, funny, yet undecorated, Olivarez's poetry navigates the razor sharp duality and utter contradiction of citizenship. These poems helps us carry the weight of biases, the absurdity of our prejudices; they help us seek documentation for our humanity which cannot, by any means, be dictated by policy makers. Let it be said that these poems are also love poems. Olivarez chooses to use his voice, sometimes brutal, sometimes bloody and blistered, to confront our monstrosity, yet he never shies away from love, even when he exposes the lies we keep in order to live. Keep an eye out for José Olivarez: he might be the poet you need when it's time to cross a line, destruct borders, and still come out on the other side with your dreams intact."
Willie Perdomo, The Essential Hits of Shorty Bon Bon
"Citizen Illegal is a stunning piece of artwork from beginning to end. A vivid journey on José's real life experiences which open-heartedly allows you to discover many of the things people don't often talk about: love, anxiety, fear, and hopefulness. This book is inspirational and culturally rich, giving you all types of feelings with first hand insight on what it feels like to be Latino. Poets like José and books like Citizen Illegal are essential to our community."
Luis Carranza, poet & member of Young Chicago Authors 2017 Bomb Squad
"When I read this book, I can hear José reading these poems out loud to me, into a microphone, in conversation. There is not one time that I read his collection that I didn't cry. I cried of joy, of sadness, of just seeing and feeling the printed celebration and exploration of what it means to be a first-generation Mexican-American. If and when I need to be reminded of the love I have for being a first generation Mexican American, I am able to turn to these moments in this collection: a neighborhood in which we can be as open and loud and soft as we want to be. In this neighborhood, I can also find all the deafening shame and heart- breaking fear my family and I have tried to hide. José pulls this love and this family and these secrets onto a platform we, as a community, can celebrate, acknowledge, laugh, and cry juntitos. Muchísimas gracias a José por siendo tan valiente y integro. Llevaré estas poemas conmigo por siempre."

Vicky Peralta, poet & member of Young Chicago Authors 2017 Bomb Squad
OTHER TITLES BY THIS AUTHOR:
ABOUT THE AUTHOR:
José Olivarez is the son of Mexican immigrants. His debut book of poems, Citizen Illegal, was a finalist for the PEN/Jean Stein Award and won the 2018 Chicago Review of Books Poetry Prize.
RIGHTS INFORMATION:
Audio book:
Please contact subagents for the following languages and territories:
For all other languages/territories, please contact Roam Agency.