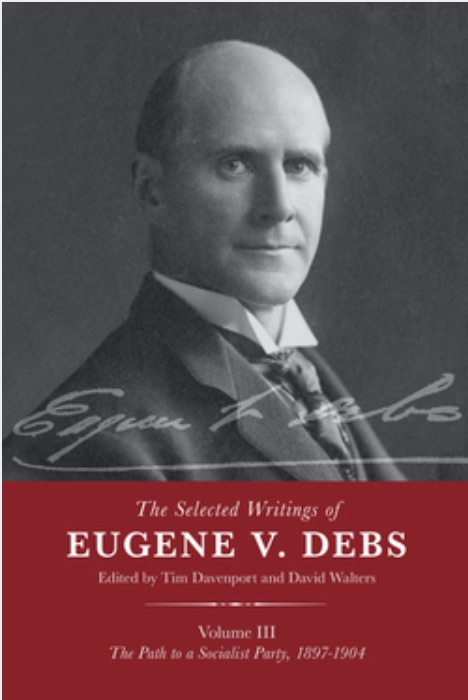 SELECTED WORKS OF EUGENE V. DEBS, VOL. III
The Path to a Socialist Party, 1897–1904
Eugene V. Debs. Edited by Tim Davenport and David Walters.
Haymarket Books (Fall 2019)
Trade Paper • ISBN-13:9781642590326 • US $36.00 • 5.5 in x 8.5 in • 700 pgs.
ABOUT THE BOOK:
Eugene V. Debs exploded onto the national scene in 1894 as the leader of a sensational strike by his American Railway Union (ARU) against the Pullman Parlor Car Company—a job stoppage which paralyzed the country's transportation network for nearly two weeks. On January 1, 1897, the polarizing public figure Debs declared his allegiance to international socialism, emerging as the most widely recognized socialist in America. He would thereafter tour the country relentlessly, speaking to large audiences and writing hundreds of articles on political and economic themes over the ensuing three decades.
Debs almost singlehandedly established a new political party, the Social Democracy of America, in the summer of 1897, building upon the remnants of the depleted ARU. The organization advanced a double agenda, seeking to promote both electoral politics and the construction of socialist colonies on the frontier—a dual focus which led to internal tensions and a bitter split. In 1898 Debs cast his lot with Milwaukee publisher Victor L. Berger in a new organization dedicated to political action, the Social Democratic Party of America.
After a split of the older and larger Socialist Labor Party of America in 1899, protracted unity discussions between the Debs group and an organized body of former SLP dissidents ensued. This unity effort was marked by Debs's first run for president of the United States on a joint Social Democratic ticket in November 1900. After heated on-again off-again negotiation between the two groups, a marriage was finally brokered in the summer of 1901 and the Socialist Party of America was launched. The party would soon grow to become the third biggest in American politics, with Debs enthusiastically heading the Socialist ticket in 1904 in the second of his five runs for the presidency.
OTHER TITLES IN THIS SERIES:
The Selected Works of Eugene V. Debs, Vol. I: Building Solidarity on the Tracks, 1877­-1892
Selected Works of Eugene V. Debs, Volume 2: The Rise and Fall of the American Railway Union, 1892–1896
ABOUT THE AUTHORS:
Tim Davenport and David Walters have extracted the essential core of Debs's life work, illustrating his intellectual journey from conservative editor of the magazine of a racially segregated railway brotherhood to his role as the public face and outstanding voice of social revolution in early 20th century America. Well over 1,000 Debs documents will be republished as part of this this monumental project, the vast majority seeing print again for the first time since the date of their original publication.
RIGHTS INFORMATION:
Please contact subagents for the following languages and territories:
For all other languages/territories, please contact Roam Agency.