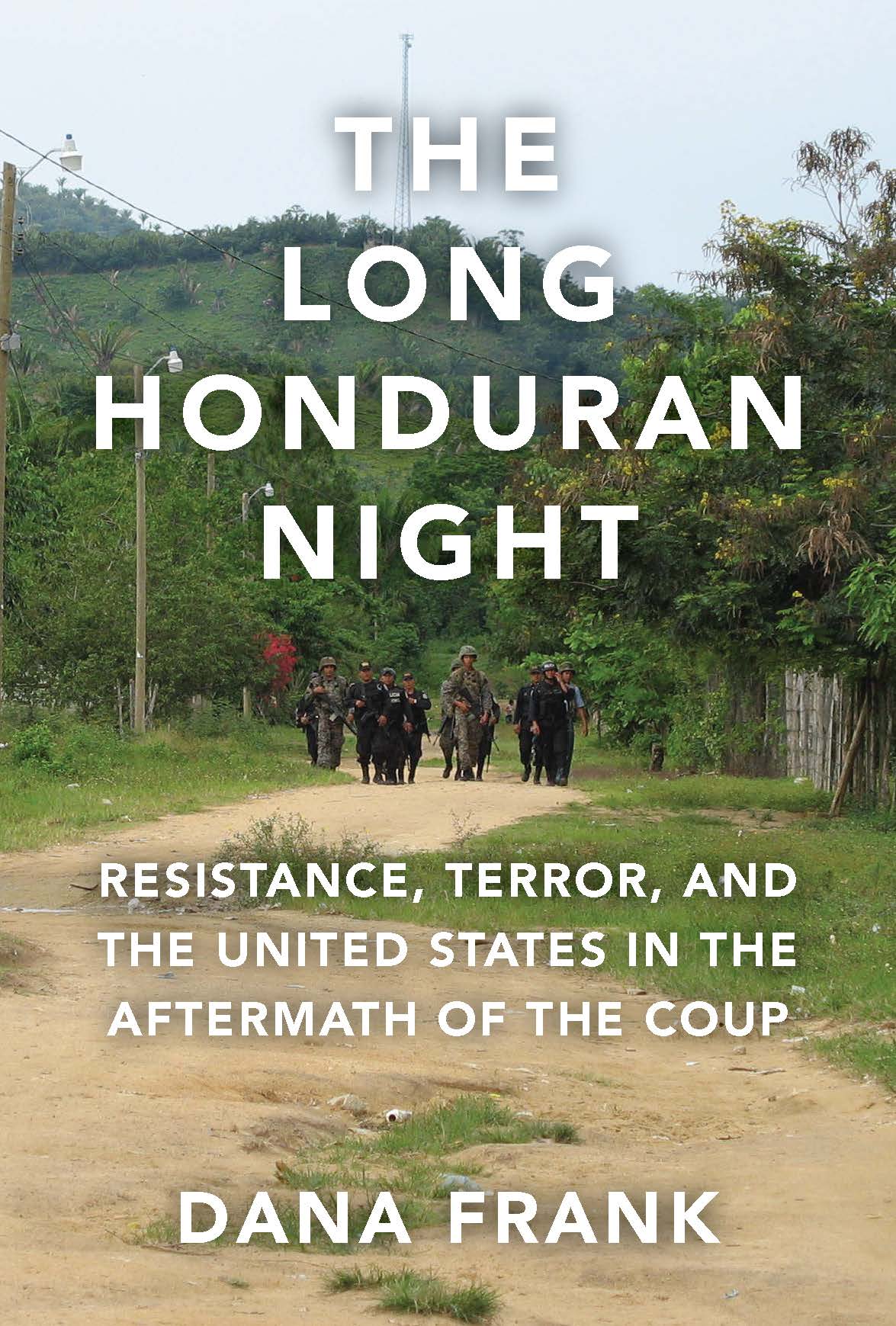 THE LONG HONDURAN NIGHT
Resistance, Terror, and the United States in the Aftermath of the Coup
Dana Frank
Haymarket Books (Fall 2018)
Paper • ISBN-13:9781608469604• US $17.95 • 5.5 in x 8.5 in• 290 pgs.
ABOUT THE BOOK:
This powerful narrative recounts the tumultuous time in Honduras that witnessed then-President Manuel Zelaya deposed by a coup in June 2009, told through first-person experiences and layered with deeper political analysis. It weaves together two perspectives; first, the broad picture of Honduras since the coup, including the coup itself, its continuation in two repressive regimes, and secondly, the evolving Honduran resistance movement, and a new, broad solidarity movement in the US.
Although it is full of terrible things, this not a horror story: this narrative directly counters mainstream media coverage that portrays Honduras as a pit of unrelenting awfulness, in which powerless sobbing mothers cry over bodies in the morgue. Rather, it's about sobering challenges and the inspiring collective strength with which people face them.
PRAISE:
"In her new book, The Long Honduran Night, UCSC Professor Emerita Dana Frank describes the crisis that has gripped the Central American nation in the wake of the 2009 coup, and offers a fierce indictment of US policy in Honduras. The timely publication brings much-needed political context to a US audience, an antidote to the vacuous partisan posturing that dominates the current media discourse."
"[P]owerful, passionate, and meticulous in its documentation of foreign policy in Honduras, a country that has long been slighted in mainstream journalism and academic research."
Foreword Reviews
"Dana Frank has written a searing portrait of a nation in crisis, a book that is startling, enraging, and humane all at once. Her most important accomplishment is never losing sight of the hardships and treachery that ordinary Hondurans have had to endure these last several years, nor the dignity with which they have survived it all."
Daniel Alarcón, executive producer of Radio Ambulante, author of At Night We Walk in Circles
"The Long Honduran Night breaks the deafening silence that has followed recent American intervention in Honduras. It graphically documents the awful legacy of this intervention. By showing how directly the United States crashed into a Honduran presidential election, it also exposes the hypocrisy of our outrage at foreign interference in our own politics."
Stephen Kinzer, award-winning author and foreign correspondent
"If you've any interest at all in Honduras, US foreign policy, Central America, why so many Central Americans are migrating north . . . or in a powerful, informative, and extremely good read, do pick up Dana Frank's book, The Long Honduran Night. It's a surprisingly readable book that tells not only the tragic story of another failed state and the forces that continue to work against establishing real democracies in Central America, but also inspires in its stories of everyday people— in Honduras and the United States—who work against difficult odds to create change, often by placing their lives at risk."
María Martin, independent journalist
"Free from academic jargon, conversant with modern Honduran history, and steeped in passion, this testimonial book is the best primer in English about the coup, and resistance to it, that destroyed Honduran democracy on June 28, 2009…Almost ten years after the coup, Frank's book transits seamlessly between the social fabric and the intimate lives of hundreds of Hondurans she has met personally during her many years in the country. Frank manages this while referencing key historical processes and their current legacies, an important and necessary feat on its own, but also valuable because it informs the current plight of Hondurans who flee their country into the US seeking asylum in the aftermath of the 2009 coup."
Dario A. Euraque, professor of history and international studies, Trinity College
"I have covered Honduras ever since the 2009 coup. Dana Frank's insightful and very human portrait of the country's resistance is required reading for anyone who wants to understand what's really going on in Honduras and why it matters."
Adam Raney, journalist, Al Jazeera English and Univision
"I congratulate and thank Dr. Dana Frank, a North American con- cerned about Honduras, for giving us this book and for documenting the role of the United States in the long night of terror that we have lived in Honduras since the 2009 coup. Her contribution to historic memory stands as our witness."
Bertha Oliva, general coordinator, Committee of the Families of the Detained and Disappeared in Honduras
OTHER TITLES BY THIS AUTHOR:
Bananeras: Women Transforming the Banana Unions of Latin America
ABOUT THE AUTHOR:
Dana Frank is a professor of history at the University of California, Santa Cruz. She is the author of Buy American: The Untold Story of Economic Nationalism (Beacon, 1999); Purchasing Power: Consumer Organizing, Gender, and the Seattle Labor Movement, 1919–1929 (Cambridge, 1994); Local Girl Makes History: Exploring Northern California's Kitsch Monuments (City Lights, 2007), Bananeras: Women Transforming the Banana Unions of Latin America (Haymarket, 2016), and, with Howard Zinn and Robin D.G. Kelley, Three Strikes: Miners, Musicians, Salesgirls and the Fighting Spirit of Labor's Last Century (Beacon, 2001).
Her contribution to Three Strikes has been reprinted, with a new introduction, by Haymarket Books as Women Strikers Occupy Chain Story, Win Big (2012). Long active in labor solidarity work, since 2000 she has worked with the US Labor Education in the Americas Project (US/LEAP) in support of the banana unions in Latin America. Since the 2009 military coup her articles about human rights and U.S. policy in Honduras have appeared in The Nation, New York Times, Politico Magazine, Foreign Affairs.com, The Baffler, Los Angeles Times, Miami Herald, and many other publications, and she has testified in both the U.S. Congress and Canadian Parliament.
Please contact subagents for the following languages and territories:
For all other languages/territories, please contact Roam Agency.