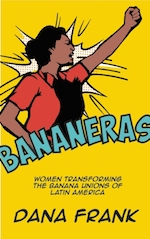 BANANERAS
Women Transforming the Banana Unions of Latin America
Dana Frank
Haymarket Books (February 2016, world English rights)
Trade Paper • ISBN-13: 9781608465354 • US $16 • 5 1/4 in x 8 1/4 in • 128 pgs.
ABOUT THE BOOK:
Women banana workers have organized themselves and gained increasing control over their unions, their workplaces, and their lives. Highly accessible and narrative in style, Bananeras recounts the history and growth of this vital movement and shows how Latin American women workers are shaping and broadly reimagining the possibilities of international labor solidarity.
PRAISE:
"[Bananeras] is a vital accounting of the struggles still being waged."
Margaret Randall, author of When I Look into the Mirror and See You: Women, Terror, and Resistance
OTHER TITLES BY THIS AUTHOR:
The Long Honduran Night: Resistance, Terror, and the United States in the Aftermath of the Coup
ABOUT THE AUTHOR:
Dana Frank is a professor of history at the University of California, Santa Cruz. She is the author of Buy American: The Untold Story of Economic Nationalism (Beacon, 1999); Purchasing Power: Consumer Organizing, Gender, and the Seattle Labor Movement, 1919–1929 (Cambridge, 1994); Local Girl Makes History: Exploring Northern California's Kitsch Monuments (City Lights, 2007) and, with Howard Zinn and Robin D.G. Kelley, Three Strikes: Miners, Musicians, Salesgirls and the Fighting Spirit of Labor's Last Century (Beacon, 2001). Her contribution to Three Strikes has been reprinted, with a new introduction, by Haymarket Books as Women Strikers Occupy Chain Story, Win Big (2012). Long active in labor solidarity work, since 2000 she has worked with the US Labor Education in the Americas Project (US/LEAP) in support of the banana unions in Latin America. Since the 2009 military coup her articles about human rights and U.S. policy in Honduras have appeared in The Nation, New York Times, Politico Magazine, Foreign Affairs.com, The Baffler, Los Angeles Times, Miami Herald, and many other publications, and she has testified in both the U.S. Congress and Canadian Parliament.
RIGHTS INFORMATION:
Please contact subagents for the following languages and territories:
| Language/Territory | Subagent |
| --- | --- |
| China, Taiwan, Indonesia, Malaysia, and Vietnam | Big Apple Agency |
| English outside North America | David Grossman Literary Agency |
| German | Paul & Peter Fritz AG Literatur Agentur |
| Greek | Read n' Right Agency |
| Hebrew | The Deborah Harris Agency |
| Italian | The Nabu International Literary Agency |
| Japanese | The English Agency (Japan) Ltd |
| Korean | BC Agency, or Korea Copyright Center |
| Portuguese | RIFF Agency |
| Russia/Baltics/Eastern Europe | Prava I Prevodi |
| Scandinavia: Sweden, Norway, Finland, Denmark, Iceland | Brandt New Agency |
| Spanish in Latin America | International Editors' Co., S.A. |
| Spanish in Spain | International Editors' Co., S.A. |
| Turkish | Anatolialit Agency |
For all other languages/territories, please contact Roam Agency.