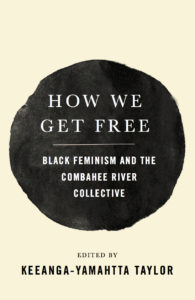 HOW WE GET FREE
Black Feminism and the Combahee River Collective 
Edited by Keeanga-Yamahtta Taylor
Haymarket Books (November 2017)
Paper • ISBN-13: 9781608468553 • US $15.95 • 191 pgs.
Winner, 2018 Lambda Literary Award in LGBTQ Nonfiction
READ: "How We Get Free:" Keeanga-Yamahtta Taylor on Lessons of Radical Black Feminism in the Age of Trump (Truthout. 12-31-2017)
WATCH: Keeanga-Yamahtta Taylor: What We Can Learn from the Black Feminists of the Combahee River Collective (Democracy Now! 01-22-2018)
ABOUT THE BOOK:
The Combahee River Collective, a trailblazing group of radical Black feminists, was one of the most important organizations to develop out of the anti-racist and women's liberation movements of the 1960s. In this collection of interviews, edited by activist-scholar Keeanga-Yamahtta Taylor, founding members of the organization and contemporary activists reflect on the legacy of its contributions to Black feminism and its impact on today's struggles.
PRAISE:
"[How We Get Free] was published to critical acclaim, but it's likely much of its direct impact is yet to come, as it serves as a literal roadmap to revolution for a new generation of political activists ready to challenge mainstream feminism"
Vogue, "5 Game-Changing Feminist Books That Are Still Essential Reading"
"This new collection of a four-decades-old text reminds us that black women have long known that America's destiny is inseparable from how it treats them and the nation ignores this truth at its peril."
The New York Review of Books
"For feminists of all kinds, astute scholars, or anyone with a passion for social justice, How We Get Free is an invaluable work."
Ethnic and Racial Studies
"A striking collection that should be immediately added to the Black feminist canon."
"An essential book for any feminist library."
Library Journal
"The publication of How We Get Free marks the 40th anniversary of the Combahee River Collective statement, which is often said to be the foundational document of intersectional feminism. As white feminism has gained an increasing amount of coverage, there are still questions as to how black and brown women's needs are being addressed. This book, through a collection of interviews with prominent black feminists, provides some answers."
The Independent (UK), "10 Best New Non-Fiction Feminist Books"
OTHER TITLES BY THIS AUTHOR:
From #BlackLivesMatter to Black Liberation
ABOUT THE AUTHOR:
Keeanga-Yamahtta Taylor (http://www.keeangataylor.com) is author of From #BlackLivesMatter to Black Liberation, published by Haymarket Books in January 2016. The book surveys the historical and contemporary ravages of racism and persistent structural inequality, including mass incarceration, housing discrimination, police violence, and unemployment. Taylor is the recipient of the 2016 Cultural Freedom Especially Notable Book Award from the Lannan Foundation.
Taylor is also author of the recently published, How We Get Free: Black Feminism and the Combahee Collective (Haymarket Books 2017). Taylor writes about Black politics, racial inequality and social movements in the United States. Her writing has been published in The New York Times, The Guardian, Los Angeles Times, Boston Review, The New Republic, Al Jazeera America, Jacobin, In These Times, New Politics, Souls: A Critical Journal of Black Politics, Culture and Society, and other publications. She is currently completing a book titled Race for Profit: Black Housing and the Urban Crisis in the 1970s, under contract with the University of North Carolina Press in their Justice, Power and Politics series.  Taylor received her PhD in African American Studies at Northwestern University in 2013 and is currently an Assistant Professor in African American Studies at Princeton University.
RIGHTS INFORMATION:
Audio book:
Please contact subagents for the following languages and territories:
| Language/Territory | Subagent |
| --- | --- |
| China, Taiwan, Indonesia, Malaysia, and Vietnam | Big Apple Agency |
| English outside North America | David Grossman Literary Agency |
| German | Paul & Peter Fritz AG Literatur Agentur |
| Greek | Read n' Right Agency |
| Hebrew | The Deborah Harris Agency |
| Italian | The Nabu International Literary Agency |
| Japanese | The English Agency (Japan) Ltd |
| Korean | BC Agency, or Korea Copyright Center |
| Portuguese | RIFF Agency |
| Russia/Baltics/Eastern Europe | Prava I Prevodi |
| Scandinavia: Sweden, Norway, Finland, Denmark, Iceland | Brandt New Agency |
| Spanish in Latin America | International Editors' Co., S.A. |
| Spanish in Spain | International Editors' Co., S.A. |
| Turkish | Anatolialit Agency |
For all other languages/territories, please contact Roam Agency.