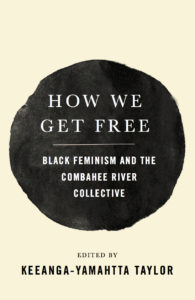 HOW WE GET FREE
Black Feminism and the Combahee River Collective 
Edited by Keeanga-Yamahtta Taylor
Haymarket Books (November 2017)
Paper • ISBN-13: 9781608468553 • US $15.95 • 190 pgs.
ABOUT THE BOOK:
2017 commemorates the 40th anniversary of the publication of the groundbreaking Combahee River Collective Statement. 
The Combahee River Collective, a trailblazing group of radical Black feminists, was one of the most important organizations to develop out of the anti-racist and women's liberation movements of the 1960s. In this collection of interviews, edited by activist-scholar Keeanga-Yamahtta Taylor, founding members of the organization and contemporary activists reflect on the legacy of its contributions to Black feminism and its impact on today's struggles.
PRAISE:
"This new collection of a four-decades-old text reminds us that black women have long known that America's destiny is inseparable from how it treats them and the nation ignores this truth at its peril."
The New York Review of Books
"A striking collection that should be immediately added to the Black feminist canon."
Praise for From #BlackLivesMatter to Black Liberation: 
"This brilliant book is the best analysis we have of the #BlackLivesMatter moment of the long struggle for freedom in America. Keeanga-Yamahtta Taylor has emerged as the most sophisticated and courageous radical intellectual of her generation."
Cornel West, author, Race Matters
"Keeanga-Yamahtta Taylor's searching examination of the social, political, and economic dimensions of the prevailing racial order offers important context for understanding the necessity of the emerging movement for black liberation."
Michelle Alexander, author, The New Jim Crow
"Keeanga-Yamahtta Taylor has written a sweeping yet concise history not just of the Black Lives Matter movement, but of the past seven years under the first black president and of how the 20th century led to our current state of woke uprising. It's full of gems of historical insight and it fearlessly tackles what black liberation looks like when it happens in a black-governed city 40 miles from a black-occupied White House."
The Guardian
"Class matters! In this clear-eyed, historically informed account of the latest wave of resistance to state violence, Keeanga-Yamahtta Taylor not only exposes the canard of color-blindness but reveals how structural racism and class oppression are joined at the hip. If today's rebels ever expect to end inequality and racialized state violence, she warns, then capitalism must also end. And that requires forging new solidarities, envisioning a new social and economic order, and pushing a struggle to protect Black Lives to its logical conclusion: a revolution capable of transforming the entire nation."
Robin D. G. Kelley, Distinguished Professor of History & Gary B. Nash Endowed Chair in United States History, UCLA
OTHER TITLES BY THIS AUTHOR:
From #BlackLivesMatter to Black Liberation
ABOUT THE AUTHOR:
Keeanga-Yamahtta Taylor writes on Black politics, social movements, and racial inequality in the United States. Her book From #BlackLivesMatter to Black Liberation won the 2016 Lannan Cultural Freedom Award for an Especially Notable Book. Her articles have been published in Souls: A Critical Journal of Black Politics, Culture and Society, Jacobin, New Politics, The Guardian, In These Times, Black Agenda Report, Ms., the International Socialist Review, and other publications. Taylor is an assistant professor in the department of African American Studies at Princeton University.
RIGHTS INFORMATION:
Audio book:
Please contact subagents for the following languages and territories:
| Language/Territory | Subagent |
| --- | --- |
| China, Taiwan, Indonesia, Malaysia, and Vietnam | Big Apple Agency |
| English outside North America | David Grossman Literary Agency |
| German | Paul & Peter Fritz AG Literatur Agentur |
| Greek | Read n' Right Agency |
| Hebrew | The Deborah Harris Agency |
| Italian | The Nabu International Literary Agency |
| Japanese | The English Agency (Japan) Ltd |
| Korean | BC Agency, or Korea Copyright Center |
| Portuguese | RIFF Agency |
| Russia/Baltics/Eastern Europe | Prava I Prevodi |
| Scandinavia: Sweden, Norway, Finland, Denmark, Iceland | Brandt New Agency |
| Spanish in Latin America | International Editors' Co., S.A. |
| Spanish in Spain | International Editors' Co., S.A. |
| Turkish | Anatolialit Agency |
For all other languages/territories, please contact Roam Agency.