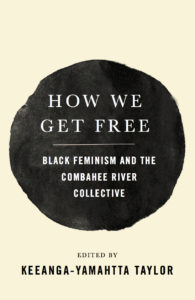 HOW WE GET FREE
Black Feminism and the Combahee River Collective 
Edited by Keeanga-Yamahtta Taylor
Haymarket Books (November 2017)
Paper • ISBN-13: 9781608468553 • US $15.95 • 191 pgs.
WINNER OF THE 2021 MacArthur Fellowship Award,
Winner, 2018 Lambda Literary Award in LGBTQ Nonfiction
READ: "How We Get Free:" Keeanga-Yamahtta Taylor on Lessons of Radical Black Feminism in the Age of Trump (Truthout. 12-31-2017)
WATCH: Keeanga-Yamahtta Taylor: What We Can Learn from the Black Feminists of the Combahee River Collective (Democracy Now! 01-22-2018)
ABOUT THE BOOK:
The Combahee River Collective, a trailblazing group of radical Black feminists, was one of the most important organizations to develop out of the anti-racist and women's liberation movements of the 1960s. In this collection of interviews, edited by activist-scholar Keeanga-Yamahtta Taylor, founding members of the organization and contemporary activists reflect on the legacy of its contributions to Black feminism and its impact on today's struggles.
PRAISE:
"[How We Get Free] was published to critical acclaim, but it's likely much of its direct impact is yet to come, as it serves as a literal roadmap to revolution for a new generation of political activists ready to challenge mainstream feminism"
Vogue, "5 Game-Changing Feminist Books That Are Still Essential Reading"
"This new collection of a four-decades-old text reminds us that black women have long known that America's destiny is inseparable from how it treats them and the nation ignores this truth at its peril."
The New York Review of Books
"If you consider yourself a womanist or a Black feminist, then this book should be on your list."
LitHub
"The Combahee River Collective, a Black lesbian feminist organization active in the '70s and early '80s is revisited in How We Get Free, a book that contextualizes the movement via interviews with the organization's key players, Barbara Smith, Beverly Smith, and Demita Frazier, and reflects on its legacy. Two of our panelists recommended this contemporary work by Keeanga-Yamahtta Taylor, with Williams saying the interviews with Black Lives Matter co-founder Alicia Garza and other commentary make the work relative to the current moment. Williams also recommends reading 'The Combahee River Collective Statement,' on which the book is based, and then reading it a second time: "Every person — regardless of race, gender, sexuality, and generation — who believes in feminist theory and practice should read it. "It teaches us why Black (lesbian) women's experiences are key to building an anti-racist and feminist world," says Williams. "It also helps us to revisit the principles of Black feminism," says Sawyer, who believes it's important to recirculate those ideas for the current generation".
NY Mag, "The Best Books for Budding Black Feminists, According to Experts"
"For feminists of all kinds, astute scholars, or anyone with a passion for social justice, How We Get Free is an invaluable work."
Ethnic and Racial Studies
"A striking collection that should be immediately added to the Black feminist canon."
"An essential book for any feminist library."
Library Journal
"The publication of How We Get Free marks the 40th anniversary of the Combahee River Collective statement, which is often said to be the foundational document of intersectional feminism. As white feminism has gained an increasing amount of coverage, there are still questions as to how black and brown women's needs are being addressed. This book, through a collection of interviews with prominent black feminists, provides some answers."
The Independent (UK), "10 Best New Non-Fiction Feminist Books"
OTHER TITLES BY THIS AUTHOR:
From #BlackLivesMatter to Black Liberation
ABOUT THE AUTHOR:
Keeanga-Yamahtta Taylor writes and speaks on Black politics, social movements, and racial inequality in the United States. She is the author of Race for Profit: How Banks and the Real Estate Industry Undermined Black Homeownership, which was a finalist for the 2020 Pulitzer Prize for History, and of How We Get Free: Black Feminism and the Combahee River Collective, which won the Lambda Literary Award for LGBTQ nonfiction in 2018. She is an assistant professor of African American Studies at Princeton University and a contributing writer at The New Yorker.
RIGHTS INFORMATION:
Languages & Territories Where Rights Have Been Sold:
Audio book:
Please contact subagents for the following languages and territories:
For all other languages/territories, please contact Roam Agency.