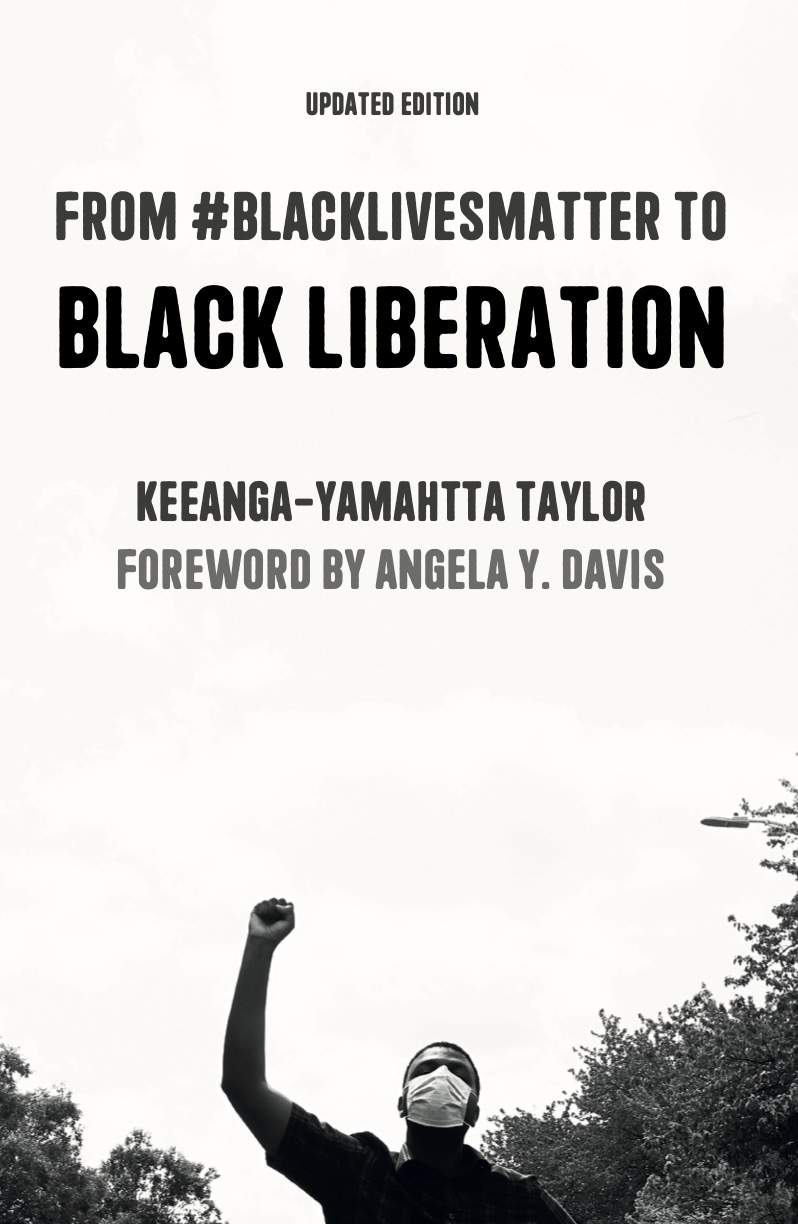 FROM #BLACKLIVESMATTER TO BLACK LIBERATION
Expanded second edition with a new foreword by Angela Y. Davis
Keeanga-Yamahtta Taylor
Foreword by Angela Y. Davis
WINNER OF THE 2021 MacArthur Fellowship Award, and the 2016 Cultural Freedom Award for an Especially Notable Book awarded by Lannan Foundation
Haymarket Books (1 June 2021)
Trade Paper • ISBN-13: 9781642594553 • US $19.95 • 4 3/8 in x 7 3/8 in • 320 pgs.
ABOUT THE BOOK:
The eruption of mass protests in the wake of the police murders of Michael Brown in Ferguson, Missouri and Eric Garner in New York City have challenged the impunity with which officers of the law carry out violence against Black people and punctured the illusion of a postracial America. The Black Lives Matter movement has awakened a new generation of activists.
In this stirring and insightful analysis, activist and scholar Keeanga-Yamahtta Taylor surveys the historical and contemporary ravages of racism and persistence of structural inequality such as mass incarceration and Black unemployment. In this context, she argues that this new struggle against police violence holds the potential to reignite a broader push for Black liberation.
PRAISE:
"From #BlackLivesMatter to Black Liberation is the text that can guide us toward an intelligent engagement with structural racism and efficacious paths of resistance."
Angela Y. Davis, from the Foreword
"If you haven't read From #BlackLivesMatter to Black Liberation by Keeanga-Yamahtta Taylor, you should. It has already found its place as essential reading on the intersection of race and class in recent US history."
Los Angeles Review of Books 
"From #BlackLivesMatter to Black Liberation is a must-read for those interested in understanding racism and inequality in modern society. It offers both an historical and a contemporary view of racism that is accessible and comprehensible for people of all higher-educational backgrounds, and all individuals with a keen interest in social justice and reform. It is a superb source of information regarding the struggles and realities of racism and systemic discrimination imposed upon black people in America."
Ethnic and Racial Studies
"This book is a masterful treatment of racism, economic exploitation, and the hope of new movements for racial and economic justice in the United States."
Erica Chenoweth, The Journal of Human Rights
"This brilliant book is the best analysis we have of the #BlackLivesMatter moment of the long struggle for freedom in America. Keeanga-Yamahtta Taylor has emerged as the most sophisticated and courageous radical intellectual of her generation."
Cornel West, author, Race Matters
"Keeanga-Yamahtta Taylor's searching examination of the social, political, and economic dimensions of the prevailing racial order offers important context for understanding the necessity of the emerging movement for black liberation."
Michelle Alexander, author, The New Jim Crow
"Keeanga-Yamahtta Taylor has written a sweeping yet concise history not just of the Black Lives Matter movement, but of the past seven years under the first black president and of how the 20th century led to our current state of woke uprising. It's full of gems of historical insight and it fearlessly tackles what black liberation looks like when it happens in a black-governed city 40 miles from a black-occupied White House."
The Guardian
"Class matters! In this clear-eyed, historically informed account of the latest wave of resistance to state violence, Keeanga-Yamahtta Taylor not only exposes the canard of color-blindness but reveals how structural racism and class oppression are joined at the hip. If today's rebels ever expect to end inequality and racialized state violence, she warns, then capitalism must also end. And that requires forging new solidarities, envisioning a new social and economic order, and pushing a struggle to protect Black Lives to its logical conclusion: a revolution capable of transforming the entire nation."
Robin D. G. Kelley, Distinguished Professor of History & Gary B. Nash Endowed Chair in United States History, UCLA
"From #BlackLivesMatter to Black Liberation is a profoundly insightful book from one of the brightest new lights in African American Studies. Keeanga-Yamahtta Taylor invites us to rethink the postwar history of the United States and to place the actions of everyday people, including the hundreds of thousands of African Americans who participated in the urban rebellions and wildcat strikes of 1960s and 1970s, at the forefront of American politics. By doing so, she offers up a 'usable past' for interpreting the current anti-state sanctioned violence movement sweeping the United States in the early twenty-first century. This timely volume provides much needed analysis not only of race and criminalization in modern American history, but of the specific roles played by a bipartisan electoral elite, the corporate sector, and the new black political class in producing our current onslaught of police killings and mass incarceration in the years since the Voting Rights Act's passage. Taylor's fluent voice as historian and political theorist renders legible the accomplishments and, perhaps most importantly, the expansive possibilities of a new generation of black youth activism."
Donna Murch, author, Living for the City: Migration, Education, and the Rise of the Black Panther Party in Oakland, California
"With political eloquence, intellectual rigor, and an unapologetically left analysis, the brilliant scholar-activist Keeanga-Yamahtta Taylor has provided a powerful contribution to our collective understanding of the current stage of the Black freedom struggle in the United States, how we arrived at this point, and what battles we need to fight in order to truly achieve liberation. From #BlackLivesMatter to Black Liberation is a must read for everyone who is serious about the ongoing praxis of freedom."
Barbara Ransby, author, Ella Baker and the Black Freedom Movement: A Radical Democratic Vision
"Keeanga-Yamahtta Taylor brings the long history of Black radical theorizing and scholarship into the neoliberal 21st century with From #BlackLivesMatter to Black Liberation. Her strong voice is deeply needed at a time when young activists are once again reforging a Black liberation movement that is under constant attack. Deeply rooted in Black radical, feminist and socialist traditions, Taylor's book is an outstanding example of the type of analysis that is needed to build movements for freedom and self-determination in a far more complicated terrain than that confronted by the activists of the 20th century. Her book is required reading for anyone interested in justice, equality and freedom."
Michael C. Dawson, author of Blacks In and Out of the Left
"Keeanga-Yahmatta Taylor has given us an important book, one that might help us to understand the roots of the contemporary policing crisis and build popular opposition capable of transforming the current, dismal state of affairs. Equal parts historical analysis and forceful polemic, From #BlackLivesMatter to Black Liberation provides a much-needed antidote to the post-racial patter that has defined the Obama years, but it also serves as a proper corrective for the 'new civil rights movement' posturing of some activists. Against such nostalgic thinking, Taylor reminds us of the new historical conditions we face, and the unique challenges created by decades of African American political integration. From #BlackLivesMatter to Black Liberation sketches a politics that rightly connects anti-police brutality protests and a broader anti-capitalist project. Everyone who has grown sick of too many undeserved deaths at the hands of police and vigilantes should read and debate this book."
Cedric G. Johnson, author of Revolutionaries to Race Leaders: Black Power and the Making of African American Politics
"This book should be read widely. It's a powerful, concise account of why the Black Lives Matter movement has erupted and why it's needed. The chapter on the limits of electoral politics is one of the best in the book. The section on the connections between municipal finance and criminal justice, of the way fines and fees compound the problem mass incarceration, is also extremely useful and lucid. This is a clear-eyed and morally righteous work informed by a deep understanding of history and social policy, one that patiently and painstakingly illustrates the ways racism and capitalism are intertwined. Ultimately Taylor presents a powerful argument for social movements, for building power outside of electoral politics that can take on structural inequities. I found myself underlining something on almost every page."
Astra Taylor, author, The People's Platform
"Ultimately, From #BlackLivesMatter to Black Liberation is an essential read for anyone following the movement for Black Lives. The text chronicles a portion of history we rarely ever see, while also bringing together data and deep primary source research in a way that lucidly explains the origins of the current moment."
Los Angeles Review of Books 
"This new book from activist and scholar Keeanga-Yamahtta Taylor gives an in-depth history and analysis of the movement for racial justice, and how the recent fight against police violence is propelling the cause. Repeatedly hailed as a must-read for anyone who wants to participate in the movement, this book will give you great perspective about the #BlackLivesMatter movement and beyond."
Bustle
"The classic example is Michelle Alexander's The New Jim Crow. When The New Press published this book, it was not initially reviewed in the New York Times and did not make its way onto the bestseller list until after the paperback edition was released two years later. Here is a case where a book's argument proved so strong, so timely, and so necessary that the audience grew up to meet it. Another more recent crossover success is Keeanga-Yamahtta Taylor's From #BlackLivesMatter to Black Liberation, which sacrifices no historical precision as it speaks simultaneously to academic, activist, and general audiences."
The American Historian
"Taylor's short but powerful and provocative book is a vital read for those wrestling with how to understand the rise of this phase of the black struggle, and where it can and should go from here."
Monthly Review
"As an academic who has fastidiously examined black political and social struggle in this country, Keeanga-Yamahtta Taylor has been able to aptly show the keen connection between state violence and poverty ("Perhaps American violence is most acutely evident in the extreme inequality that exists here," she wrote). In her recently released book, From #BlackLivesMatter to Black Liberation, Taylor has absconded from the ivory tower to break down the current Movement for Black Lives, arguing that it holds the potential to reignite a broader push for black liberation. The outspoken writer and professor indeed uses her mind. Perhaps if we listen, our free can/will follow."
The Root
"Keeanga-Yammahta Taylor's brilliant and stirring From #BlackLivesMatter to Black Liberation (Haymarket, 2016) provides a synoptic historical account of U.S. White supremacy, counter insurgency, and the betrayals of the black elite. It's hard-headed in its diagnosis of the obstacles confronting anti-racist and radical politics while insisting on the new possibilities of struggle illuminated by Black Lives Matter."
Africa Is a Country
"This vital book challenges readers to carefully study and engage with the history of antiracist struggle against policing, prisons, and poverty. Ultimately, it compels us to respond to the rise of Trump by building multiracial solidarity and articulating alternative futures."
Jacobin
OTHER TITLES BY THIS AUTHOR:
How We Get Free: Black Feminism and the Combahee River Collective
ABOUT THE AUTHOR:
Keeanga-Yamahtta Taylor writes and speaks on Black politics, social movements, and racial inequality in the United States. She is the author of Race for Profit: How Banks and the Real Estate Industry Undermined Black Homeownership, which was a finalist for the 2020 Pulitzer Prize for History, and of How We Get Free: Black Feminism and the Combahee River Collective, which won the Lambda Literary Award for LGBTQ nonfiction in 2018. She is an assistant professor of African American Studies at Princeton University and a contributing writer at The New Yorker.
RIGHTS INFORMATION:
Languages & Territories Where Rights Have Been Sold:
Please contact subagents for the following languages and territories:
For all other languages/territories, please contact Roam Agency.