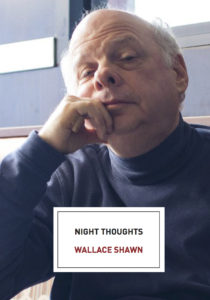 NIGHT THOUGHTS
Wallace Shawn
Haymarket Books (Spring 2017, world English rights)
Trade Paper • ISBN-13: 9781608468126 • US $12.95 • 5 1/2 in x 7 1/2 in • 96 pgs.
ABOUT THE BOOK:
Writer and actor Wallace Shawn's probing, honest, and self-critical take on civilization and its discontents.
In this stirring rumination, Wallace Shawn considers justice, inequality, blame, revenge, eleventh-century Japanese court poetry, decadence, Beethoven, the relationship between the Islamic world and the West and the possibility that a better world could be created.
"I do believe it's possible — barely possible obviously," he writes, "that the mistake of civilization might ultimately be fixed using civilization's own discoveries and fruits … and that a human society could be created in which no one was subjugated and everyone was treated with respect because we all actually respected each other. Each of us probably has his own picture of what such a society would look like. In my picture we all would work part of each month in the sewers and for part of each month we'd lounge on pillows writing poetry on perfumed paper of many different colors."
PRAISE:
"[Shawn is] the American theatre's most insistent class traitor."
The New Yorker
"Acerbic yet compassionate, Shawn's writing epitomizes qualities he admires—curiosity, thoughtfulness, sharp logic, deep emotion—and sees society turning away from."
Publishers Weekly, "Best Books of 2017"
"[P]erceptive and forcefully argued."
Kirkus Reviews
"A compelling diagnosis of the world's injustice but also a very personal response to that injustice."
San Francisco Chronicle
"Shawn has a way of pulling the reader into conversation, making the experience of Night Thoughts feel like more than moving through an extended essay by an important American playwright and actor. Somewhere, as one reads it, the feeling of friendship appears, as if Shawn has known you for years, and now, late in his life, he's decided to tell you what it's all about."
Shelf Awareness
"[L]ike riffs of free-form jazz."
New York Journal of Books
"With wit and wisdom to spare, Night Thoughts is a subversive gem of an essay, which ought to appeal beyond those who already convinced that radical change is needed. Even for those people, a well judged and cleverly argued piece such as this can be restorative and inspiring. Either way, it would surely be beneficial to us all if it received the very wide audience that it deserves."
Counterfire
Praise for Essays:
"Lovely, hilarious and seriously thought-provoking. I enjoyed it tremendously."
Toni Morrison
"Wallace Shawn's essays are both powerful and riveting. To have such a gentle and incisive soul willing to say what others may be afraid to is considerably refreshing."
Michael Moore
"As an actor and playwright, Shawn's eccentric style is like no one else's. And in his collection of 'Essays'… that inimitable inquiring voice, which takes absolutely nothing for granted, can be heard loud and clear… For anyone within an interest in listening to a unique writer respond to the crises and culture of his age, this gathering of short pieces and interviews will invite both argument and agreement."
The Los Angeles Times
"From a low-earning playwright's troubles to reflections on why the Palestinians are justified in their resentment of Israel. Wallace Shawn: Fearless!"
GQ, Best Books of 2009
"The qualities that make [Shawn's] dramatic work so challenging, sensual, mind-and-soul expanding, so indispensible, are equally in evidence in the marvelous political and theatrical essays collected here."
Tony Kushner
"Full of what you might call conversation starters: tricky propositions about morality… politics, privilege, and art as a force for change… It's a treat to hear him speak his curious mind."
O, The Oprah Magazine
ABOUT THE AUTHOR:
Wallace Shawn is an Obie Award-winning playwright and a noted stage and screen actor (Star Trek, Gossip Girl, The Princess Bride, Toy Story). His plays The Designated Mourner and Marie and Bruce have recently been produced as films. He is co-author of the movie My Dinner with Andre and author of the plays The Fever, The Designated Mourner, Aunt Dan and Lemon, and Grasses of a Thousand Colors. His book Essays was published by Haymarket Books. His play Evening at the Talk House premiered at Socialism 2014.
OTHER TITLES BY THIS AUTHOR:
RIGHTS INFORMATION:
Audio book:
Languages & Territories Where Rights Have Been Sold:
Please contact subagents for the following languages and territories:
For all other languages/territories, please contact Roam Agency.