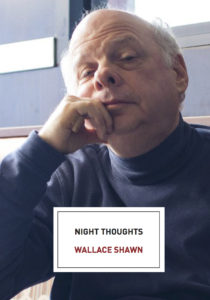 NIGHT THOUGHTS
Wallace Shawn
Haymarket Books (Spring 2017, world English rights)
Trade Paper • ISBN-13: 9781608468126 • US $12.95 • 5 1/2 in x 7 1/2 in • 96 pgs.
ABOUT THE BOOK:
With stories of murder swirling around in his head—violent crimes of passion, shootings that explode out of momentary anger, and savage attacks by devotees of Islamic State—Shawn broods about himself and other humans, his own position in the status quo as a person who has always been surrounded by privilege, the process that leads to inequality and the creation of elites, the outbreak of rage coming from the Middle East, the role of the unconscious mind in our lives, questions of justice, blame, revenge, and morality, and the possibility that a better world could be created and how that could be achieved.
Although he's guided and inspired by the people he respects, Shawn can't see any real alternative to trying to figure out his own answers, despite the insufficiency of his knowledge and experience. Having recently passed the age of seventy, before which he found it very hard to piece together more than a few fragments of understanding, he would like to pass on anything he's learned before death or dementia close down the brief window available to him. But he may not be ready yet.
"I do believe it's possible — barely possible obviously," he writes, "that the mistake of civilization might ultimately be fixed using civilization's own discoveries and fruits … and that a human society could be created in which no one was subjugated and everyone was treated with respect because we all actually respected each other. Each of us probably has his own picture of what such a society would look like. In my picture we all would work part of each month in the sewers and for part of each month we'd lounge on pillows writing poetry on perfumed paper of many different colors."
PRAISE:
"With impeccable logic, [Shawn] gently, but lethally, skewers the complacency of the lucky while highlighting the plight of the less fortunate, including the Muslims living in the slums of European cities, the maid of a wealthy friend, and a boy at a dance who shoots someone flirting with his girlfriend."
Publishers Weekly (starred review)
"[P]erceptive and forcefully argued."
Kirkus Reviews
Praise for Essays:
"Lovely, hilarious and seriously thought-provoking. I enjoyed it tremendously."
Toni Morrison
"Wallace Shawn's essays are both powerful and riveting. To have such a gentle and incisive soul willing to say what others may be afraid to is considerably refreshing."
Michael Moore
"As an actor and playwright, Shawn's eccentric style is like no one else's. And in his collection of 'Essays'… that inimitable inquiring voice, which takes absolutely nothing for granted, can be heard loud and clear… For anyone within an interest in listening to a unique writer respond to the crises and culture of his age, this gathering of short pieces and interviews will invite both argument and agreement."
The Los Angeles Times
"From a low-earning playwright's troubles to reflections on why the Palestinians are justified in their resentment of Israel. Wallace Shawn: Fearless!"
GQ, Best Books of 2009
"The qualities that make [Shawn's] dramatic work so challenging, sensual, mind-and-soul expanding, so indispensible, are equally in evidence in the marvelous political and theatrical essays collected here."
Tony Kushner
"Full of what you might call conversation starters: tricky propositions about morality… politics, privilege, and art as a force for change… It's a treat to hear him speak his curious mind."
O, The Oprah Magazine
ABOUT THE AUTHOR:
Wallace Shawn is an Obie Award-winning playwright and a noted stage and screen actor (Star Trek, Gossip Girl, The Princess Bride, Toy Story). His plays The Designated Mourner and Marie and Bruce have recently been produced as films. He is co-author of the movie My Dinner with Andre and author of the plays The Fever, The Designated Mourner, Aunt Dan and Lemon, and Grasses of a Thousand Colors. His book Essays was published by Haymarket Books. His play Evening at the Talk House premiered at Socialism 2014.
OTHER TITLES BY THIS AUTHOR:
RIGHTS INFORMATION:
Please contact subagents for the following languages and territories:
| Language/Territory | Subagent |
| --- | --- |
| China, Taiwan, Indonesia, Malaysia, and Vietnam | Big Apple Agency |
| English outside North America | David Grossman Literary Agency |
| German | Paul & Peter Fritz AG Literatur Agentur |
| Greek | Read n' Right Agency |
| Hebrew | The Deborah Harris Agency |
| Italian | The Nabu International Literary Agency |
| Japanese | The English Agency (Japan) Ltd |
| Korean | Best Literary & Rights Agency, or Korea Copyright Center |
| Portuguese | RIFF Agency |
| Russia/Baltics/Eastern Europe | Prava I Prevodi |
| Scandinavia: Sweden, Norway, Finland, Denmark, Iceland | Brandt New Agency |
| Spanish in Latin America | International Editors' Co., S.A. |
| Spanish in Spain | International Editors' Co., S.A. |
| Turkish | Anatolialit Agency |
For all other languages/territories, please contact Roam Agency.