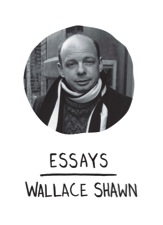 ESSAYS
By Wallace Shawn
With a new chapter by the author
Haymarket Books (Upated paperback edition, September 2010, world English rights)
Paper • ISBN-13: 9781608460021 • 5.5 in x 7.5 in • 180 pgs.
ABOUT THE BOOK:
Probing essays and observations by acclaimed actor and playwright Wallace Shawn, in his first nonfiction collection.
In these beautiful essays, Wallace Shawn takes us on a revelatory journey in which the personal and political become one. He grasps contradictions, even when unpleasant, and also finds humor in the political and personal challenges of everyday life.
Whether writing about the genesis of his plays, such as Aunt Dan and Lemon, or discussing how the privileged world or arts and letters takes for granted the work of the "unobtrusives," the people who serve our food or deliver our mail, or describing his upbringing in the sheltered world of Manhattan's cultural elite, Shawn reveals a unique ability to step back from the appearance of things to explore their deeper social meaning. He grasps contradictions, even when unpleasant, challenges us to look, as he does, at our own behavior in a more honest light, and also finds the pathos in the political and personal challenges of everyday life.
With a sharp wit, remarkable attention to detail, and the same acumen as a writer of prose as he is a playwright, Shawn invites us to look at the world with new eyes, the better to understand — and change it.
ForeWord BOOK OF THE YEAR FINALIST 2009
PRAISE:
"[Shawn is] the American theatre's most insistent class traitor."
The New Yorker
"Wallace Shawn's career as a playwright has been uncompromisingly devoted to proving, again and again, that theater is an ideal medium for exploring difficult matters of great consequence. The qualities that make his dramatic work so challenging, startling, unsettling, sensual, mind-and-soul expanding, so indispensible, are equally in evidence in the marvelous political and theatrical essays collected here. The basic faith of politically progressive people, that human beings are full of decent impulses perverted by political and economic malevolence, is in Shawn's writing held up to the liveliest, sharpest scrutiny imaginable; not, as in so much reactionary art, to shift blame from oppressor to oppressed, or from artifice to Nature, not to insist that we're innately, inescapably incapable of change, but rather as a scrupulous accounting of the slippery ethics, dream logic, fear-ridden resistance to progress, disturbing desires, of the greatest problem confronting all our hopes for a better, transformed world: Us, the actors in our collective drama. His essays are without sentiment and entirely resistant to the easy comforts of despair. Complexities are rendered delightfully plain, obfuscations are unsnarled and illuminated, clarity and rational thought are organized to plumb mysteries, and mysteries are respected and celebrated. Shawn's language, his unmistakable, original voice, felicitous, is unadorned, elegant, immediate, true. He's also a brilliant interviewer, as everyone who's seen My Dinner With Andre (which is just about everyone) knows. And, of course, he's very funny."
Tony Kushner
"Wallace Shawn writes in a style that is deceptively simple, profoundly thoughtful, fiercely honest. His vocabulary is pungent, his wit delightful, his ideas provocative."
Howard Zinn, author, A People's History of the United States
"Wallace Shawn is a bracing antidote to the op-ed dreariness of political and artistic journalism in the West. He takes you back to the days when intellectuals had the wit and concentration to formulate great questions – and to make the reader want to answer them."
David Hare, playwright
"Wally Shawn's essays are both powerful and riveting. How rare to encounter someone willing to question the assumptions of class and the disparity of wealth that grows wider every year in this country. To have such a gentle and incisive soul willing to say what others may be afraid to is considerably refreshing."
Michael Moore
ABOUT THE AUTHOR:
Wallace Shawn is an Obie Award-winning playwright and a noted stage and screen actor. His plays The Designated Mourner and The Fever have recently been produced as films, and his translation of Threepenny Opera was recently performed on Broadway. He is co-author of My Dinner with Andre, and the author of Aunt Dan and Lemon, among other works. A major retrospective of his work is being performed, starting in 2009, at the Royal Court Theatre in London. He lives in New York City.
OTHER TITLES BY THIS AUTHOR:
RIGHTS INFORMATION:
Audio book:
Languages & Territories Where Rights Have Been Sold:
Please contact subagents for the following languages and territories:
For all other languages/territories, please contact Roam Agency.