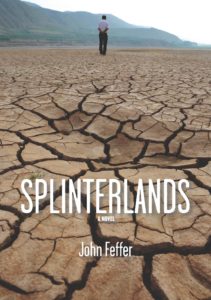 SPLINTERLANDS
A Novel
By John Feffer
Haymarket Books (December 2016)
Paper • ISBN-13:9781608467242 • US $13.95 • 264 pages
ABOUT THE BOOK:
Julian West, looking backward from 2050, tries to understand why the world and his family have fallen apart.
Part Field Notes from a Catastrophe, part 1984, and part World War Z, John Feffer's striking new dystopian novel takes us deep into the battered, shattered world of 2050. The European Union has broken apart. Great powers like Russia and China have shriveled. America's global military footprint has virtually disappeared and the United States remains united in name only. Nationalism has proven to be the century's most enduring force, as ever-rising global temperatures have supercharged each-against-all competition and conflict among the now three hundred–plus members of an increasingly feeble United Nations.
As he navigates the world of 2050, Julian West offers a road map for the path we're already on, a chronicle of impending disaster, and a faint light of hope. He may be humanity's last best chance to explain how the world unraveled—if he can survive the danger and beauty of the Splinterlands.
PRAISE FOR SPLINTERLANDS:
"In a chilling, thoughtful, and intuitive warning, foreign policy analyst Feffer takes today's woes of a politically fragmented, warming Earth and amplifies them into future catastrophe… This novel is not for the emotionally squeamish or optimistic; Feffer's confident recitation of world collapse is terrifyingly plausible, a short but encompassing look at world tragedy."
Publishers Weekly, Starred Review
"Splinterlands paints a startling portrait of a post-apocalyptic tomorrow that is fast becoming a reality today. Fast-paced, yet strangely haunting, Feffer's latest novel looks back from 2050 on the disintegration of world order told through the story of one broken family — and offers a disturbing vision of what might await us all if we don't act quickly."
Barbara Ehrenreich, author of Nickel and Dimed and Living with a Wild God, and founder of the Economic Hardship Reporting Project
"A chilling portrayal of where the politics of division could take us. Now I only hope he writes the sequel to tell us how to avoid it!"
Naomi Oreskes, co-author of The Collapse of Western Civilization
"John Feffer is our 21st-century Jack London, and, like the latter's Iron Heel, Splinterlands is a vivid, suspenseful warning about the ultimately incompatibility between capitalism and human survival."
Mike Davis, author, Late Victorian Holocausts
"Feffer's book is a wild ride through a bleak future, casting a harsh, thought-provoking light on that future's modern-day roots."
Foreword Reviews
OTHER BOOKS BY THIS AUTHOR:
ABOUT THE AUTHOR:
John Feffer is the director of Foreign Policy in Focus at the Institute for Policy Studies. In 2012 and 2013, he was also an Open Society Fellow looking at the transformations that have taken place in Eastern Europe since 1989. He is the author of several books, including the novel Foamers, and has also written and performed four one-man shows.
RIGHTS INFORMATION:
| Language/Territory | Publisher |
| --- | --- |
| French/worldwide | Inculte |
Please contact subagents for the following languages and territories:
For all other languages/territories, please contact Roam Agency.