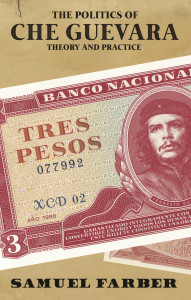 THE POLITICS OF CHE GUEVARA
Theory and Practice
By Samuel Farber
Haymarket Books (April 2016)
Paper • ISBN-13: 9781608466016 • US $16.95 • 300 pages
ABOUT THE BOOK:
Ernesto "Che" Guevara remains a symbol to legions of young rebels and revolutionaries. Fifty years after his death, Che's face is still emblazoned across T-shirts and posters throughout the world.
Writers remain similarly possessed, with no shortage of pages written on Guevara's breathtaking life crossing South America by motorcycle, trekking through the jungles of Cuba, leading military units in Africa, or his death in the mountains of Bolivia. These episodes are deployed as proof that Che is either a bloodthirsty tyrant or a fearless hero. These approaches have often obscured and mystified as much as they have illuminated his political legacy.
For the first time, those curious about Che Guevara will have a way to engage with his political ideas and practical political record. The Politics of Che Guevara is aimed at dispelling many of the myths about the revolutionary leader.
This volume examines Guevara's views on socialism, democracy, and revolution and asks what lessons can be learned by today's activists and social movements. It will also analyze Guevara's conduct as guerrilla commander and government administrator in Cuba, his political perspectives on revolutionary agency and his attempts to implement them in Cuba, Africa and Bolivia, as well as Guevara's economic views.
PRAISE:
"In his previous books, the respected Marxist scholar Sam Farber has explored the paradoxes of the Cuban revolutionary experience with acute insight. Now, using sources unavailable to previous biographers, he scrupulously reconstructs the political thought of the twentieth century's foremost revolutionary icon, illuminating the contradictions between Che's radical egalitarianism and his austere elitism. Although he will always be revered for his heroic internationalism, Che's ideas diverged sharply from classical Marxist conceptions of self-emancipation and workers' democracy. Therein, as Farber shows so brilliantly, is the real tragedy of Third World revolution."
Mike Davis, Professor Emeritus, University of California, Riverside, and author of Planet of Slums
"Across the world, Che Guevara is either branded a demon or idealized as a saint. Sam Farber chooses neither route, offering a complex and serious analysis of Guevara—a passionate and honest radical who could unfortunately never embrace socialism in its most democratic essence."
Bhaskar Sunkara, editor of Jacobin
"This book by Samuel Farber, a scrupulous historian and committed socialist, is indispensable and should be a part of the library of every young person who, impelled like Che, by a rebellious mind and a sense of justice, searches for an alternative to the inhuman, unjust, and predatory system that its high priests want to present as natural."
Guillermo Almeyra, Argentinian columnist for the Mexican journal La Jornada
"With characteristic precision, and methodical attention to detail, Samuel Farber interrogates the writings and politics of perhaps the most widely recognized revolutionary figure of the twentieth century — Che Guevara. Farber's biting, but measured, critique of Che's ideas and practice, deserves to be read widely and debated at length. The unity of socialism, democracy, and revolution to which this book hopes to contribute in theory, has never been more urgently required in praxis."
Jeffery R. Webber, author of Red October: Left-Indigenous Struggles in Modern Bolivia
"In this erudite, clear-headed, and unsparing account of the life and thought of one of the twentieth century's iconic revolutionary and anti-imperialist figures, Samuel Farber writes from the left, as someone genuinely sympathetic to the stated goals of the Cuban revolution. He shows that Che Guevara's concept of socialism included an inordinate sympathy for the single-party state of the Russian model, and that this led him to an elitist dismissal of independent trade unions and of worker's democracy. In counterposing Guevara's social vision to that of Karl Marx and of later anti-Stalinist leftists, Farber evokes unrealized emancipatory possibilities for Cuba in the 1960s, possibilities that have again become real for us today, in the era of Occupy and the Arab revolutions."
Kevin B. Anderson, author of Marx at the Margins
Praise for Cuba Since the Revolution of 1959
"A courageous and formidable balance-sheet of the Cuban Revolution, including a sobering analysis of a draconian 'reform' program that will only deepen the gulf between revolutionary slogans and the actual life of the people."
Mike Davis, professor, University of California, Riverside; author, Planet of Slums and In Praise of Barbarians
"Farber's comprehensive and well-written assessment of Cuba's experience since 1959 is rooted in history, informed by the comparative sociology of communist regimes, and rich in insightful and feisty analysis."
Jorge I. Domínguez, Professor of Mexican and Latin American Politics and Economics, Harvard University
Praise for Revolution and Reaction in Cuba, 1933–1960:
"A very intriguing and illuminating account of the social and political background of the Cuban revolution and its early stages. A valuable study."
Noam Chomsky
ABOUT THE AUTHOR:
Samuel Farber was born and raised in Marianao, Cuba, and came to the United States in February 1958. He obtained a Ph.D. in Sociology from the University of California at Berkeley in 1969 and taught at a number of colleges and universities including UCLA and, most recently, Brooklyn College, where he is a Professor Emeritus of Political Science. His scholarship on Cuba is extensive and includes many articles and two previous books: Revolution and Reaction in Cuba, 1933–1960 (Wesleyan University Press, 1976) and The Origins of the Cuban Revolution Reconsidered (University of North Carolina Press, 2006). Farber was active in the Cuban high school student movement against Fulgencio Batista in the 1950s, and has been involved in socialist politics for more than fifty years.
OTHER TITLES BY THIS AUTHOR:
Cuba Since the Revolution of 1959: A Critical Assessment
RIGHTS INFORMATION:
Languages & Territories Where Rights Have Been Sold:
| Language/Territory | Publisher |
| --- | --- |
| French/worldwide | Syllepse |
| Turkish/worldwide | Yordam |
Please contact subagents for the following languages and territories:
| Language/Territory | Subagent |
| --- | --- |
| China, Taiwan, Indonesia, Malaysia, and Vietnam | Big Apple Agency |
| English outside North America | David Grossman Literary Agency |
| German | Paul & Peter Fritz AG Literatur Agentur |
| Greek | Read n' Right Agency |
| Hebrew | The Deborah Harris Agency |
| Italian | The Nabu International Literary Agency |
| Japanese | The English Agency (Japan) Ltd |
| Korean | BC Agency, or Korea Copyright Center |
| Portuguese | RIFF Agency |
| Russia/Baltics/Eastern Europe | Prava I Prevodi |
| Scandinavia: Sweden, Norway, Finland, Denmark, Iceland | Brandt New Agency |
| Spanish in Latin America | International Editors' Co., S.A. |
| Spanish in Spain | International Editors' Co., S.A. |
| Turkish | Anatolialit Agency |
For all other languages/territories, please contact Roam Agency.