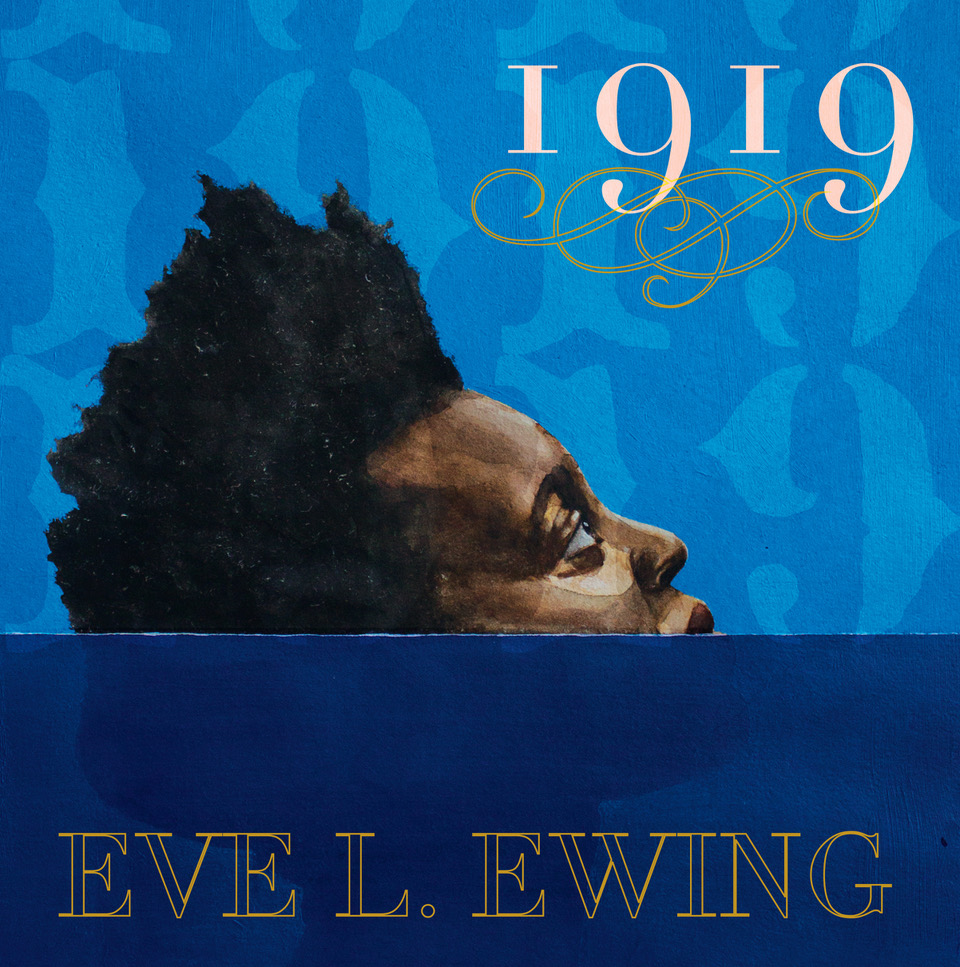 1919
Eve L. Ewing
Haymarket Books (Spring 2019)
Trade Paper • ISBN-13:9781608465989• US $16 • 5.5 in x 8.5 in • 96 pgs.
Winner, Black Caucus of the American Library Association's Best Poetry Book of 2019
NPR Books of the Year, 2019
O Magazine Best Books by Women of Summer 2019
Chicago Tribune 25 hot books of summer 2019
The Millions Must-Read Poetry of June 2019
LitHub Most Anticipated Reads of Summer 2019
Buzzfeed 29 Summer Books To Get Excited About
Chicago Review of Books Best New Books of June 2019
ABOUT THE BOOK:
The Chicago Race Riot of 1919, the most intense of the riots that comprised the "Red Summer" of violence across the nation's cities, has shaped the last century but is unfamiliar or altogether unknown to many people today.
In 1919, her second collection of poems, Eve L. Ewing explores the story of this event—which lasted eight days and resulted in thirty-eight deaths and almost five hundred injuries— through poems recounting the stories of everyday people trying to survive and thrive in the city. Ewing uses speculative and Afrofuturist lenses to recast history, illuminating the thin line between the past and the present.
PRAISE:
"Ewing's poems give voice to those whose historical memory was drawn in dispossession and often informed by the biblical themes of exodus and deliverance. I recommend 1919 because it holds a mirror up to America, to Chicago: a city where the fault lines of American history tremble underfoot, where the promise of America is betrayed by its past."
NPR
"The genre-busting poet/scholar behind Electric Arches and Ghosts in the Schoolyard combines assiduously researched facts and bracing lyricism in this elegiac exploration of the 1919 Chicago race riot and the "summer-song folk" who were its human cost."

O Magazine
"Eve Ewing is a poet of limitless possibility. She seems to get sharper and more daring with each book."
Poetry Magazine "The Zora Neale Hurston of her generation."
"Eve Ewing's 1919 is a window into the mental and emotional lives of Black Americans in a Chicago, in an America, where time beckons oppressively. Exodus and deliverance to a promised land? The eternal return of racist violence? Time lends haunted hope. Maybe circular time, the eternal return, could cease and turn linear, toward exodus and deliverance. 1919 places readers in the minds and bodies of Black Chicagoans, Black Americans, and asks readers to see what has been, and what could be."
Vice
"A truly rare cultural phenomenon: an artist who not only holds up a mirror to society, but makes herself a catalyst to change it."
Chicago Tribune
"Ewing is a writer of great depth, reverence, and enthusiasm, one of the city's greatest critics and champions…Her repertoire and curiosity are without boundary. She is Chicago's true mayor; a young, charismatic guardian of the city's possibility and spirit, who is goading us to do more and do better."
The Cut
"These clarion and haunting poems—some psalm-like, others percussive, even concussive, all technically brilliant and sure to galvanize adults and teens alike—incisively and resoundingly evoke the promise and betrayal of the Great Migration and the everyday struggles of Chicago's Black community against vicious and violent racism. The riot a century ago, Ewing writes, 'left an indelible mark on the city,' which she gracefully, imaginatively, and searingly illuminates with hope for a more just future."
Booklist
"A mixture of grand voices, hushed laments, and ardent dreams, 1919 resurrects forgotten history."
The Millions, "Must-Read Poetry of June"
"Following the publication of Ghosts in the Schoolyard: Racism and School Closings on Chicago's South Side, respected writer and scholar Eve L. Ewing homes in on another critical moment in the city's history: the Chicago Race Riot of 1919. In a new series of poems, she delves into this little-known event — lasting eight days and resulting in 38 deaths and nearly 500 injuries — and its reverberations over the last century."
Chicago Tribune "25 Hot Books of Summer "
"Dr. Eve L. Ewing's third book and second poetry collection explores the "Red Summer" of 1919 and specifically the Chicago Race Riot. Centered on the inner lives of Black individuals, real and/or imaginary (who's to say?), in 1919 Chicago, the poems in 1919 ask how far we've come, and question ideas of progress and of thriving and surviving. On the centenary of the Red Summer, in an America hardly less violent and anti-black, Ewing wields a kaleidoscopic Afrofuturist style to illuminate a crucial piece of history and to imagine a path forward."
LitHub, "Most Anticipated Summer Reads"
"Ewing blends past, present, and future, imagining the stories of those who lived through the riot and beyond, and inquiring into its lasting consequences."
Buzzfeed, "29 Summer Books To Get Excited About"
"These poems are crafted and tense, inventive and full of energy."
The Rumpus May Poetry Book Club
OTHER TITLES BY THIS AUTHOR:
ABOUT THE AUTHOR:
Eve L. Ewing is the author of 1919, the Ironheart series, Ghosts in the Schoolyard: Racism and School Closings on Chicago's South Side, and Electric Arches. She is a professor at the University of Chicago
RIGHTS INFORMATION:
Audio book:
Languages & Territories Where Rights Have Been Sold:
| Language/Territory | Publisher |
| --- | --- |
| English/UK, Commonwealth, Europe | Penguin |
Please contact subagents for the following languages and territories:
For all other languages/territories, please contact Roam Agency.