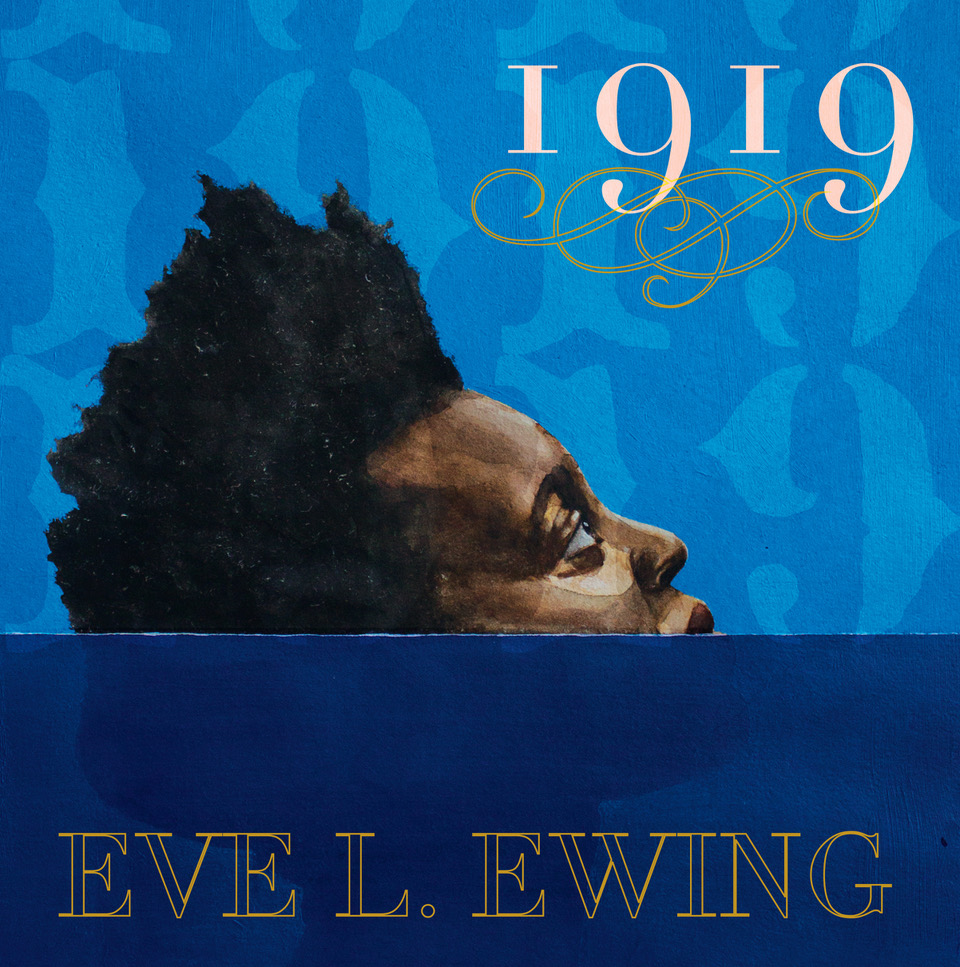 1919
Eve L. Ewing
Haymarket Books (Spring 2019)
Trade Paper • ISBN-13:9781608465989• US $16 • 5.5 in x 8.5 in • 96 pgs.
ABOUT THE BOOK:
The Chicago Race Riot of 1919, the most intense of the riots that comprised the "Red Summer" of violence across the nation's cities, has shaped the last century but is unfamiliar or altogether unknown to many people today.
In 1919, her second collection of poems, Eve L. Ewing explores the story of this event—which lasted eight days and resulted in thirty-eight deaths and almost five hundred injuries— through poems recounting the stories of everyday people trying to survive and thrive in the city. Ewing uses speculative and Afrofuturist lenses to recast history, illuminating the thin line between the past and the present.
PRAISE:
"The Zora Neale Hurston of her generation."
Studio 360
"A truly rare cultural phenomenon: an artist who not only holds up a mirror to society, but makes herself a catalyst to change it."
Chicago Tribune
"Ewing is a writer of great depth, reverence, and enthusiasm, one of the city's greatest critics and champions…Her repertoire and curiosity are without boundary. She is Chicago's true mayor; a young, charismatic guardian of the city's possibility and spirit, who is goading us to do more and do better."
The Cut
Praise for Electric Arches
"Striking and visionary… a stunning debut."
Publishers Weekly, Starred Review
"Her language is conversational, her verse lulling the reader into territory that feels immediately familiar, even when it isn't."
Paris Review, Staff Pick
"Sociologist Eve L. Ewing's debut poetry collection moves fluidly among scholarship, teaching, writing and visual art. In Electric Arches, she constructs an understanding of how forces like white supremacy, disinvestment in public education and migration twist around one another and around the lives of people living in places like Chicago. Ewing takes readers through those ideas with a precision that is both beautiful and deeply uncomfortable. She creates scenes that feel acutely intimate and then, through imagination or belief, asks the reader to step beyond that reality. Together, her poems are a profound act of love for family, a city and its children."
NPR, Best Books of 2017
OTHER TITLES BY THIS AUTHOR:
ABOUT THE AUTHOR:
Dr. Eve L. Ewing is a sociologist of education and a writer from Chicago. She is the author of Electric Arches, which received awards from the American Library Association and the Poetry Society of America and was named one of the year's best books by NPR and the Chicago Tribune. She is also author of Ghosts in the Schoolyard: Racism and School Closings on Chicago's South Side and the co-author (with Nate Marshall) of No Blue Memories: The Life of Gwendolyn Brooks. She is an assistant professor at the University of Chicago School of Social Service Administration. Her work has been published in The New Yorker, The Atlantic, The New York Times, and many other venues.
RIGHTS INFORMATION:
Please contact subagents for the following languages and territories:
| Language/Territory | Subagent |
| --- | --- |
| China, Taiwan, Indonesia, Malaysia, and Vietnam | Big Apple Agency |
| English outside North America | David Grossman Literary Agency |
| German | Paul & Peter Fritz AG Literatur Agentur |
| Greek | Read n' Right Agency |
| Hebrew | The Deborah Harris Agency |
| Italian | The Nabu International Literary Agency |
| Japanese | The English Agency (Japan) Ltd |
| Korean | BC Agency, or Korea Copyright Center |
| Portuguese | RIFF Agency |
| Russia/Baltics/Eastern Europe | Prava I Prevodi |
| Scandinavia: Sweden, Norway, Finland, Denmark, Iceland | Brandt New Agency |
| Spanish in Latin America | International Editors' Co., S.A. |
| Spanish in Spain | International Editors' Co., S.A. |
| Turkish | Anatolialit Agency |
For all other languages/territories, please contact Roam Agency.