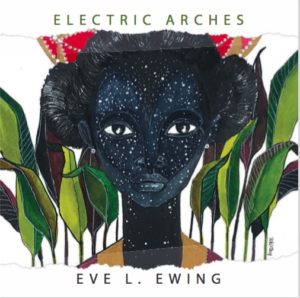 ELECTRIC ARCHES
Eve L. Ewing
Haymarket Books (Fall 2017)
Paper • ISBN-13: 9781608468560 • US $16.00 • 120 pgs.
Longlisted for The Brooklyn Public Library Literary Prize in poetry and fiction
Winner: Best Poetry book, 2017 Chicago Review of Books Awards

Winner: 2018 Alex Award
Winner: Norma Farber First Book Award, 2018, from the Poetry Society of America
Featured in Poets & Writers (Jan/Feb 2018) "Ten Poets Who Will Change the World," Buzzfeed's "The 13 Best Poetry Books of 2017," and Chicago Tribune's "10 Best of 2017."

WATCH: Women to Watch: An Interview with Eve Ewing (Newsweek. 1/25/2018)
ABOUT THE BOOK:
Electric Arches is an imaginative exploration of Black girlhood and womanhood through poetry, visual art, and narrative prose.
Blending stark realism with the surreal and fantastic, Eve L. Ewing's narrative takes us from the streets of 1990s Chicago to an unspecified future, deftly navigating the boundaries of space, time, and reality. Ewing imagines familiar figures in magical circumstances—blues legend Koko Taylor is a tall-tale hero; LeBron James travels through time and encounters his teenage self. She identifies everyday objects—hair moisturizer, a spiral notebook—as precious icons.
Her visual art is spare, playful, and poignant—a cereal box decoder ring that allows the wearer to understand what Black girls are saying; a teacher's angry, subversive message scrawled on the chalkboard. Electric Arches invites fresh conversations about race, gender, the city, identity, and the joy and pain of growing up.
PRAISE:
"Striking and visionary… a stunning debut."
Publishers Weekly, Starred Review
"Her language is conversational, her verse lulling the reader into territory that feels immediately familiar, even when it isn't."
Paris Review, Staff Pick
"Sociologist Eve L. Ewing's debut poetry collection moves fluidly among scholarship, teaching, writing and visual art. In Electric Arches, she constructs an understanding of how forces like white supremacy, disinvestment in public education and migration twist around one another and around the lives of people living in places like Chicago. Ewing takes readers through those ideas with a precision that is both beautiful and deeply uncomfortable. She creates scenes that feel acutely intimate and then, through imagination or belief, asks the reader to step beyond that reality. Together, her poems are a profound act of love for family, a city and its children."
NPR, Best Books of 2017
"Electric Arches lightened my heart. And so I'm honored, and also extremely glad, to congratulate Eve L. Ewing for imagining and writing a truly wonderful first book."
Poetry Society of America
"The spirit of this collection soars."
Roxane Gay, Goodreads
"A poet/sociologist/artist/schoolteacher, Eve L. Ewing has a special talent for finding the art in her life. The Chicago native's debut volume is a singular blend of poetry, narrative and visual art, but its biggest accomplishment is in establishing Ewing as a truly rare cultural phenomenon: an artist who not only holds up a mirror to society, but makes herself a catalyst to change it."
Chicago Tribune, "Best Books of 2017"
"Filled with meditations on race, gender, identity, and all kinds of coming-of-age struggle and joy, Electric Arches explores black girlhood and womanhood, and you'll definitely want it in your TBR pile this season"
Bustle
"Exquisite"
Ava Duvernay
"A remarkable debut…while reading, I found myself continually thinking, I had no idea you could make poetry do that, followed by, Thank God she has done this."
Tracy K. Smith, US Poet Laureate and bestselling author
"Eve L. Ewing's collection Electric Arches melds poetry and prose, magic realism and memory, in an exploration of what it's like to grow up as a black woman in America. Ewing brings the Chicago of her childhood to life, but also envisions the future (taking readers to an alien invasion!). Imaginative and magnetic, Electric Arches feels as lush as life itself while also offering insight into identity and growing up, and reads like a love letter to Chicago that shows the magic that was always there."
Buzzfeed, "The 13 Best Poetry Books of 2017"
"The Chicago-based writer, artist and scholar shook up the literary world with her imaginative debut, Electric Arches, which explores black womanhood. Hailed as a "renaissance woman" by the Chicago Tribune, Ewing's passions are numerous and varied, with a particular bend toward social justice."
Newsweek
"Somehow Ewing has created a collection that is at once formally spectacular and grounded enough to ask readers the two most important questions in art: Will you stop to remember and imagine with me and will you help me change the world with memory and imagination?"
Guernica
"Ewing is a writer of great depth, reverence, and enthusiasm, one of the city's greatest critics and champions…Her repertoire and curiosity are without boundary. She is Chicago's true mayor; a young, charismatic guardian of the city's possibility and spirit, who is goading us to do more and do better."
The Cut
"Electric Arches is a complicated love letter to Chicago… a reminder that magic is made of asphalt and chain-link fences, the lives we painfully live in our childhoods where imagination offers us bodily escape."
The Millions
"Eve Ewing defies simple categorization: she's a writer, an artist, an educator, a Twitter celebrity and a Harvard-trained sociologist. Her new book, "Electric Arches," showcases all of the above."
Public Radio International
"I love you [Eve Ewing], you're so good at articulating and simplifying the important part."
Chance the Rapper
"Spellbinding… these poems will change you for the better. They will make you whole."
Well Read Black Girl
"A groundbreaking collection of poetry, short fiction, and art from one of Chicago's cultural icons… Electric Arches will go down as one of the best and most iconic poetry books about Chicago…ever. You have never seen Chicago this way before, and regardless of where you live, it'll change your perspective."
Chicago Review of Books
"Homegrown hero Eve Ewing is the artist and educator that Chicago needs right now."
WGN
"A powerful revelation."
Brightest Young Things
"Ewing illuminates difficult truths with a type of grace that enthralls and informs."
Fortune
"Eve Ewing is one of Chicago's most visible cultural icons."
Chicago Magazine
"Eve L. Ewing tries to imagine a way out of this mess with poetry and prose."
Newcity
"An intimate look at the changing Chicago landscape."
The Lily (Washington Post)
"Again and again reading Eve Ewing's Electric Arches, I felt some blooming in my body, or some flock of herons batting into the air in my body, which I think was indicating something like joy at witnessing the imagination at work in these poems, the imagination borne of rigorous attention coupled with critical love. Thankfully, there's a word for all that: tenderness. And the joy is that we learn tenderness by witnessing it. Which is to say, and it's not too much to say, this book is one of the maps to our survival."
Ross Gay, author of Catalog of Unabashed Gratitude
"Of course she had me at Koko Taylor. She had me again at shea butter and Ron Artest and especially at an eerily intriguing fur suit. This is an effusive celebration of black girlhood in all its muted but relentless sparkle, a tenacious exploration of all its lives, the wide-aloud witnessing of a born storyteller slicing her two-wheeler through the streets of a broken and boisterous city. You won't believe this is Eve Ewing's first book. It's that assured, that crafted. Ever heard Koko Taylor's guttural growl, the lyric that floors you like a backhand slap? It's that too."
Patricia Smith, poet
"Reading Eve L. Ewing's Electric Arches is such an awakening and active experience— this book time travels, makes myth, immerses, paints, opens pathways. This is a living and breathing document, memoir and map, guidebook and scroll. 'Recall this,' writes Ewing in 'Shea Butter Manifesto,' both as invitation and as spellbinding command. I'm awestruck by the rigor and intimacy of this book, by its insistent love for both black past and black future. Ewing leaves no unnamed ritual uncovered, no implicit idiom uncelebrated. This book is a gift, a visual and lyrical offering to be treasured as gospel."
Morgan Parker, author of There Are More Beautiful Things Than Beyoncé
"I didn't think it was possible for one book to contain work and worlds that would be loved by eight year olds and eighty year olds, junior high school dropouts and emeritus English professors. I didn't think it was possible for one book to contain the emotional sweat of Chicago, Dorchester and Yazoo City, Mississippi. I didn't think it was possible for one book to make us smell the residue of classroom erasers, empty White Castle bags and wet wondrous balls of Black girl hair clinging to the bottoms of bathtubs. With Electric Arches, Eve Ewing has written a book I thought was un-write-able. The book is as precise as it is ambitious, pulling equally on shared memories and individual imagination. Every page feels like a beginning and end, an invitation and conclusion, but never in that order. Somehow Eve Ewing created a book that is at once formally spectacular and grounded enough to ask readers the two most important questions in art: will you stop to remember with me and will you help me change the world with that memory. Electric Arches is alive."
Kiese Laymon, author of Long Division
"Electric Arches is an imaginative exploration of black girlhood and womanhood through poetry, visual art, and narrative prose. Blending stark realism with the fantastical, Ewing takes us from the streets of Chicago to an alien arrival in an unspecified future, deftly navigating boundaries of space, time, and reality with delight and flexibility."
The Rumpus
OTHER TITLES BY THIS AUTHOR:
ABOUT THE AUTHOR:
Eve L. Ewing is the author of 1919, the Ironheart series, Ghosts in the Schoolyard: Racism and School Closings on Chicago's South Side, and Electric Arches. She is a professor at the University of Chicago
RIGHTS INFORMATION:
Audio book:
Languages & Territories Where Rights Have Been Sold:
Please contact subagents for the following languages and territories:
For all other languages/territories, please contact Roam Agency.