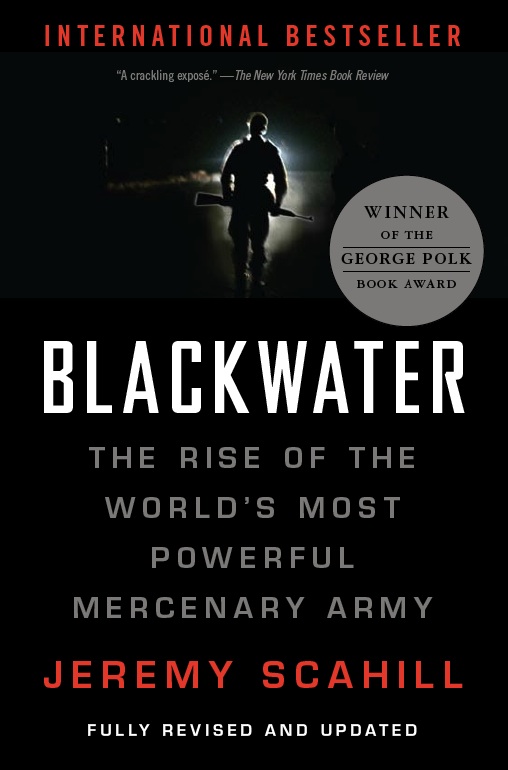 NEW YORK TIMES BESTSELLER and Polk Award Winner

BLACKWATER
The Rise of the World's Most Powerful Mercenary Army
By Jeremy Scahill
Nation Books (updated and expanded paperback, June 2008, North American English rights)
Paper • ISBN-13: 9781568583945 • $19.99 • 550 pgs.
ABOUT THE BOOK:
On September 16, 2007, machine gun fire erupted in Baghdad's Nisour Square, leaving seventeen Iraqi civilians dead, among them women and children. The shooting spree, labeled "Baghdad's Bloody Sunday," was neither the work of Iraqi insurgents nor U.S. soldiers. The shooters were private forces working for the secretive mercenary company, Blackwater Worldwide.
This is the explosive story of a company that rose a decade ago from Moyock, North Carolina, to become one of the most powerful players in the "War on Terror." In his gripping bestseller, award-winning journalist Jeremy Scahill takes us from the bloodied streets of Iraq to hurricane-ravaged New Orleans to the chambers of power in Washington, to expose Blackwater as the frightening new face of the U.S. war machine.
Read Scahill on Blackwater in The Nation magazine:
PRAISE:
"[Scahill] is a one-man truth squad"
Bill Moyers
"The biggest book of the year…an amazingly researched and well-told story"
Matthew Rothschild, The Progressive
"Jeremy Scahill's exposé of the Blackwater mercenary firm forcefully demonstrates the grave dangers of outsourcing the government's monopoly on the use of force."
Joseph Wilson, former U.S. Ambassador to Iraq
"If the Republicans lose in 2008, they will leave office armed and dangerous. Blackwater is the utterly gripping and explosive story of how the Bush Administration has spent hundreds of millions of public dollars building a parallel corporate army, an army so loyal to far right causes it constitutes nothing less than a Republican Guard. The most important and chilling book about the death throes of U.S. democracy you will read in years and a triumph of investigative reporting."
Naomi Klein, The Guardian
"Jeremy Scahill skillfully chronicles the birth of America's frightening Praetorian Guard, one that has been unleashed — 25,000-strong — in Iraq. These hired guns, with their black uniforms and automatic weapons, appeared on the streets of New Orleans following Hurricane Katrina. They operate, at home and abroad, beyond the bounds of legal constraints and are controlled by secretive puppet masters, such as Erik Prince, who have close ties to the radical Christian Right. Should our nation enter a period of instability following another terrorist attack on American soil, an economic collapse or a series of environmental disasters the tyranny groups such as Blackwater impose on others could become the tyranny they impose on us. The rise of this unchecked mercenary force, as Scahill understands, could presage the final stage in the collapse of American democracy."
Chris Hedges
"From Belgrade to Baghdad, from Nigeria to New Orleans, Jeremy Scahill leads a new generation of muckraking journalists. With trademark courage and conviction, Scahill is exposing the dark, violent and secretive world of the neo-mercenaries Washington is increasingly deploying in its wars in Iraq, Afghanistan and at home in the US. This is an explosive book!"
Amy Goodman, Host, Democracy Now! and co-author of The Exception to the Rulers
"Thanks to Jeremy Scahill and other reporters of conscience and courage, 'independent journalist' is not an oxymoron. Scahill's thirst for truth and justice is not far below the surface as he trains his investigative sights on war profiteers like Blackwater, who stop at nothing to turn a fast buck. Katy Helvenston, mother of one of the four Blackwater contractors killed in Fallujah, calls their employers 'the whores of war.' Hats off to Scahill for showing us why she is right."
Ray McGovern, 27-year Veteran CIA Analyst and co-founder, Veteran Intelligence Professionals for Sanity (VIPS)
ABOUT THE AUTHOR:
Jeremy Scahill is one of the three founding editors of The Intercept. He is an investigative reporter, war correspondent, and author of the international bestselling books Dirty Wars: The World Is a Battlefield and Blackwater: The Rise of the World's Most Powerful Mercenary Army. He has reported from Afghanistan, Iraq, Somalia, Yemen, Nigeria, the former Yugoslavia, and elsewhere across the globe. Scahill has served as the national security correspondent for The Nation and Democracy Now!.
Scahill's work has sparked several congressional investigations and won some of journalism's highest honors. He was twice awarded the prestigious George Polk Award, in 1998 for foreign reporting and in 2008 for Blackwater. Scahill is a producer and writer of the award-winning film Dirty Wars, which premiered at the 2013 Sundance Film Festival and was nominated for an Academy Award.
OTHER TITLES BY THIS AUTHOR:
Dirty Wars: The World Is a Battlefield
RIGHTS INFORMATION:
Audio book:
Languages & Territories Where Rights Have Been Sold:
Please contact subagents for the following languages and territories:
| Language/Territory | Subagent |
| --- | --- |
| China, Taiwan, Indonesia, Malaysia, and Vietnam | Big Apple Agency |
| English outside North America | David Grossman Literary Agency |
| German | Paul & Peter Fritz AG Literatur Agentur |
| Greek | Read n' Right Agency |
| Hebrew | The Deborah Harris Agency |
| Italian | The Nabu International Literary Agency |
| Japanese | The English Agency (Japan) Ltd |
| Korean | BC Agency, or Korea Copyright Center |
| Portuguese | RIFF Agency |
| Russia/Baltics/Eastern Europe | Prava I Prevodi |
| Scandinavia: Sweden, Norway, Finland, Denmark, Iceland | Brandt New Agency |
| Spanish in Latin America | International Editors' Co., S.A. |
| Spanish in Spain | International Editors' Co., S.A. |
| Turkish | Anatolialit Agency |
For all other languages/territories, please contact Roam Agency.