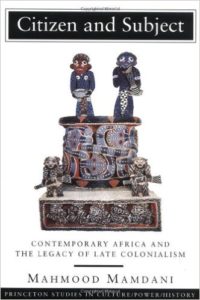 CITIZEN AND SUBJECT
Contemporary Africa and the Legacy of Late Colonialism
Mahmood Mamdani
One of Africa's 100 Best Books of the 20th Century
Winner of the 1997 Herskovits Award, African Studies Association
Princeton University Press (1996, World rights in all languages, excluding Africa and South Asia)
Paper • ISBN-13: 9780691027937 • US $46 • UK £34.95 • 6 x 9 in • 368 pgs.
ABOUT THE BOOK:
In analyzing the obstacles to democratization in post-independence Africa, Mahmood Mamdani offers a bold, insightful account of colonialism's legacy—a bifurcated power that mediated racial domination through tribally organized local authorities, reproducing racial identity in citizens and ethnic identity in subjects. Many writers have understood colonial rule as either "direct" (French) or "indirect" (British), with a third variant—apartheid—as exceptional. This benign terminology, Mamdani shows, masks the fact that these were actually variants of a despotism. While direct rule denied rights to subjects on racial grounds, indirect rule incorporated them into a "customary" mode of rule, with state-appointed Native Authorities defining custom. By tapping authoritarian possibilities in culture, and by giving culture an authoritarian bent, indirect rule (decentralized despotism) set the pace for Africa; the French followed suit by changing from direct to indirect administration, while apartheid emerged relatively later. Apartheid, Mamdani shows, was actually the generic form of the colonial state in Africa.
Through case studies of rural (Uganda) and urban (South Africa) resistance movements, we learn how these institutional features fragment resistance and how states tend to play off reform in one sector against repression in the other. Reforming a power that institutionally enforces tension between town and country, and between ethnicities, is the key challenge for anyone interested in democratic reform in Africa.
PRAISE:
"This theoretically adventurous work by a prominent Ugandan academic attempts to shift away from current paradigms constructed around themes of ethnic identity and the role of civil society. . . . This is an original book that offers a new angle of vision and is likely to stir up lively debate."
Foreign Affairs
"This book explores a provocative and original thesis about African politics, with the vigor and rigor that readers of Professor Mamdani's earlier work will expect. Anyone who cares to understand the state in contemporary Africa—anyone who wants to understand the current situation on the continent at all—would do well to read this new book. Whether you agree or disagree, this is a book to learn from.
Kwame Anthony Appiah, Harvard University
"Mahmood Mamdani is one of the most original thinkers writing about Africa today. His skills in comparative analysis and conceptual refinement are strikingly illustrated in this volume."
Ali A. Mazrui, Institute for Global Studies, SUNY-Binghamton
"Citizen and Subject is going to be a very necessary book. Mamdani's exposition, of a rare clarity, offers us a broadness of vision based upon experience and knowledge always informed by his profound perceptiveness."
Breyten Breytenbach
ABOUT THE AUTHOR:
Mahmood Mamdani was born in Kampala, Uganda. A political scientist and anthropologist, he is the Herbert Lehman Professor of Government at Columbia University. Mamdani received his Ph.D. from Harvard University, and previously taught at the University of Dar es Salaam, Makarere University, and the University of Cape Town.
From 1998 to 2002, Mamdani served as President of CODESRIA (Council for the Development of Social Research in Africa). In 2001 he presented one of the nine papers at the Nobel Peace Prize Centennial Symposium, and was listed as one of the Top 20 Public Intellections by Foreign Policy (US) and Prospect (UK) magazines in 2008. His previous books include Good Muslim, Bad Muslim, Saviors and Survivors, and When Victims Become Killers, and his writing has appeared in New Left Review and the London Review of Books, among other publications. He lives in New York City and Kampala with his wife and son.
OTHER TITLES BY THIS AUTHOR:
Good Muslim, Bad Muslim: America, the Cold War, and the Roots of Terror
Saviors and Survivors: Darfur, Politics, and the War on Terror
RIGHTS INFORMATION:
Rights available in English in these territories only: Africa and South Asia (India, Pakistan, Bangladesh, Nepal, Bhutan, Afghanistan, and Sri Lanka)
For rights, please contact Roam Agency.
Please contact subagents for the following languages and territories:
For all other languages/territories, please contact Roam Agency.