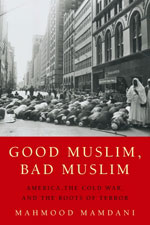 GOOD MUSLIM, BAD MUSLIM
America, the Cold War, and the Roots of Terror
By Mahmood Mamdani
Pantheon (2004, North American English rights)
Paper • ISBN-13: 9780375422850 • US $24 • 5.8 in x 8.4 in • 320 pgs.
ABOUT THE BOOK:
In this brilliant look at the rise of political Islam, the distinguished political scientist and anthropologist Mahmood Mamdani brings his expertise and insight to bear on a question many Americans have been asking since 9/11: how did this happen?
Mamdani dispels the idea of "good" (secular, westernized) and "bad" (premodern, fanatical) Muslims, pointing out that these judgments refer to political rather than cultural or religious identities. The presumption that there are "good" Muslims readily available to be split off from "bad" Muslims masks a failure to make a political analysis of our times. This book argues that political Islam emerged as the result of a modern encounter with Western power, and that the terrorist movement at the center of Islamist politics is an even more recent phenomenon, one that followed America's embrace of proxy war after its defeat in Vietnam. Mamdani writes with great insight about the Reagan years, showing America's embrace of the highly ideological politics of "good" against "evil." Identifying militant nationalist governments as Soviet proxies in countries such as Nicaragua and Afghanistan, the Reagan administration readily backed terrorist movements, hailing them as the "moral equivalents" of America's Founding Fathers. The era of proxy wars has come to an end with the invasion of Iraq. And there, as in Vietnam, America will need to recognize that it is not fighting terrorism but nationalism, a battle that cannot be won by occupation.
Good Muslim, Bad Muslim is a provocative and important book that will profoundly change our understanding both of Islamist politics and the way America is perceived in the world today.
Watch a lecture by Mamdani given at Columbia University's Earth Institute in February 2005 here.
PRAISE:
"Mamdani strips open the lies, stereotypes, and easy generalizations on which U.S. policy toward the Muslim world is founded. Dismaying but essential reading."
J. M. Coetzee
"This provocative and thoughtful inquiry raises hard and serious questions. It is a valuable contribution to the understanding of some of the most important developments in the contemporary era."
Noam Chomsky
"Good Muslim, Bad Muslim is a brief, readable plea to Americans to stop listening to the shuck and jive about a 'clash of civilizations' and start learning some practical political history."
The Village Voice
ABOUT THE AUTHOR:
Mahmood Mamdani was born in Kampala, Uganda. A political scientist and anthropologist, he is Herbert Lehman Professor of Government and director of the Institute of African Studies at Columbia University. His previous books include Citizen and Subject and When Victims Become Killers. In 2001 he presented one of the nine papers at the Nobel Peace Prize Centennial Symposium. He lives in New York City and Kampala with his wife and son.
OTHER TITLES BY THIS AUTHOR:
Citizen and Subject: Contemporary Africa and the Legacy of Late Colonialism
Saviors and Survivors: Darfur, Politics, and the War on Terror
RIGHTS INFORMATION:
Languages & Territories Where Rights Have Been Sold:
| Language/Territory | Publisher |
| --- | --- |
| North American | Pantheon |
| Germany | Nautilus |
| Italy | Laterza |
| Japan | Iwanimi Shoten |
| French/worldwide | Demopolis |
| Finland | Like Kustannus OY |
| Greece | Melani Press |
| India (Bengali) | Chhatim Books |
| India (English) | Permanent Black |
| India (Hindi) | Penguin India |
| India (Marathi) | Rohan Prakashan |
| Malayalam/worldwide | DC Books |
| Nigeria (English) | Malthouse Press Ltd. |
| Pakistan (English) | Vanguard Books Pvt Ltd |
| Senegal | Malthouse Press Ltd. |
| Tanzania (English) | E&D Ltd. |
| Tanzania (Kishwahili) | E&D Ltd. |
| Uganda (English) | Fountain Publishers Ltd. |
| Zimbabwe | Malthouse |
Please contact subagents for the following languages and territories:
For all other languages/territories, please contact Roam Agency.