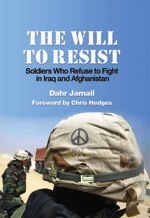 THE WILL TO RESIST
Soldiers Who Refuse to Fight in Iraq and Afghanistan
By Dahr Jamail
Haymarket Books (April 2009, world English rights)
Hardcover • ISBN-13: 9781931859882 • $20.00 • 5 5/8 x 7 5/8 in. • 230 pg.
ABOUT THE BOOK:
An award-winning journalist tells the hidden story of American soldiers turning against an unjust war.
Despite tremendous public sentiment against the American-led occupations of Iraq and Afghanistan, ordinary citizens and US soldiers continue to die every day. Despite promises from politicians of both parties, an unjust and un winnable war grinds on with no clear end in sight. But as award-winning journalist Dahr Jamail shows, a new generation of American soldiers is beginning to take opposition into their own hands.
As one of the first and few unembedded Western journalists to report the truth about how the United States has destroyed, not liberated, Iraqi society in his book Beyond the Green Zone, Jamail now investigates the under-reported but growing antiwar resistance of American GIs, embodied in new organizations like Iraq Veterans Against the War (IVAW). Gathering the stories of these courageous men and women, Jamail shows us that far from "supporting our troops," politicians have betrayed them at every turn. Finally, Jamail shows us that the true heroes of the criminal tragedy of the Iraq War are those brave enough to say no.
OTHER BOOKS BY THIS AUTHOR:
Beyond the Green Zone: Dispatches from an Unembedded Reporter in Occupied Iraq
The End of Ice: Bearing Witness and Finding Meaning in the Path of Climate Disruption
ABOUT THE AUTHOR:
Dahr Jamail, a Truthout staff reporter, is the author of Beyond the Green Zone: Dispatches from an Unembedded Journalist in Occupied Iraq. Jamail has reported from the Middle East over the last ten years, and he has won the Martha Gellhorn Prize for Journalism. He lives in Washington State.
RIGHTS INFORMATION:
Please contact subagents for the following languages and territories:
For all other languages/territories, please contact Roam Agency.