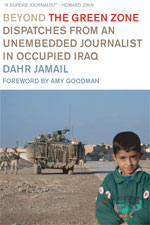 BEYOND THE GREEN ZONE
Dispatches from an Unembedded Reporter in Occupied Iraq
By Dahr Jamail
Foreword by Amy Goodman
With a new Introduction by the author
Haymarket Books (Updated paperback edition, November 2010, world English rights)
ISBN-13: 9781931859615 • 330 pg. • $16.00
ABOUT THE BOOK:
The most important unembedded U.S. reporter in Iraq takes us inside the Iraq we rarely see. Since 2001, journalist Dahr Jamail has filed indispensable reports from Iraq that have made him this generation's chronicler of the unfolding disaster there. As the occupation of Iraq unravels, the demand for independent reporting is growing. In these collected dispatches, Jamail presents never-before-published details of the siege of Fallujah and examines the origins of the Iraqi insurgency.
PRAISE
"Very prescient … [and] brave."
Seymour Hersh, Pulitzer Prize winning journalist
"An independent American journalist, Dahr Jamail went to Iraq several times since our invasion "to try to challenge the distortions of the mainstream media." He succeeded brilliantly. Beyond the Green Zone is a collection of his reports on such subjects as American disinformation about how we captured Saddam Hussein, the battles of Fallujah, and the U.S. campaign to bring freedom and democracy to Iraq. His observations of the gratuitous cruelty of American soldiers toward innocent Iraqis are particularly devastating."
Chalmers Johnson, author of Nemesis: The Last Days of the American Republic
"From the earliest days of the war, Dahr Jamail been a human conduit for the voices of Iraqis living under U.S. occupation. In the face of tremendous personal risk, his commitment to the crucial, principled task of bearing witness has never wavered, and this extraordinary book is the result."
Naomi Klein, author, No Logo and The Shock Doctrine
"This book pierces the miasma of ignorance, mendacity and embedded egotism that has shaped most coverage of Iraq in the American press. It is a passionate and deeply insightful look at the reality of war and occupation, and also an example of international journalism at its best."
Stephen Kinzer, New York Times correspondent
"While so much reporting from Iraq has remained embedded and wrong, Dahr Jamail's courageous truth-telling from the frontline has been a beacon."
John Pilger
"Dahr Jamail does us a great service, by taking us past the lies of our political leaders, past the cowardice of the mainstream press, into the streets, the homes, the lives of Iraqis living under U.S. occupation. He is a superb journalist, in the most honorable tradition of that craft, in the tradition of Heywood Broun, John Reed, I.F. Stone. If what he has seen could be conveyed to all Americans, this ugly war in Iraq would quickly come to an end."
Howard Zinn
"Even more notable than Dahr Jamail's extraordinary courage as an independent American journalist in wartime Iraq is his wide-open heart on the beat of the war's central human realities. While U.S. media coverage routinely skitters along the surface of Iraqi suffering, Jamail repeatedly dives into its actual horrors — relentlessly and compassionately exploring the terrible results. Along the way, he lets us know about the inspiring kindness and unsung bravery of people who continue to endure a hellish daily ordeal. Putting major news outlets to shame, [name of book] tells us what the big American media are apparently incapable of reporting in any sustained way. For an easier spin, read the New York Times or the Washington Post. For a true story too real and awful for mainstream news, read this book."
Norman Solomon, author, War Made Easy: How Presidents and Pundits Keep Spinning Us to Death
"Dahr Jamail is the real deal: a reporter who not only has the guts to go where the danger is but to the courage to open his heart to the people he finds there. In his radio reporting and now his new book, Jamail goes beyond the Green Zone and beyond most people's comfort zone of denial."
Laura Flanders, radio host and author, Blue Grit: True Democrats Take Back Politics from the Politicians
"By bringing us their voices, their experience, trying to project us into the lives of ordinary Iraqis, the ones who could be you or me, were we willing to exercise our imagination and put ourselves into their stories. Dahr Jamail continues to try and rescue his fellow citizens from obliviousness, folly, hubris, from the consequences of their heedlessness."
TruthOut.org
"Dahr Jamail is that rarity in today's journalism: An intrepid truth-teller who enters the line of fire unprotected by the planet's greatest superpower. He may be unembedded, but his award-winning work, out now in the form of an amazing book called Beyond the Green Zone, is bulletproof with truth. And we need that more than ever."
Morphizm blog
"Readers unsatisfied with mainstream coverage of the Iraq War will want to grab this, an up-close look at daily life in Iraq since the 2003 invasion. One of the few unaffiliated journalists in Iraq, journalist Jamail went to see the conditions for himself, and the compelling, heartbreaking stories he sent back over his eight month stay were carried in publications world-wide … This fascinating, eye-opening document of Iraq's day-to-day has a unique perspective and moments of incredible impact."
Publisher's Weekly
OTHER BOOKS BY THIS AUTHOR:
The End of Ice: Bearing Witness and Finding Meaning in the Path of Climate Disruption
The Will to Resist: Soldiers Who Refuse to Fight in Iraq and Afghanistan
ABOUT THE AUTHOR:
Dahr Jamail, a Truthout staff reporter has reported from the Middle East over the last ten years, and he has won the Martha Gellhorn Prize for Journalism. He lives in Washington State.
RIGHTS INFORMATION:
Please contact subagents for the following languages and territories:
| Language/Territory | Subagent |
| --- | --- |
| China, Taiwan, Indonesia, Malaysia, and Vietnam | Big Apple Agency |
| English outside North America | David Grossman Literary Agency |
| German | Paul & Peter Fritz AG Literatur Agentur |
| Greek | Read n' Right Agency |
| Hebrew | The Deborah Harris Agency |
| Italian | The Nabu International Literary Agency |
| Japanese | The English Agency (Japan) Ltd |
| Korean | BC Agency, or Korea Copyright Center |
| Portuguese | RIFF Agency |
| Russia/Baltics/Eastern Europe | Prava I Prevodi |
| Scandinavia: Sweden, Norway, Finland, Denmark, Iceland | Brandt New Agency |
| Spanish in Latin America | International Editors' Co., S.A. |
| Spanish in Spain | International Editors' Co., S.A. |
| Turkish | Anatolialit Agency |
For all other languages/territories, please contact Roam Agency.