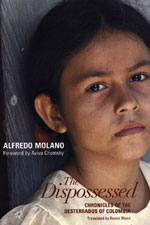 THE DISPOSSESSED
Chronicles of the Desterrados of Columbia
By Alfredo Molano
Foreword by Aviva Chomsky
Haymarket Books (2005, world English rights)
Paper • ISBN-13: 9781931859172 • US $12 • 7.9 in x 5.6 in • 250 pgs.
ABOUT THE BOOK:
Here in their own words are the stories of the Desterrados, or "dispossessed" — the thousands of Colombians displaced by years of war and state-backed terrorism, funded in part through U.S. aid to the Colombian government.
These gripping stories show the human face of those who suffer the effects of the U.S. "Plan Colombia" and of a state that serves the interests of wealthy landlords instead of the poor.
PRAISE:
"This book is proof that today's Latin American literature reaches far and digs deep. Alfredo Molano isn't a novelist or poet, but rather a sociologist who realizes that "the way to understand wasn't to study people but to listen to them." The testimonies that Molano collects are a point of departure for a work that knows how to relate, like few others can, Colombia's pain in a language that has more colors than the rainbow."
Eduardo Galeano, author, Open Veins of Latin America
"The people whose stories Molano tells are not social activists. They do not provide political or structural explanations of their lives; they do not tell stories of coming to consciousness. Yet, together, their stories add up to a powerful analysis of today's Colombia and should indeed inspire U.S. readers to challenge the U.S. policies that continue to kill, impoverish, and displace the people of Colombia."
From the foreword by Aviva Chomsky
ABOUT THE AUTHOR:
Alfredo Molano is a columnist for the newspaper El Espectador in Colombia. He currently lives in exile in Spain, and is also a visiting scholar at Stanford University.
RIGHTS INFORMATION:
Please contact subagents for the following languages and territories:
For all other languages/territories, please contact Roam Agency.