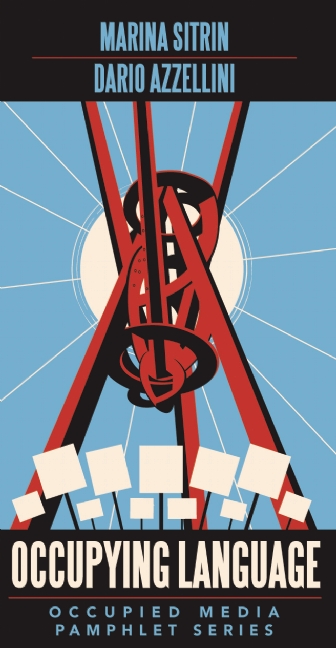 OCCUPYING LANGUAGE
The Secret Rendezvous with History and the Present
By Marina Sitrin and Dario Azzellini
Zuccotti Park Press / Occupied Media Pamphlet Series (September 2012, world English rights)
Paper • ISBN-13: 9781884519093 • US $9.95 • 116 pgs.
ABOUT THE BOOK:
Occupying Language is an open conversation. Through it, Sitrin and Azzellin invite readers to join them listen to insurgent movements that have been organizing in Latin America over the past twenty years, and to connect key concepts and language from those struggles with movements in the United States today.
"Language is not neutral," write Azzellini and Sitrin, "words transport and express concepts and ways of thinking. They can consolidate and perpetuate hierarchies, domination and control just as they can underline equality and strengthen consciousness." Among the concepts explored in Occupying Langauge are Territory, Assembly, Rupture, Popular Power, Horizontalism, Autogestión (self-administration), and Protagonism. Examples of each term are drawn from different Latin American communities of struggle, from the spreading of Horizontalidad with the popular rebellion in Argentina, and the concept of Territory seen in Bolivia and Mexico, to the construction of Popular Power in the Consejos Comunales in Venezuela, and the vision of interconnected human diversity articulated in the call for "one world in which many worlds fit" by the indigenous Zapatista communities in Chiapas, Mexico.
PRAISE:
"Occupy Language uses the vocabulary of new and emergent movements around the world to highlight the striking similarities of the practices and visions. Movements from the Zapatistas in Mexico and mobilizations for popular control in Venezuela, Argentina and Brazil, to the Arab Spring, the European and Israeli Summer, and Occupy, have made inclusiveness a priority and have insisted that the voice of every participant be heard and treated with respect. They have pursued a vision of democracy as based on direct participation and on solidarity among the vast majority, cognizant of social and national divisions but creating a unity among differences. Those who identify with these movements should read this book for its beautiful and insightful evocation of an emergent radical perspective and for the hope that this book conveys that a new movement of movements can play a pivotal role in bringing about urgently needed change. This book is also crucial reading for those who would like to understand why so many in the new movements are more interested in occupying public spaces and insitutions, and remaking them through democratic participation, than in making demands on governments dominated by remote and resistant elites."
Barbara Epstein, University of California, Santa Cruz
"There are words that are rocks. Rocks, like geological layers, which have accumulated over decades of struggles, and are colored with meanings irreducible to capitalist power. Rocks heavy with hope. Marina Sitrin and Dario Azzeellini show how these rocks are moved – rolling them against masters, police, and the ideologists of neoliberalism. Occupy language!"
Antonio Negri
"A fascinating new book … Anti-capitalism, this book reminds us, is a politics of walking and of love."
Nicholas Mirzoeff, Huffington Post
"By occupying language, we can expose how educational, political, and social institutions use language to further marginalize oppressed groups; resist colonizing language practices that elevate certain languages over others; resist attempts to define people with terms rooted in negative stereotypes; and begin to reshape the public discourse about our communities, and about the central role of language in racism and discrimination. As the global Occupy movement has shown, words can move entire nations of people – even the world – to action. Occupy Language, as a movement, should speak to the power of language to transform how we think about the past, how we act in the present, and how we envision the future."
The New York Times
ABOUT THE AUTHORS:
Dario Azzellini is an activist, writer and film maker. His latest film is 'Comuna Under Construction' about local self government in Venezuela, and latest book, together with Immanuel Ness, Ours to Master and to Own: Workers' Control from the Commune to the Present. He is a lecturer at the Institute for Sociology at the Johannes Kepler University in Austria.
Marina Sitrin is a participant in the Occupy movements, the editor of Horizontalism: Voices of Popular Power in Argentina and author of the forthcoming, Everyday Revolutions: Horizontalism and Autonomy in Argentina. She is a postdoctoral fellow at the CUNY Graduate Center's Committee on Globalization and Social Change. (marinasitrin.com)
RIGHTS INFORMATION:
Please contact subagents for the following languages and territories:
For all other languages/territories, please contact Roam Agency.